Here at Milwaukee Record, we employ a sentient machine known as the Great Job, Milwaukee! Bot to keep track of the city's many appearances on dopey online lists, as well as any time a national publication acknowledges our pathetic Midwest existence. This week: An online study says our city is pretty polite!

Hello! We sincerely hope this article finds you in good spirits and good health. Thanks so much for reading Milwaukee Record, by the way. We really appreciate it! Anywho, we have some excited news to share with you…but before we get into it, is there anything you'd like to tell us first? No? Okay, well here it goes!
According to a study conducted by a website called Preply, Milwaukee is one of the most polite places in the country. The study—the veracity of which would be impolite to question—"surveyed over 1,500 residents of the 30 largest metropolitan areas in the U.S. and asked them about the rudeness level of their city, including the prominence of certain typically rude behaviors, to help travelers determine what to expect when visiting." Philadelphia was found to be the rudest American city, with an "Average Rudeness Score" of 6.43 out of a possible 10. Memphis, New York, Las Vegas, and Boston rounded out the top five. Detroit, which came in at number six, was found to be the rudest Midwestern city with an "Average Rudeness Score" of 5.70. (Sorry, people from all those cities! We're just reporting what the study found and we mean no offense.)
Preply also used its findings to determine the most polite places in the U.S. of A and, as we mentioned earlier, Milwaukee earned high marks. With an "Average Rudeness Score" of just 4.82, our fair city is the 9th most polite U.S. city. Austin had the top spot (with a 3.91 "Average Rudeness Score") and the Midwestern hubs of Indianapolis (4.47), Chicago (4.53), and Columbus (4.61) came in at numbers five, six, and seven respectively. Also, it could potentially be seen as mean or cruel to acknowledge that Madison, Green Bay, and Minneapolis/St. Paul were all absent on this flattering list, so we won't mention it.
Here's the full politeness breakdown from Preply…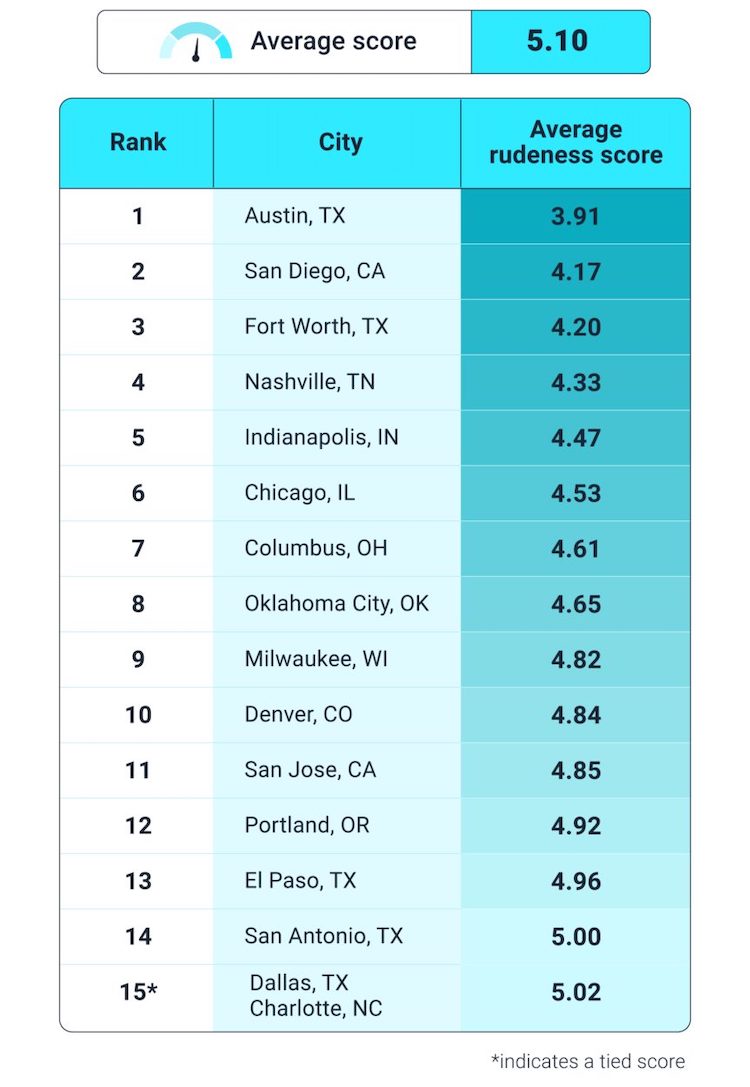 Preply's study also offered the following "key takeaways" about Milwaukee:
Milwaukee was ranked as the 9th most polite city in America with an average rudeness score of just 4.82 (on a scale of 1-10).
Milwaukee residents were asked to rank who is ruder in their experience, natives or transplants. Milwaukee residents said transplants were ruder than natives by a slim margin (52% vs 48%).
The rude behavior Milwaukee residents were most bothered by was residents being totally absorbed by their phones and not acknowledging others.
So there you have it, Milwaukee. We're nice! Now please put down the phone you're probably reading this article on and acknowledge someone around you so we can continue climbing the politeness ranks. Thanks again for reading. Take care and have a great day!!!