It's been a hot, swirling, organ-laden minute since psyched-out Milwaukee outfit Calliope graced fans with a new full-length album. In 2014, the excellent ORBIS found the band, according to our review at the time, "at its most acidic, its most trippy, and, as always, its most unapologetic." And while Calliope has been a reliable live presence ever since (and frontman Al Kraemer has been busy with side project Moon Rats), the question remains: When's that new album coming out?
"Many moons ago we went north towards Minocqua to record a set of eight songs and came back with ten," Kraemer tells us. "My family has a place up there way outside of town that's perfect for really diving in, getting weird, and getting really loud."
Now, some of those songs are seeing the light of day. Following the digital release of single "Astral Hand" in 2016, Calliope is prepping the release of a 7-inch with two more tracks from the upcoming Victor Buell IV-recorded Chapel Perilous. On March 18, the driving "Sea Of Red" and heavy-n-hazy "Brujo" will find themselves pressed onto four different vinyl designs by Indianapolis label Romanus Records. Take a gander: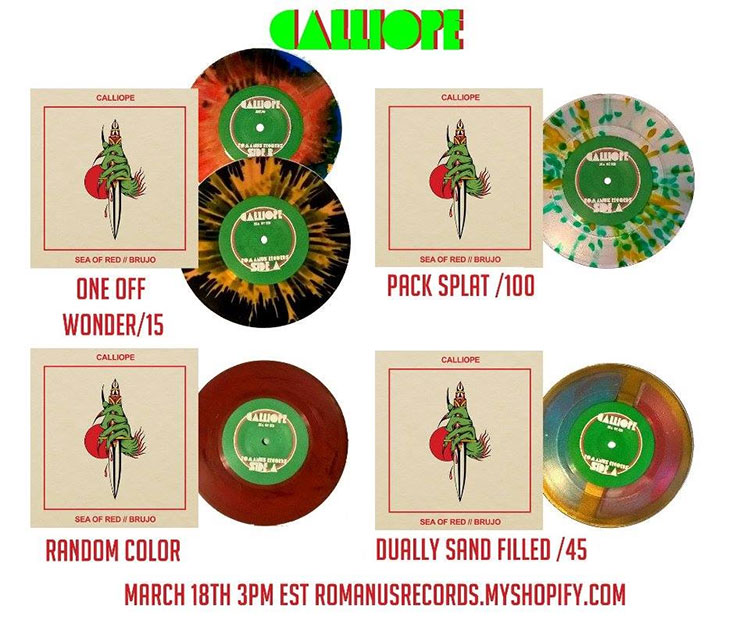 A release show for the 7-inch is set for Thursday, April 6 at the Riverwest Public House. Chicago's Dead Feathers and Milwaukee's Devil Met Contention will play in support.
"We've decided to release the 45 as kind of a prequel to the full-length, which we'll have more info on soon," Kraemer says. "We're just stoked to be releasing something. I realized ORBIS came out in June of 2014. I guess we've been lazy?"