A lot of people cringe when they hear the phrase "electronic music." Sure, it's almost exclusively produced via computers, and the genre is often synonymous with sweaty festival bros. We'll be honest here—it is a genre that is easy to hate. Even though Scotland's CHVRCHES is easy to place under the "electronic" umbrella, their label is technically "synth pop." The trio performed an energetic set at Riverside Theater Thursday night, loaded with countless sights and sounds to behold.
Say what you will about EDM, but CHVRCHES is consistently an excellent live band. Their show last night was no exception. The group first came to Milwaukee in 2013 and again in 2016, delighting fans both times with their whimsical, electronic-pop sound. It's clear word has spread about the band; though the show wasn't sold out, it was noticeably packed.
One unique thing about their 2018 show is a live drummer. The band has toured as a three-piece since their inception in 2011, but decided to add a fourth dimension to their sound for their current tour. It was refreshing to watch the group perform with an additional instrument; the other two instrumentalists both wield keyboards, making the live drummer an unexpected, much-appreciated addition.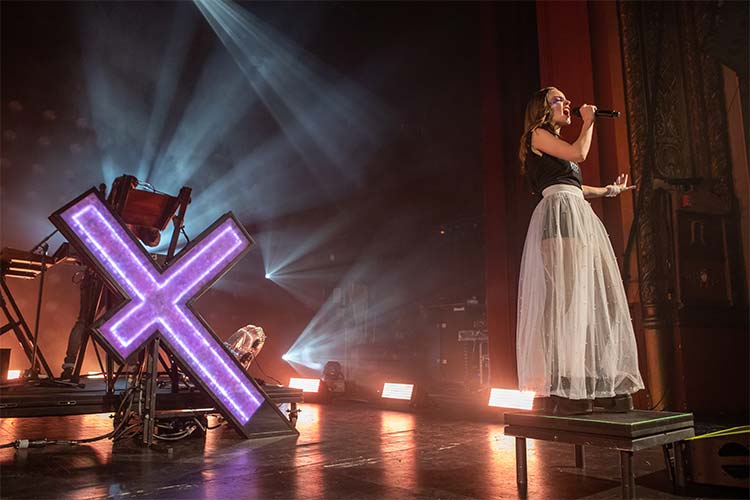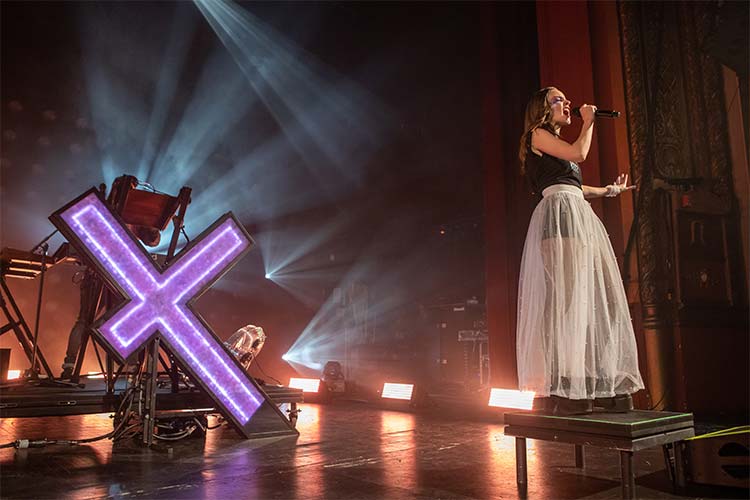 Singer Lauren Mayberry is a tiny woman with a massive voice. Her pipes were easily able to cut through the two keyboards and drums, echoing in every corner of the Riverside. Singing isn't her only strong point. The pint-sized performer commanded the stage like artists well beyond her years. It was hard to keep your eyes off of her—and that's saying a lot about a band that employs hundreds of strobe lights. (Their shows should come with a trigger warning.)
The band was able to induce a moderate dance party almost immediately, but it was during their electrifying performance of "We Sink" that the crowd really began moving. Mayberry herself certainly didn't stand still, bouncing around the stage in a pair of bulky platform heels. "The last minute of that song is the closest I get to extreme sports!" she laughed.
Near the set's midway point, Mayberry and keyboardist Martin Doherty switched posts, with Mayberry tickling the keys and Doherty taking center stage. Even though Doherty severely lacks Mayberry's pipes, it's always entertaining when band members switch positions. The ol' switcheroo might have been a lull in the set, but the effort was still appreciated. After all, who doesn't love a multitalented band?
Aside from the music, the show's highlight was undoubtedly Mayberry's stage banter. The Scottish songstress speaks quickly, with a thick accent—it's hard not to wish she had subtitles. But that famous U.K. sense of humor was easily able to shine through. Mayberry joked about how we're all just killing time before the release of A Star Is Born. Honestly, she's not wrong, though it was obvious we were already witnessing a star onstage.
CHVRCHES have already played the Riverside three times, and at this rate, the group might be performing at the brand spankin' new Fiserv Forum the next time they come to town. They've already proven they could handle it with ease.