On Friday, Black Bear Bottling will close permanently. The Oak Creek-based soft drink company has been in business for 90 years, and its closure will put more than 70 people out of a job. Black Bear's demise will also leave Wisconsin without the beloved Black Bear Soda brand, as well as a few other beverages the plant was contracted to manufacture. While the loss of Black Bear is unfortunate, both metro Milwaukee and Wisconsin as a whole still boast a number of delicious soft drinks. As we pour one out for Black Bear this week, take a look at some ways to drink local with 15 more Wisconsin soda manufacturers.
UPDATE: Though Black Bear Bottling will close September 15, WIT Beverage Company, which owns the Black Bear Soda brand, told us they intend to keep making the beverage and are in the process of finding a new plant to manufacture the soda.
1. Baumeister
Way up near Green Bay in the lakeside town of Kewaunee, Baumeister is helping to put the 3,000-resident town on the map one bottle at a time. On top of the root beer it has been selling since 1907, Baumeister also sells cream soda, along with cherry and orange. Rest assured, it all tastes much better than this ad looks and this jingle sounds.
2. Berghoff
This is a long story, but here we go. Berghoff presently identifies itself as a Chicago brewery. However, in the same way Wisconsin-brewed Old Style has been adopted as Windy City's preferred domestic, this long-running brew is actually made in Monroe, Wisconsin. Its sodas and near beer—which the business started producing during prohibition—are also produced there. Honestly, Berghoff's root beer (bottled and sold in four-packs) is far better than the vast majority of its actual beer. Get used to reading that.
3. Blumers
Blumers also hails from Monroe. With a history apparently dating all the way back to 1845, this soda is far older than Berghoff, its other Minhas counterpart. The five flavors that have survived the changing tastes and growing economic competition in the last 170-plus years are its root beer, black cherry, orange cream, blueberry, and cream soda. Its prices seem to have more than adjusted with inflation, but this premium brand is worth the extra cost if you're in the mood for an old fashioned soda pop.
4. Brew City Soda
We go from the oldest Wisconsin soda to the newest kid on the block. Milwaukee beverage distributors, Two Brothers, recently decided to launch Brew City Soda. The Riverwest-based brand doesn't appear to have any bottled or canned presence in stores, but is steadily creeping its way into soda guns at Milwaukee bars and into fountains at restaurants with "premium soda" that's made with natural sugar.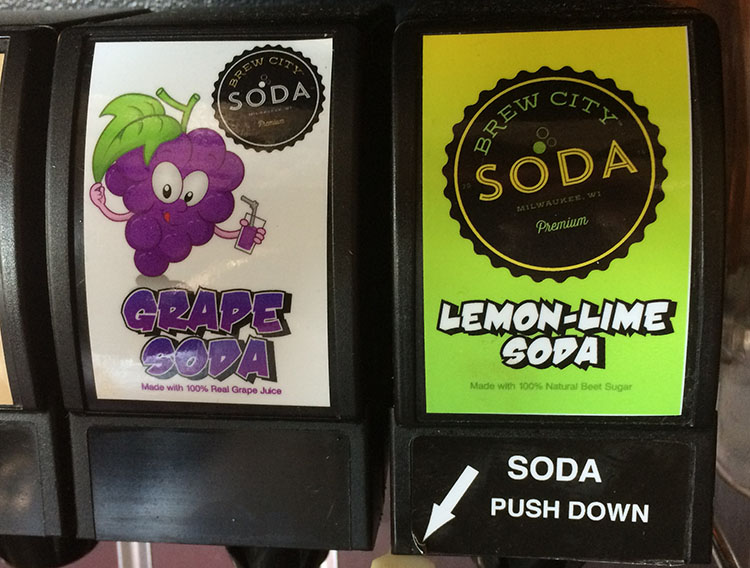 5. Dang!
Anyone living in or around Milwaukee is surely aware of Dang! (aka "Dang! That's Good" but we aren't calling it that). The star of the Imperial Flavors Beverage Company started on Milwaukee's East Side in the 1960s. Despite Dang!'s history, its arsenal is small-but-sturdy. The bottles and fountain syrup they sell throughout the state range from root beer to Italian cherry to the well-liked butterscotch root beer. The name isn't a lie.
6. Gray's
Janesville, Wisconsin is famous for three things: Paul Ryan, being kind of close to Illinois, and Gray's. The last of that unholy trinity is a respectable brewery that also happens to offer J.C. Gray original soda in a variety of flavors. If you find your way to Janesville and need some sugar before heading somewhere better, give it a try.
7. Henry's Hard Soda
Remember about a year ago when bars everywhere partook in the short-lived "hard soda" trend? Well, perhaps the most popular brand has Milwaukee on its labels. Yes, Henry's Hard Soda is a product of Blitz-Weinhard, a brewery that started in Oregon in the 1800s. It's changed hands numerous times through the years and is currently owned and distributed by MillerCoors, who launched the Henry's brand last year. Aren't you proud? Henry's sells orange, grape, ginger ale, and cherry cola. Of course, you can also get hard soda produced by Sprecher, Boxer, and numerous other local manufacturers. But if you're looking to tie one on, might we suggest buying an actual beer or a cocktail that isn't a 4.2 percent ABV malt beverage instead?
8. Jolly Good
Last July, news came that Random Lake-based soda pop purveyor Jolly Good had resumed production of the beverage that kept the whistles of cost-conscious consumers in Wisconsin and neighboring states wet between the early 1970s and 2007. After quietly re-introducing its five most popular flavors—Cherry, Orange, Grape, Old Fashion Cream Soda, and Sour Pow'r—in Sheboygan-area markets and gas stations, Jolly Good ramped up production significantly, with sights set on spreading its affordable sweetness throughout the state for the first time in almost a decade. Now, those five flavors can be found throughout the state…though it might require a little bit of looking. Here's our 2016 review of Jolly Good's revived products.
9. Lakefront
This entry comes with a bit of bad news: When Black Bear calls it quits this weekend, Lakefront's Maple Root Beer—a sugary staple among kids and non-drinkers taking the brewery tour—will also be no more. The impossibly sweet soda was actually made by Black Bear, meaning it's gone forever (or until they move production elsewhere). It's no longer available at the brewery, but if you look hard, you Mapleheads out there might be able to track down a few of the last bottles. As of last week, Beans & Barley had it.
10. Point
Between its beer, its semi-affiliated burger bars, and its years as a sponsor of Fish Fry & A Flick, many people in and around Milwaukee are aware of Point Brewery. Now that Fish Fry & A Flick is no more, it seems as if Point's line of soda is now carrying the torch for the Stevens Point-based business. Its award-winning root beer uses Wisconsin honey, cane sugar, and all-natural vanilla. Other small batch products that are bottled and sold in four packs include: diet root beer, vanilla cream, black cherry cream, orange cream, and the Midwest-supper club homage, the kitty cocktail.
11. Sprecher
Like Point, Sprecher started as just a brewery, but its excellent award-winning sodas are what keep the lights on. The 30-year-old Glendale (or Milwaukee, depending on who you ask) outfit fire-brews its soda, which includes its nationally-regarded flagship root beer, "lo-cal" root beer, cola, cherry-cranberry, ginger ale, and its second most beloved item, the Orange Dream. They also offer seasonal treats and limited edition releases. Take the tour to enjoy unlimited Sprecher soda.
12. Stone Arch
Anyone not reading this from an IP address in the Fox Cities probably doesn't know what Stone Arch is. The Appleton-based restaurant and brewpub's story goes back a century, when the city was home to Walter Brewing Company. A fire, along with some economic troubles and trademark issues resulted name changes to Adler Brau, Stone Cellar, and finally Stone Arch. In its five years as Stone Arch, the brewery has experience rampant growth and expansion, meaning its predominately good-to-great beer can reach new customers in other markets. So may its soda. The pure sugar can root beer is always available, and blue raspberry, green apple, cinnamon, ginger ale, grape, orange cream, vanilla cream, cherry vanilla, and wild cherry flavors are rotated in throughout the year.
13. Sun Drop
We'd understand your surprise with this one, as Sun Drop (sometimes written as "Sundrop") is a nationally-distributed citrus soda that's part of the Dr. Pepper Snapple Group family. Allow us to elaborate. The caffeine-packed beverage was created in St. Louis by Charles Lazier in 1928. After its inception, the inventor established agreements to produce his soda with bottling plants throughout the country, one of which was Twigs Beverage—based in Shawano—way back in 1951. The small northern Wisconsin town has been producing it since, and is currently the only place in the world that makes Sun Drop in returnable glass bottles. Twigs' owner claims more Sun Drop is sold in Wisconsin than in the entirety of the western half of America. So as much of the country sees Sun Drop as just another carbonated beverage in the drink aisle, it's cause for celebration in Shawano and the state in general.
14. Titletown
Though it's best known for its non-root rendition of beer and for its blatant product placement in shit-ass feature films, Green Bay's aptly-named Titletown Brewing also dabbles in making root beer. The young-ish brewery's Sno-Cap Root Beer is a tongue-tickling tribute to the former Sno-Cap drive-in restaurant on Velp Avenue in Green Bay, using the original recipe of owner Grandma Gladys. It's sold in growlers on-site and bottled in four-packs or cases that are available at select northeast Wisconsin retailers.
15. Wisco Pop!
After the sugar rush from the previous 14 brands, Viroqua-based Wisco Pop! is a slight change of pace. The Madison area manufacturer got its start in 2012, when Austin and Hallie Ashley took their "love of soda with their deep respect for the local food movement" to launch the brand. In the relatively brief time since, Wisco Pop! has steadily made its way to more store shelves and Wisconsin menus. In 2016, it was certified organic. Its offerings (cherry, strawberry, and its flagship ginger soda) are limited, but damn good. Two sparkling flavors were also launched this year.
Thirsty for more Wisconsin soda analysis? We recorded a podcast about that very topic! Stream it below.