Between beloved and well-established local staples and a steady wave of new bars and restaurants popping up in and around Milwaukee almost every week, worthwhile dining and drinking gems can occasionally get lost in the shuffle. With Tucked Away, Milwaukee Record sifts through the hype in hopes of unearthing some of these gems.
Nestled cozily on the corners of Third and Maple streets on the southern edge of Walker's Point, and humming with the buzz of a quiet hype, it feels fair to suggest that one only needs to look to the literal when considering what's most "tucked away" about Triskele's (1801 S. 3rd St., 414-837-5950). While said buzz may shed some light on the existence of the self-identified casual fine dining restaurant, it hasn't yet helped to establish it as a mainstay in Milwaukee's culinary landscape. A cursory Google search doesn't do a whole lot to demystify what Triskele's is or wants to do, and vague branding that can mean anything (casual fine dining, for instance) doesn't help that process either. Unsatisfied with what the World Wide Web offers up to substantiate the restaurant's measured acclaim, we decided to see for ourselves whether Triskele's is truly destined for greater things or if it deserves to remain tucked away.
The space: Immediately upon entry, Triskele's succeeds in creating a signature kind of comfort. The bustling expo kitchen and its paradoxically comforting din of pots, pans, and a busy line make the restaurant feel alive. Christmas lights and appropriately loud music invoke a warm holiday party vibe. The combination of the restaurant's offset location and Wisconsin's delayed but suddenly very present winter serve to transport diners from an urban condo-pocked reality to something almost northwoods-like.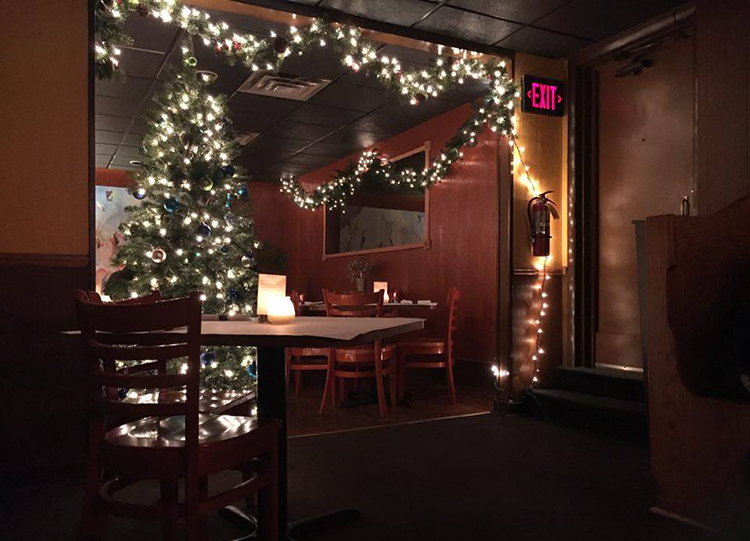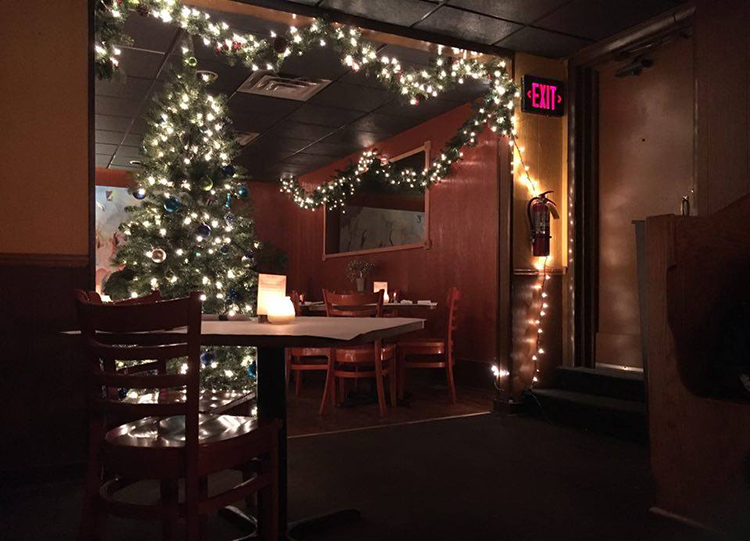 The service: Everything started smoothly enough, excluding the actual seating process, which had an unexplained hiccup. After a brief conversation with someone appearing to be a manager, our server got the okay to seat us. Service stayed consistent until the push, at which point the wheels seemed to fall off a bit. It took more than an hour after our main courses hit the table for us to get the bill. This isn't always a problem, as some people like to nurse their dinners and sit and chat. However, our table wasn't visited even once in that period of time. Water refills and status checks gave way to the pressure of a dinner rush. To be clear, this wasn't the server's fault, as the restaurant felt short-staffed and the rush came on pretty suddenly. It's easy to chalk the inattentive end of our dinner up to "shit happens," especially given the service's acceptable start.
Milwaukee Record's food: The frustrating trend of starting strong and ending with a whimper extrapolated itself from service to food. We ordered two appetizers. Noting Triskele's focus on seafood, we went with mussels. Then, aiming to go with something polarizing, we tried the pork dumplings. Both were fantastic. The mussels had a very satisfying buttery and briny broth made with shallots, garlic, and wine. The dumplings (filling the role as token Asian-inspired item) were addictive little pockets of ground pork and ginger that came with a nicely balanced sweet and sour type sauce. Nothing revolutionary in either of these items, but they were very solid and well-executed bites.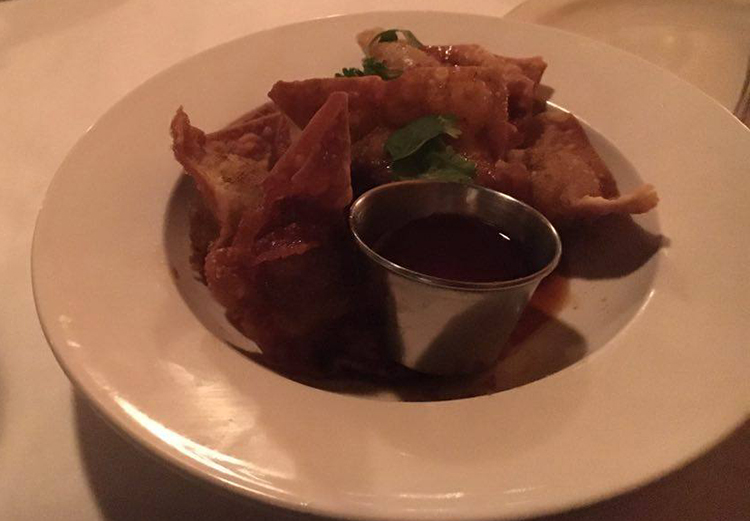 The issues started to emerge when the entrees came out. We ran the gamut on the menu, trying a little bit of everything. The sole highlight: the short rib, which was basically a Flinstones stylized chunk of bone in rib meat, covered in a rich sauce—absolutely perfect for a winter's night. Everything else carried some substantial flaws. The macaroni and cheese was actually penne drowning in an uninspired cheese sauce. The gnocchi with housemade chicken fennel sausage and tarragon cream tasted good on a base level, but it was one strong note of tarragon, until you bit into the sausage, which tasted like one strong note of fennel. We also ordered a scallop special with sausage, arugula salad, and potatoes. While the protein was respected, its side components were left undressed (arugula salad), overcooked (potatoes), and under-seasoned (both).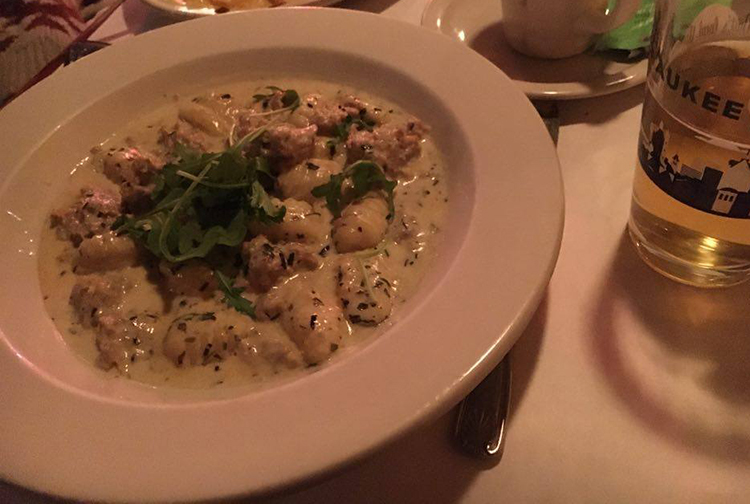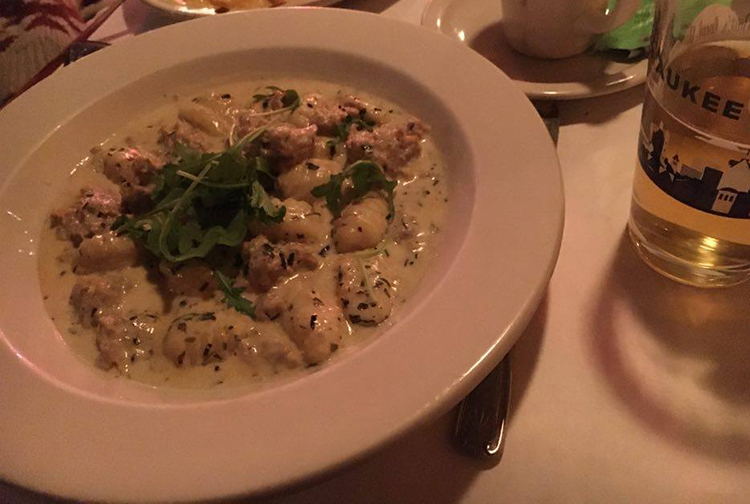 Then there was the trout and polish sausage dish. Trout, like chicken, generally tastes similar from preparation-to-preparation and dish-to-dish, so the diner should know what they're getting into when they order the fish. The flavor of our trout (about a three-millimeter thick fillet) was completely murdered by sauerkraut. We can't say for sure what the thought process was with the polish sausage, but it was essentially ultra-thin (about the width of three quarters squeezed together) medallions of charred-to-death carbon. We ended the night with a simple dessert: a champagne creme brulee. After coughing up a substantial chunk of change for our motley crew of entrees, we wanted to go with something that was hard to mess up.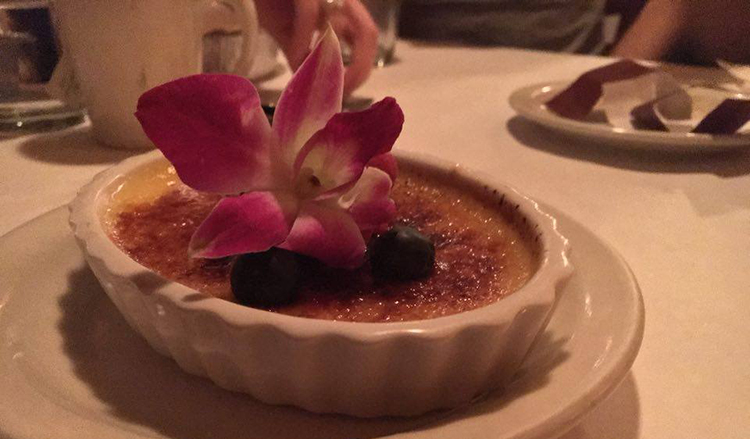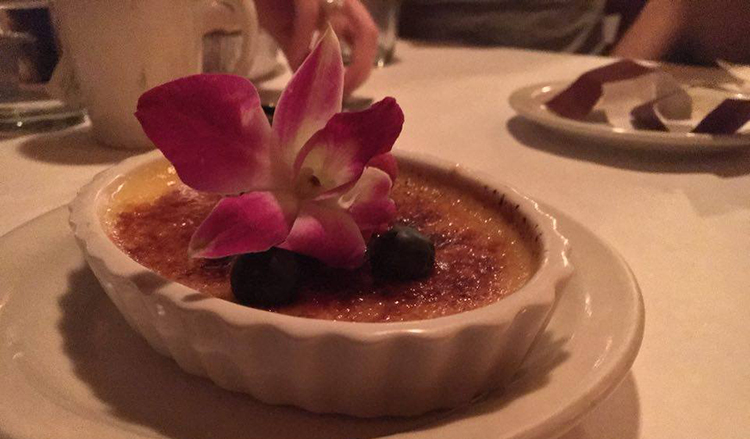 The verdict: Assuming this wasn't just an off night, Triskele's needs to step it up. At the risk of appearing eager to tear down a local establishment (trust us, we're not) it's important to consider the finances involved. A date night at Triskele's (food, drinks, dessert, tip) is liable to cost around $100. It's not beyond the scope of imagination to see returning for a bowl of mussels and a glass of wine, but Triskele's ambitious menu suggests that it wants to be more than that. Sadly, that ambition felt unfocused in our experience.
So does Triskele's deserve to remain tucked away? Well, the place has its merits, and with some of the details being executed so immaculately, it's difficult to say the flaws are so fatal as to warrant permanent obscurity. Until a few changes are made, though, we'll be swimming against the hype tide surrounding this secluded corner restaurant.