For more than 40 years, metro Milwaukee has been fed and entertained by Organ Piper Pizza, a one-of-a-kind restaurant and music palace buried deep in the guts of Greenfield. As the name suggests, Organ Piper specializes in two things: pizza and, more importantly, the pipe organ that provides diners with a family-friendly soundtrack to pair with their meals. Being a longstanding destination for kid's parties, school functions, and ill-fated high school dates, the pizza is justifiably bland, if not bad. Moreover, the beer selection is pretty shitty and the game room is nothing to write home about. But none of that matters. You see, it's all about the organ.
Without that Wurlitzer, Organ Piper is basically a Shakey's that lost its franchise distinction and, in the process, most of its good arcade games. The 1929 theatre organ with its 542 controls at a player's disposal at any moment, the room full of pipes, the nearby wall-mounted cocktail kit percussion, and kitschy mallard quack (or horn) section—both controlled by foot pedals and keys manned by the organist—are the reason people continue to embark down 108th Street to the restaurant-turned-relic.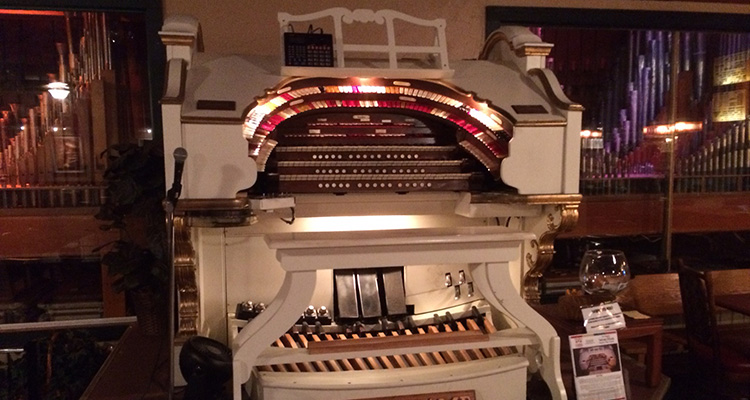 Given the instrument's complexity and individual specifications, only a select few people in the region know how to play it, including Milwaukee Brewers organist and Organ Piper substitute Dean Rosko. As strange as it is to write, an otherwise-average pizza joint features nightly performances by some of the state's most talented musicians…at least when it comes to their ability to play a very specific and oh-so-outdated instrument. Chief among the restaurant's "musical staff" is Zach Frame, a 20-something who mans the pipes every Wednesday through Sunday evening. Knowing the pizza would probably be nothing to write home about (which was later confirmed), we eschewed a standard review of Organ Piper in favor of a show review of one of Frame's recent dinner hour performances.
"Seventy-Six Trombones" — Meredith Wilson
This was a pretty strong start to his set. The standout song from The Music Man was only a hint of what was to come from our own in-house music man, who supplied synthetic brass with his masterful keystrokes.
"Ode To Joy" — Ludwig van Beethoven
Following the solid opener the well-dressed one-man band turned around on his stool, grabbed a mic and wished a couple a happy 37th anniversary before playing "Ode To Joy." Is 37 the cheesy bread anniversary? As quickly as it started, the old wedding standard was over and Frame was moving along to the next song.
"Dancing Queen" — ABBA
He called the happy couple (or as happy as a couple at Organ Piper Pizza with their kids on their 37th anniversary can be) out to a clear, organ-adjacent portion of the dining room floor to dance as he unfurled a peppy version of ABBA's "Dancing Queen," complete with the melodies and all.
"Beauty & The Beast" — Walt Disney's Beauty & The Beast
As if playing the music and emceeing wasn't already enough, Frame changed the lighting between songs to a deep blue gel that was befitting of the slow, lovelorn title track from the Beauty & The Beast film score. He's a true professional.
"Under The Sea" — Walt Disney's The Little Mermaid
Though the lights went up and the tempo changed, the Disney motif continued with another song from a 1990s animated classic. As Frame ably tapped the keys set to marimba, a small group of children ambled out on the dance floor to cut a rug without a hint of shame. He hit the mallard switch, ushering in a chorus of quacks to match the music.
"Happy Birthday To You" — Patty and Mildred Hill
Coincidentally, the same woman who was dancing to ABBA in honor of her 37th anniversary was apparently also celebrating a birthday. After a thin smattering of claps for the occasion, Frame executed a flawless rendition of "Happy Birthday" in all its recently-royalty-free glory. Get bent, Hill sisters.
"Aloha 'Oe" — Queen Lydia Liliʻuokalani
With the crowd now eating out of his multi-tasking hands, Frame ignored requests for a bit and went truly off book with this 19th century Hawaiian number written by an actual queen. Nobody seemed to care much either way. Don't know this song? Sure you do! Here's a version performed by the actress who played Cassandra on Wayne's World.
"Some Bullshit 1920s Song" — Unknown
No clue. It sounded pretty okay, whatever it was.
"My Favorite Things" — Rodgers and Hammerstein
By the time this Sound Of Music favorite came on, we had half a pitcher of beer and four slices of pizza in us. With Frame's musical abilities, we were starting to get into the Organ Piper frame of mind, singing along with our own version: "Pitchers and pizza, Bosco Sticks for dipping…" and so on. Though some Leinie's we'd settled on from Organ Piper's four-tap arsenal and lukewarm 'za weren't exactly a few of our favorite things, we didn't feel so bad.
"Daisy Bell (Bicycle Built For Two)" — Harry Dacre
The "it won't be a stylish marriage" lyric reminded me of the couple celebrating their anniversary with a pitcher of Barq's Root Beer and an instrumental version of "Beauty & The Beast" two tables over.
"Do-Re-Mi" — Rodgers and Hammerstein
With the second Sound Of Music song in five minutes, it became apparent that Frame was actually putting on a show. "Daisy Bell" tamped down the energy of "…Favorite Things" and "Do-Re-Mi" (that "Doe, a deer, a female deer" song, for those who didn't recognize the title) brought the mood back up again. A few people clapped along.
"You Got A Friend In Me" — Randy Newman
As we pondered whether Organ Piper had to pay residuals for playing this Toy Story song and the other Disney-owned predecessors in his set, Frame was maintaining the organ parts with his right hand and a foot, controlling the nearby drum kit with his left foot, and handling both auxiliary instrumentation and the lighting with his left hand. As simple and natural as the Randy Newman song might've sounded to someone focused on their meal, seeing what it took for one man to recreate it all live was honestly a sight to see.
"Rockin' Robin" — Bobby Day
Finally, a song with some balls.
"The Raiders March" — John Williams
Before taking a break after 45 consecutive minutes of entertainment, the star organist played one more request. Frame's closer, the bombastic and triumphant theme from Raiders Of The Lost Ark, made us think about the plot of that Indiana Jones film installment. In it, our hero ventured into the unknown and endured unsavory situations while in search of a rare treasure from another time. There, among the processed cheese and screaming children in a weathered pizzeria on an unfamiliar stretch of Greenfield, we'd unearthed a rare treasure. That is, until the music stopped.