Let's not even get into what qualifies as a polar vortex—it's cold, people. And if you're going to go to the trouble of bundling up and braving the treacherous roads and the conditions to get out of the house, then it better be worth it. Believe it or not, tomorrow marks the first official day of winter. That fact alone is probably enough to make you want a stiff drink.
These winter cocktails definitely deliver. We searched high and low to make sure these tasty drinks are worth your hard-earned money. Because who says happy hour is best in summer when you can lounge in the sunshine on a patio? It can also be delightful in the dark depths of winter when then sun goes down before most get off work. Convinced? Do your part to support a local business and try one—or some—of these for yourself.
The Cider Old Fashioned at Lucky Joe's Alchemy And Eatery (Wauwatosa)
Whether you drink Old Fashioneds regularly or you've yet to adopt this Wisconsin tradition, you'll enjoy this rendition's clever twist. The mixologists at Lucky Joe's have given their reassurance that this drink is similar to the original that people know and love. But it's also topped with cider and garnished with a dusting of cinnamon and nutmeg, and is decorated with a cinnamon stick.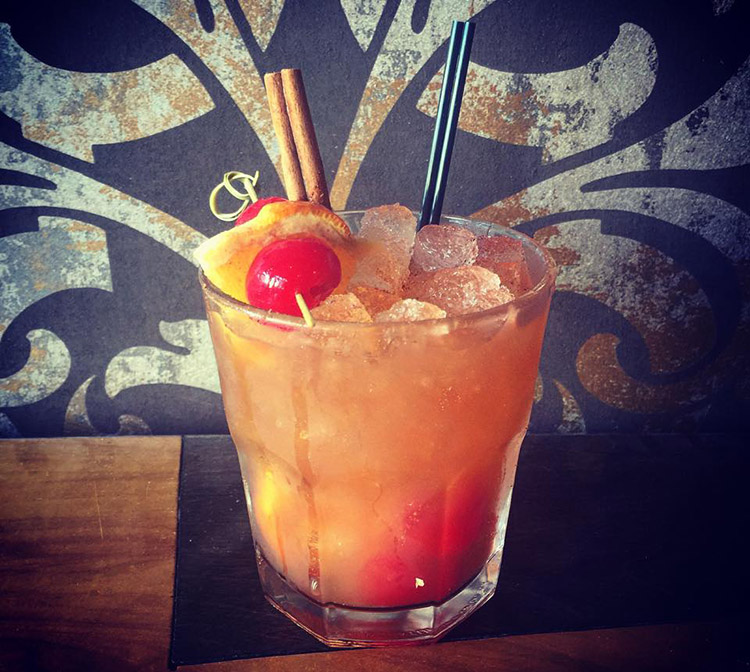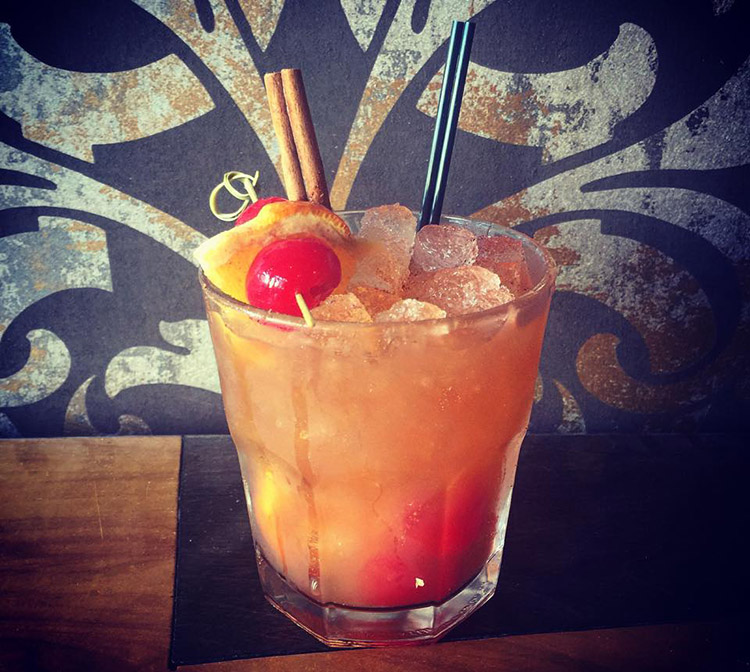 Sun God Sacrifice at Dock18 Cocktail Lab
This cocktail lounge is small, cozy, and feels a bit secretive (you have to ring the bell to get in, and reservations are highly recommended). But if you fancy yourself a cocktail person, then the experience is well worth it. This drink is a special twist on hot chocolate, with dark rum and bitters incorporated. Oh yeah, and flames, too. Who doesn't like that? These Dock18 people are cocktail pros (but not jerks about it), and they can pretty much whip up anything you'd want. Definitely make a date to go see them…maybe even as part of a date.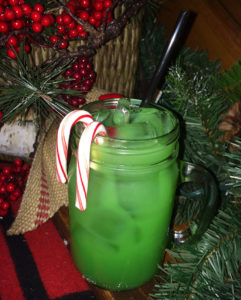 The Grinch at Camp Bar (Wauwatosa)
While most people probably order this one for the name or its gorgeous lime green hue, it's actually deliciously fruity and tasty, to boot. With peach schnapps, blue curacoa, rum, orange juice, and Sprite, it's the closest seasonal equivalent you can find to a tropical drink around here. Don't get your hopes up that you'll find it at other Camp locations, though. This one is just at Tosa, and it's availability should last through the winter.
The Citrus & Honey Mulled Cider at Lost Valley Cider Co.
Nothing says winter like spiked cider, and this one at Lost Valley is downright yummy. It starts with pressed apple cider, Jack Daniels Tennessee Honey, Lazzaroni Triplo, and lovely spices like cinnamon, cloves, allspice, cardamom seeds, and mace from the nearby Spice House. Pro tip: Get this during Lost Valley's happy hour (which is 5-7 p.m. Tuesdays through Fridays) and it's only $6—a savings of $4. It'll definitely give you a feeling of Grandma's house at Christmas.
The Evening Dram at The Outsider
The Outsider's rooftop patio might look a little different than you remember appearing over the summer, but the winter drinks will not disappoint. The Outsider calls this a "spirit-forward" amaro cocktail, and you should get hints of cinnamon, clove, and vanilla along the way. We can't even try to tell you what "spirit-forward" means, but whatever it is, it tastes pretty great. Plus, this one has a lot of bitters involved, as well as dark chocolate.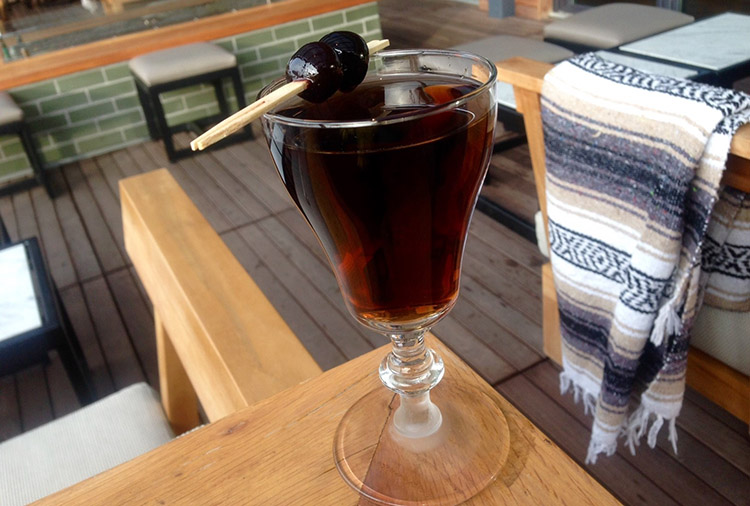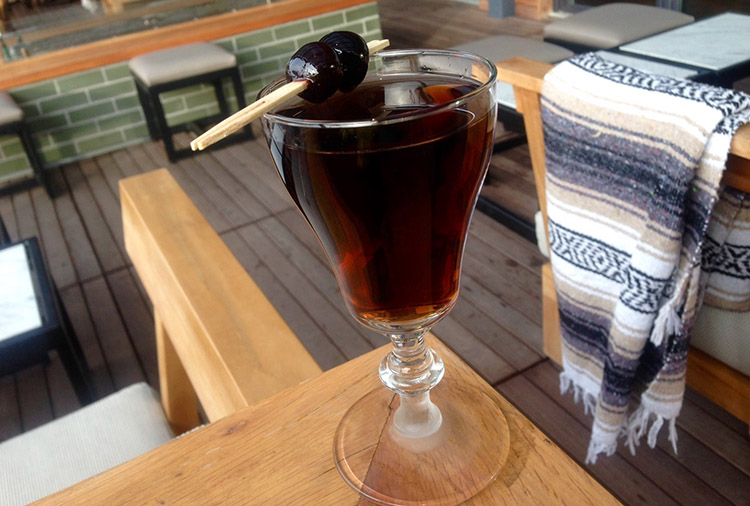 A Dairy State Of Mind at Comet Cafe
Brandy and milk together?! Yep, this is a Wisconsin drink through and through, one that's made with the aforementioned ingredients along with amaretto and simple syrup. You can also get a vegan version of it with soy milk substituted. Comet is definitely known for its delicious breakfast and brunch, as well as its affinity for bacon. No matter what you're eating there this winter, this would make a delicious addition.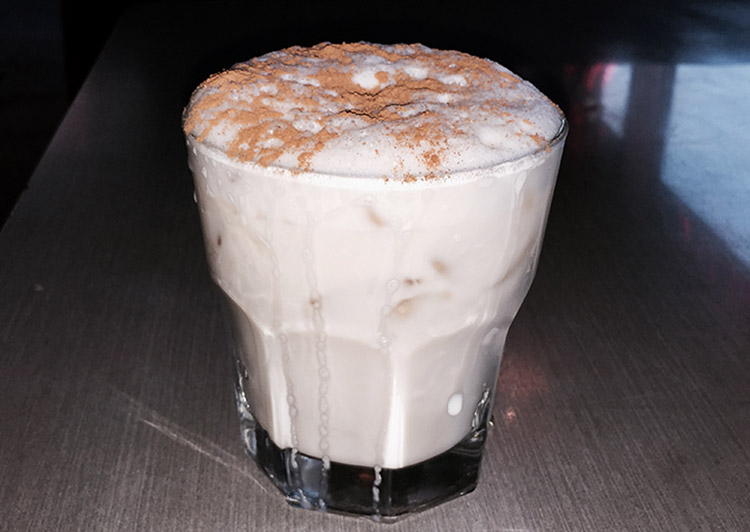 Candy Cane Russian at Finks
Like Russians? Oh, there are plenty more beyond The Dude-approved White Russian and its lesser-known Blond comrade. Finks has plenty to choose from, including an Egg Nog Russian, Chai Russian, and this here Candy Cane Russian. It features coffee liqueur, peppermint schnapps, vodka, and cream. Of course, the candy cane encrusted rim makes it complete. If you like a highball for a low price (and who doesn't?), check out Russian Mondays. They're $5 all night.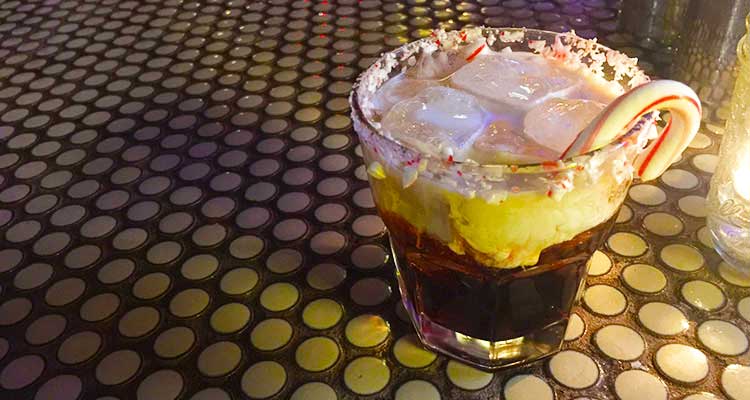 Seasonal Rum Old Fashioned at your house (Dock18 video tutorial)
The folks at Dock18 wanted to give you a super easy cocktail you can recreate at home, so they put together a recipe for a seasonal Old Fashioned. Now, don't get angry, diehard brandy drinkers. You can totally make an Old Fashioned with other booze. Check out the video and make sure to stay warm and in good spirits this winter, Milwaukee.