Sixteenth Street in Milwaukee, Wisconsin. Home to the updated El Rey that took over the Burger King lot, casting a shadow on the smaller and underrated La Hacienda, another superb Mexican grocery store. The main drag is on the outskirts of Potowatomi land, and the first place you see is the One Stop Outlet, a clothing store that used to be a restaurant/nightclub called "El Sombrero."
Any Latino/a/x person that has grown up on the south side of Milwaukee is very familiar with this stretch of the city. It is our downtown, our hub of eateries, grocery stores, and meeting spots. I can remember riding with my Tio Perico on the bus to the 16th Street clinic, as it was one of the only places in Milwaukee that would provide services to undocumented citizens.
There are a few good places to get tacos here—some new, some old. Jalisco is a place to enjoy late-night queso fundido (melted cheese with beans and chorizo) and chips. Cielito Lindo is also a late-night go-to, mostly for people that don't want to venture outside of the familiar terrain that is Walker's Point. The only truck is outside of the old El Rey, now a Family Dollar.
But down at the far end of 16th Street, right before Greenfield and its awkward and road-rage-inducing intersection, is Los Comales (1306 S. Cesar E. Chavez Dr., 414-384-6101). It is a spot that once specialized in tacos only, and is a franchise that was started in Illinois. It has locations in Chicago and Texas, but lucky for us, we have had one in Milwaukee since 1995.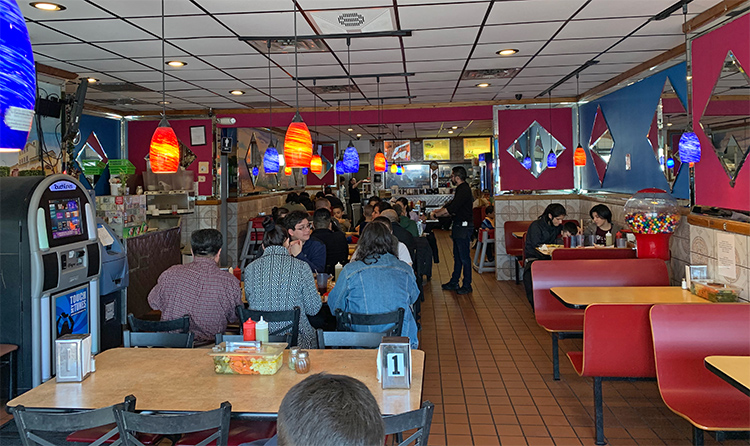 If it is not the weekend, you can enter through the front door and seat yourself in the well-lit dining area, under the pastel mural of Milwaukee's lakeside. During the weekends, you might have to go around the rear entrance. If you don't seem too wasted, you may be let in by the security guard with the eyebrow piercing and have to push past throngs of manic taco enthusiasts. If no tables are available, you may just have to lean on the broken ATM until one frees up. Red ketchup bottles filled with salsa roja, and clear ones filled with chile verde sit next to metal napkin holders on the tables.
What is different about this place is the plastic bin filled with pickled jalapeños, cauliflower, and carrots. It is a very specific botana (snack). Only for the ones that like their acids to be heartburn inducing. Add lime and salt.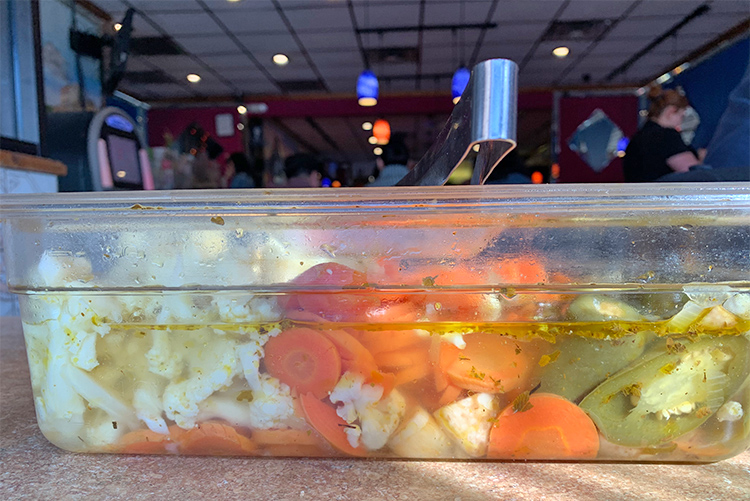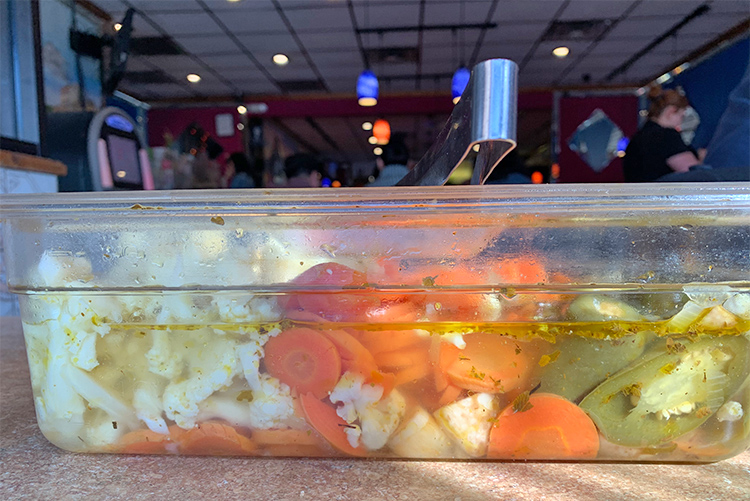 Los Comales has evolved past tacos only and boasts a menu with a few different items. It doesn't read like James Joyce's Ulysses like many other restaurant's food lists tend to. They have simple, utilitarian dishes that are wholly unpretentious. They have "Bistec a la Mexicana," which is steak simmered in tomato, onion and garlic, and jalapeños, served with beans and rice and tortillas. Growing up, this is the kind of food my dad packed for his 12-hour shift at the foundry.
My favorite dish here is definitely "Carne en su Jugo" which translated means "meat in its own juices." It is steak that has been cooked in bacon grease and then cooked in a tomatillo/serrano pepper/cilantro broth. It is garnished with pieces of crispy bacon, cilantro, onions, dried chile ancho, radishes, and lime. Served with tortillas, it is a dish that is rare in Milwaukee Mexican restaurants. This is a regional dish from Jalisco, and most of my Mexican friends that aren't from that state have never even heard of it.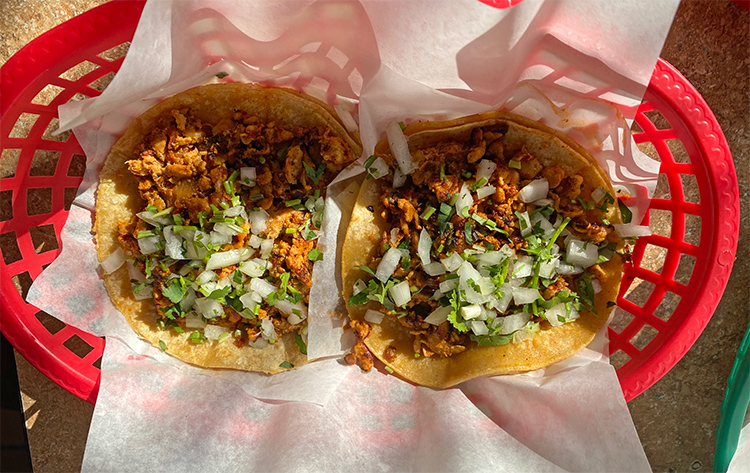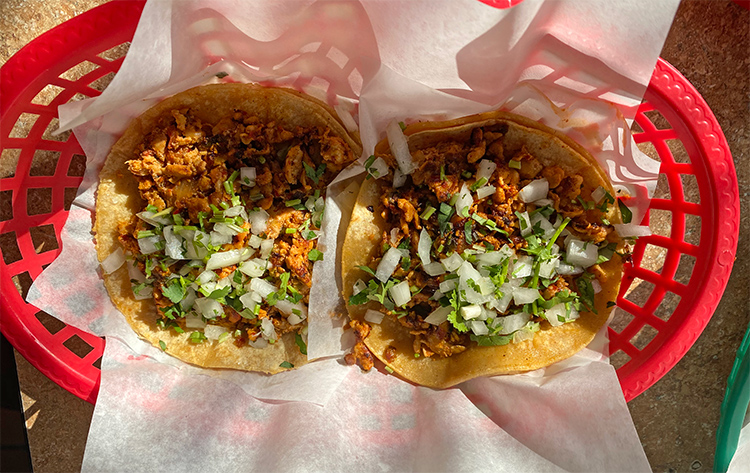 Side dishes like grilled knob onions are a must when ordering the tacos, especially if you are going to drench yours in lime and salt. The chicken tacos here are different. They're maybe the best ones I have ever had—chopped and grilled meat as opposed to boiled and pulled off the bone.
The Los Comales logo is a woman with two braids with her tongue out, implying how delicious their food is. I still hold that the logo is based off "La India Maria," a famous comedic character who was played by Maria Elena Velasco. It is a simple wink, a kind of reassurance to all of us Mexican folk that they know what they're doing here.