Even though Milwaukee is currently in Phase 4 of its COVID-19 recovery plan—and bars and restaurants can be open at 50% indoor capacity—many business owners have temporarily closed their doors. Again. Whether it's because of a staff member testing positive for COVID-19, a customer testing positive, or just out of an abundance of caution, these businesses are doing their best to navigate a baffling world where clear rules and guidance are scarce. (This list is current as of July 17, 2020.)
THE BACKYARD BAY VIEW
We have been closed since Monday as a precaution for Covid-19. We now know one of our employees tested positive for COVID-19. Our best recommendation is for anyone who recently visited our establishment to get tested. We have been deep cleaning since we closed. We are waiting on negative test result from employees. We will be closed until further notice.
We wish everyone great health and safety during these times. We will get through this together!
Dear Barnacle Bud's Customers,
As of this very moment we are shutting down operations as it has come to our knowledge that a staff member has tested positive for Covid 19. It has been our mission all along to comply with CDC guidelines in serving customers and keeping you and our staff safe. Since we have reopened we have taken every precaution to protect you and ourselves – masks, sanitizing, distancing, using disposables, etc.…
We have no reason to believe that the staff member contracted the virus at work. In any event we are taking the steps to close the restaurant indefinitely allowing all staff to be tested (after an incubation period), assembling a team to deep clean the premise and once we feel assured that we can reopen responsibly and safely, we will do so.
The decision to close is easy, it is the decision as to when we should reopen that we do not take lightly. We are maneuvering through these unprecedented times with caution, care and with full regard for our guests and for each other here at Bud's.
At this point in time it sounds trite to say "We are all in this together" but truly after witnessing our fellow businesses, in the service industry, fall victim to it's havoc and all endless planning and precautions involved with responsibly serving the public, we assure it is no small feat and we ARE ALL in this together.
We will see you soon. Be and stay well!!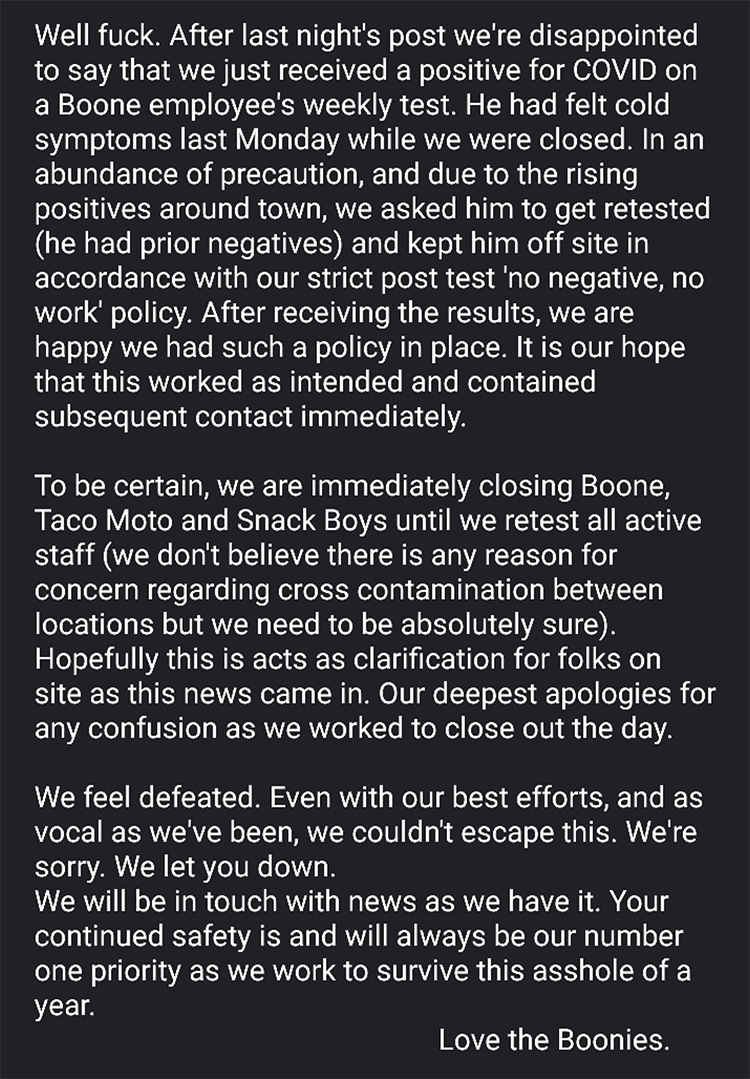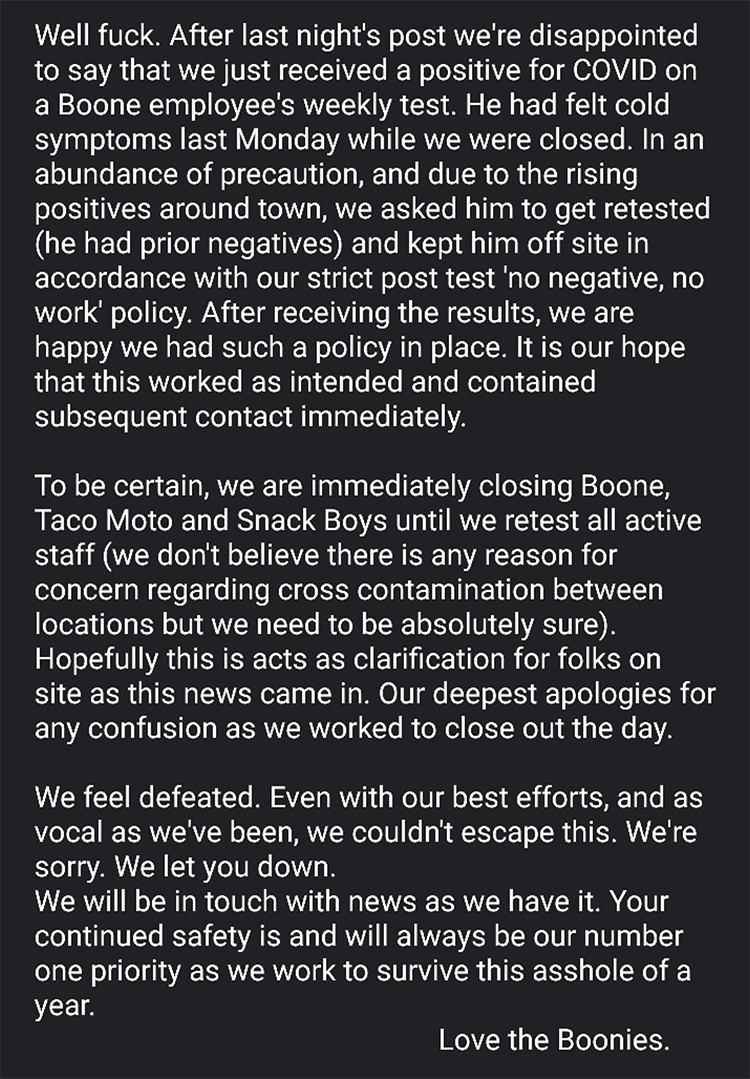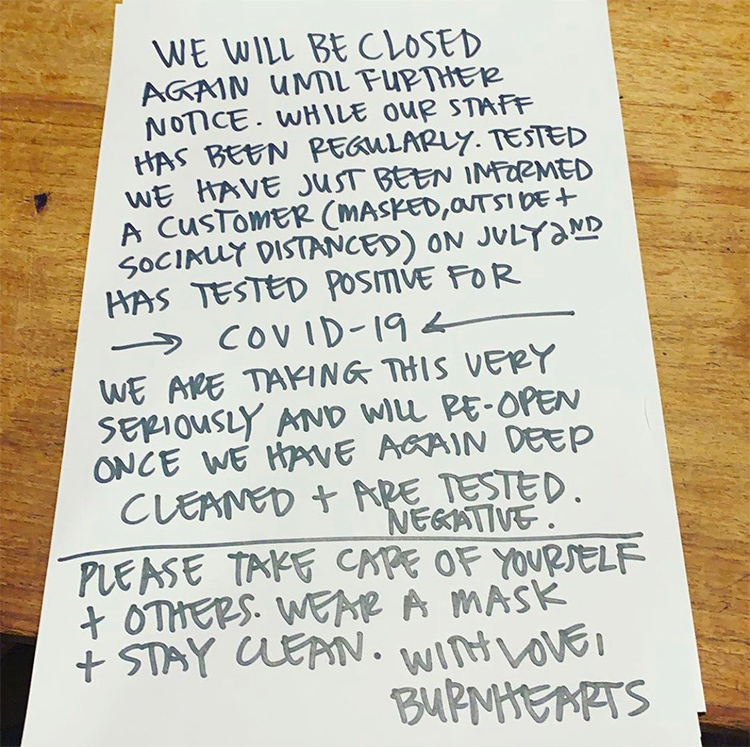 UPDATE 7/15: We have made the heartbreaking decision to remain closed until this virus is under control. As much as it hurts us, we cannot justify putting human lives at risk over a few pints of beer. We know you understand and we will see you on the other side of this mess. Stay strong, wear a mask, wash you hands, keep your distance & black lives matter.
CLUB GARIBALDI
As a precautionary measure and for the ensured safety of our guests and staff, we will be closed until further notice. As a number of bars in the Bay View neighborhood have closed or have remained closed and as the safety of our guests is paramount, we have decided to support those same safety measures and close as well. Please check our Facebook page and website for any updates! We hope to reopen as soon as we feel it is safe again, in the mean time please stay safe and healthy! Thank you all for your continued support. We love you.
COMET CAFE
Comet Café has been closed as of Sunday, July 5 and the final day for carry-out at Fuel Café on Center Street will be Sunday, July 12. This decision was difficult, but necessary, as both restaurants have struggled to remain financially viable during the covid-19 health crisis. We are grateful to our customers for their loyalty and support over the years and for our staff who has always worked hard to make these restaurants a welcome gathering place in our communities. Staff has been informed of the closures. We hope to resume operating at both locations at some time in the future when it is appropriate to do so.
ENLIGHTENED BREWING COMPANY
With a number of local establishments reporting positive COVID-19 tests from their staff members, and with the crowds we saw in the media over the 4th of July weekend, we've made the decision that we're going to close our taproom and suspend curbside pickup until further notice.
At Enlightened we want to be a proactive part of the solution to this challenge and not a part of the problem. Each individual in the company is going to take this week to get tested to ensure the health and safety of our workplace, our social circles, and our community. You can find our beer at your favorite grocery or liquor store but be sure to mask up and minimize any non-essential travel or potential exposure. Cheers and thank you for all of the support.
UPDATE (7/15): We are back at it today (open at 4pm) with 25% capacity and masks required when you're not at your table imbibing! Come on in or place an order online for curbside pick up!
FUEL CAFE (CENTER STREET)
Comet Café has been closed as of Sunday, July 5 and the final day for carry-out at Fuel Café on Center Street will be Sunday, July 12. This decision was difficult, but necessary, as both restaurants have struggled to remain financially viable during the covid-19 health crisis. We are grateful to our customers for their loyalty and support over the years and for our staff who has always worked hard to make these restaurants a welcome gathering place in our communities. Staff has been informed of the closures. We hope to resume operating at both locations at some time in the future when it is appropriate to do so.
FOXFIRE FOOD TRUCK (ZOCALO FOOD PARK)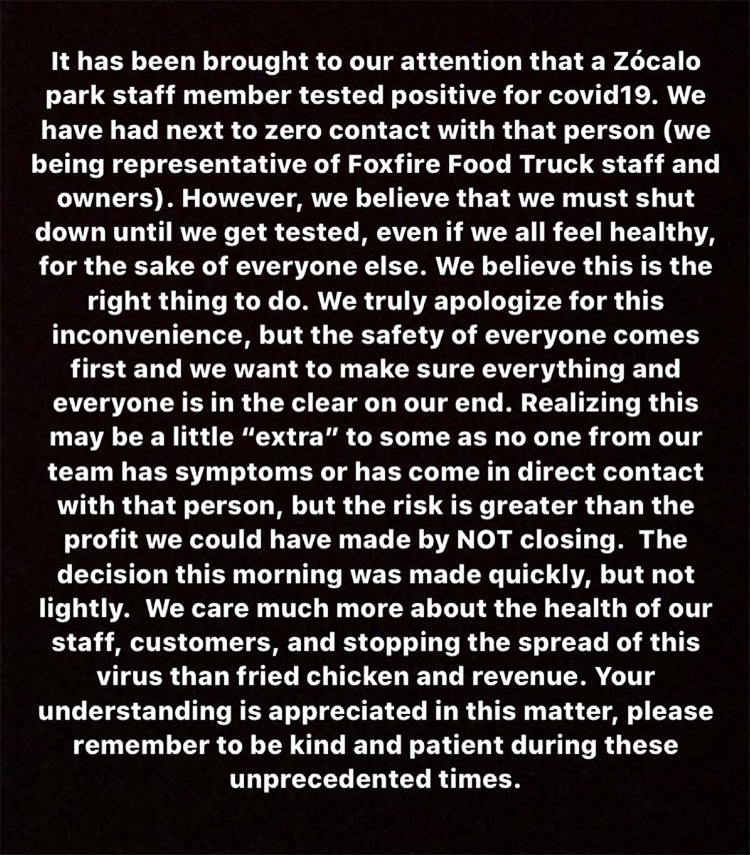 👋 Hello from the Umos Covid Test Site 👋
We were just informed that an individual, (NOT a gk staff member) was in the building that tested positive for Covid 19. They were masked and were in and out: however at this time, an abundance of caution is the only way we can think to operate.
We mask, we glove, we distance, we regularly test and we are as thoughtful and proactive as we possibly can be at all times- so, that's why we're immediately getting tested again today. Once we get our results we'll resume our service days, and pick up jamz. But for the time being, we feel it's only right to hit the pause button. ❤️
This is because we love you, and our families. Stay safe, love each other. This shit is real.
HAWTHORNE COFFEE ROASTERS
After all the precautions we could think of, we learned of a staff member's potential exposure to friggin Covid. We're closed while we test, clean and make a plan. Some of our staff have had zero contact with the person exposed and we may be able to open up on Sunday. We'll keep folks posted here and on Instagram. Stay healthy…wear a mask…social distance.
THE HIGH NOTE
We tried, we failed, we will learn. Evan the owner tested positive for COVID-19 today so we will be closing for the next 14 days to deep clean and quarantine. See you soon Milwaukee, stay healthy!
THE MECCA SPORTS BAR & GRILL
An employee of The MECCA Sports Bar & Grill staff has tested positive for COVID-19. To ensure the utmost health and safety for our employees and guests, The MECCA Sports Bar & Grill and The Beer Garden have been closed temporarily. Our plan is to reopen on Wednesday, July 22, after both establishments are thoroughly cleaned and sanitized. We wish this employee a full recovery during this challenging time.
THE NEWPORT
The Newport will be closing for the foreseeable future, starting [July 4].
We got word that one of our customers tested positive for corona virus, and out of respect for our employees, customers, and an abundance of caution we've made the decision to close for the time being.
None of our employees have tested positive, and we are strongly encouraging everyone on staff to get tests as soon as possible.
We want everyone to know we love and appreciate all of you, and we are making this decision to keep all of you, as well as our staff, and family safe.
This virus is real. Be smart and be safe. ❤️
REDBAR / SAUCY SWINE
Redbar and the Saucy Swine will be closed for a couple of days.
Good afternoon, redbarbarians. Since our re-opening on May 25th, we promised to give you the safest experience possible and we also promised 100% transparency. Staying true to our word, we have decided to close for a couple of days. This is completely precautionary- and the reasons that led to this decision are listed below:
1. We do not have any known positive cases. In fact, I (Carrie) am tested weekly due to other current medical issues. Our bar manager (Fisher) has been tested several times. He and his wife are expecting and he is being extremely proactive to ensure their safety.
2. We do have two employees that recently traveled out of state (they have not worked at redbar since their return and their test results are pending)
3. We have two current employees who are feeling drained or under the weather. They have been tested and their results are pending. They have not had known contact with any individuals who have tested positive for covid.
4. We do not have any regular customers or recent patrons that have disclosed a positive test to us in the past 10 days.
5. We want to reiterate that this is precautionary. We have maintained our position that we do not want to be the source of an outbreak and that the safety and health of our staff and our customers is our NUMBER ONE PRIORITY.
Until we get test results back from our staff, we want to be safe and make the best possible decision to guarantee that we are keeping you all safe. We will make a decision as to when we will reopen when we get the tests results back and can shuffle our schedule around. In the meantime, we will be taking this opportunity to deep clean the bar. Please be patient and know that we have your best interest at heart. If you have any questions, you may post them in the comments, PM us here on the redbar Facebook page or send an email to: [email protected]
Thank you. Stay safe and stay healthy!
RUBY'S BAGELS (ZOCALO FOOD PARK)
A letter to all of my bagel babes:
It's been brought to our attention that a Zócalo park staff member tested positive for Covid. We have not had any contact with that person (we as in Rubys Bagels – only speaking for my team and I) However we believe that we must shut down until we get tested even though our staff members and I have not shown any symptoms either. We truly apologize this inconvenience, but I much rather sanitize and deep clean everything and have my team and I tested and in the clear before reopening. I know this is not necessary because no one from our team has symptoms or has come in direct contact with that person but I don't want to risk it. It is not an easy decision to loose bagels that are already made for tomorrow but I care much more about a piece of mind and the health of others and myself, please be kind, I hope you understand 🧡 We have never been through this before, and we just want to keep everyone safe, and I want to continue to be as transparent as I've been since day 1. Love ya 💛 Keep you posted!
UPDATE (7/15): Ahah extra extra READ ALL ABOUT IT! We are back on this weekend! We are in the clear, thank goodness, we just wanted to have a health check and make sure my team and I were in good shape to serve you all! Pre Orders are open on our site! Please wear a MASK when picking up orders – we appreciate you all so so much and want to keep you ALLL heathy !
We've just received word that a staff member at a sister bar has tested positive for Covid-19.
Just to be safe we have immediately closed our doors. We will be deep cleaning our entire premises, as well as getting all of our staff tested.
Safety is our top priority, and we look forward to when we can safely open, until then we will remain closed.
SCREAMING TUNA (MILWAUKEE)
We are sorry to say that the thing that has robbed us all of our peace of mind every minute of every day has come to fruition. One of our family, one of our team, has tested positive for Covid-19. We will be closed indefinitely to allow for adequate testing for our staff, the world's deepest disinfection of our space, & to tighten our policies even further than what we shared earlier this week, both for diners & within our own team. This has been isolated to Screaming Tuna Milwaukee. Our Mequon location will operate independently indefinitely, sadly (We love Lil' Tuna & will miss it.)
There will be a shift to more & more infrastructure/operations outdoors, QR Code menu options, & a commitment to healthy lifestyles from our on-site team, among other policies new & old. As we mentioned last week, clearly we have zero desire to move to the 50% capacity allowance from the City of Milwaukee.
We apologize to everyone for succumbing to this, & thank every kind person we called to cancel their reservations through this week for the understanding & well-wishes. Good people mean everything in these unbelievably trying times. We will soul-search, consult with our family on their wishes & do our best. Please please please, be safe & look out for one another.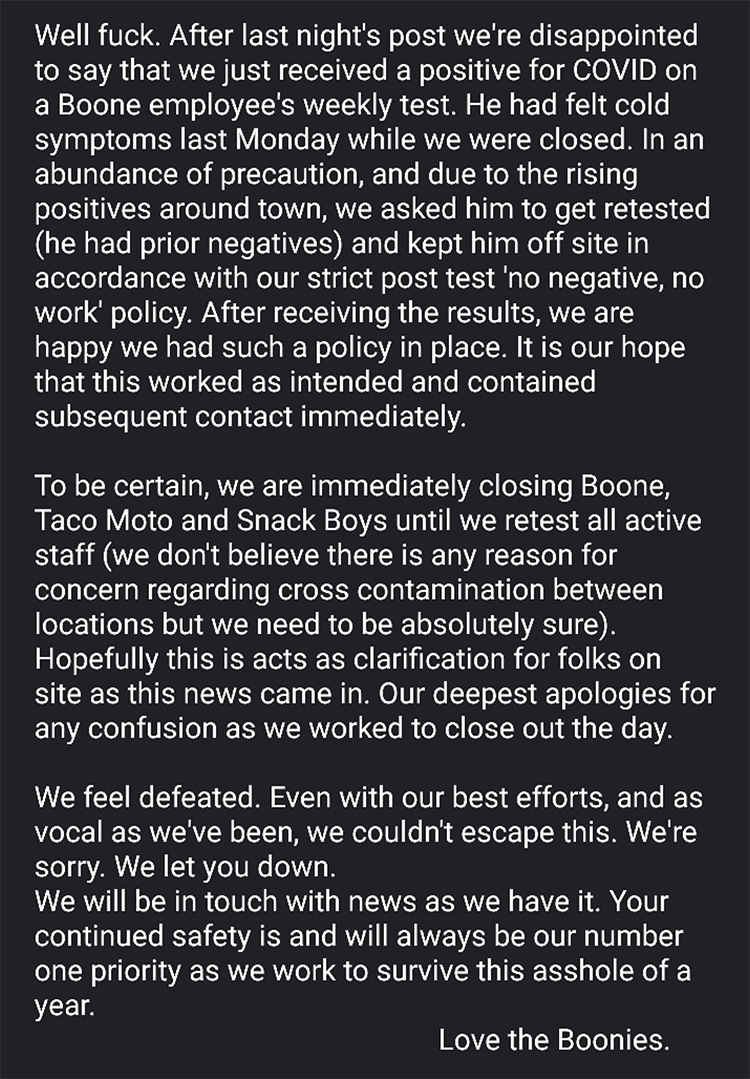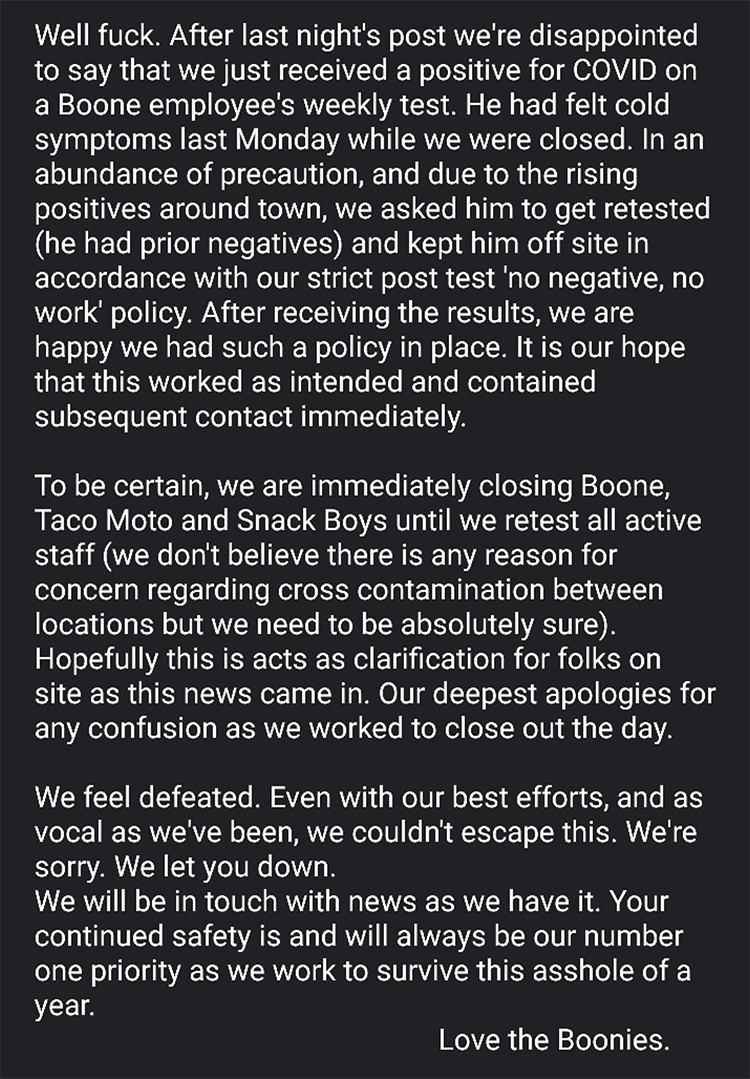 STUBBY'S GASTROGRUB & BEER BAR
To our loyal patrons and Stubby's family,
It is with a heavy heart that our team has decided to close its doors for the holiday weekend until further notice. Unfortunately, a positive case of COVID-19 has made its way into our establishment. Although this is not considered an outbreak, we are taking all precautions within our means. From the beginning of this pandemic, Stubby's has joined along with many other small local businesses and families to take this seriously. We have strived to take the most serious measures of safety and health for our staff and guests by closing our bar and dining room indefinitely, practicing social distancing, requiring masks for staff & guests, sanitizing, and heavy daily cleaning. That being said, it is a reminder to all exactly how serious COVID-19 is. We will sincerely miss you all and we will be back at it as soon as we feel it is safe to do so. Please enjoy the holiday with your loved ones and thank you for all of your loyal support. See you soon and stay safe!
❤️ Stubby's
UPDATE (7/16): We're back!!!😜😘😀😁😷

As of 4pm today, our patio will reopen for full service and we can't wait to get your butts back in our seats! The bar and inside dining room will remain closed and masks are required at all times except while seated at your table. Thank you kindly for adhering to this policy. 😷

We can't wait to see you soon!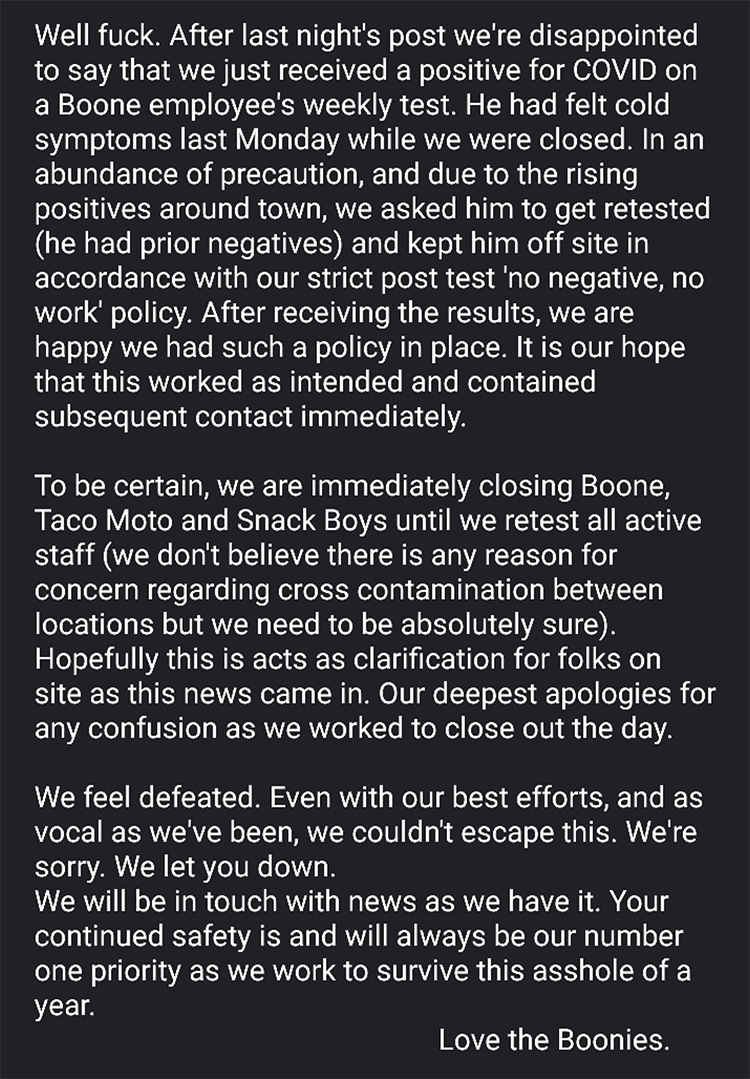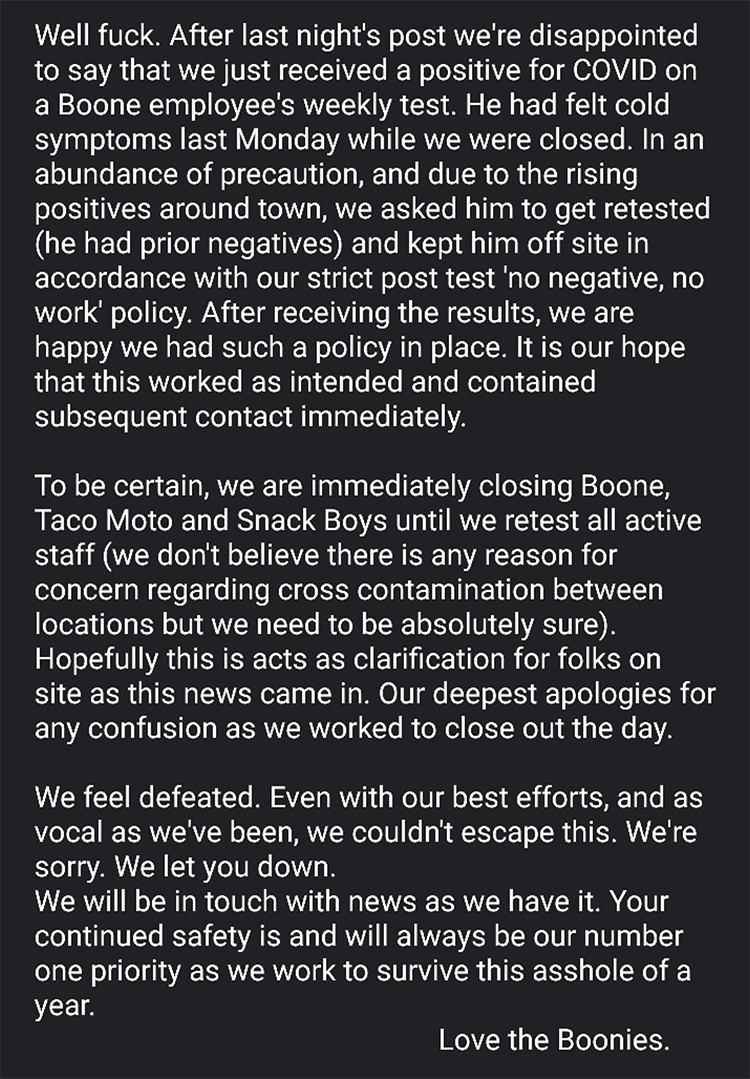 THE TANDEM
Good news – we love y'all! Bad news – no meal distribution this Friday. Because our love for you is so strong, we are taking a page from the Uncle Wolfies playbook and shutting it down till next week. Our staff had a field trip to Custer Stadium last night to get qtipped in the brain… as shit starts to really pop off in Wisconsin again, it's our #1 priority to keep everyone safe and healthy. Barring complications, WE WILL BE BACK TUESDAY WITH PLENTY OF BANGIN FOOD FOR Y'ALL.
THE TRACKS TAVERN
Due to a possible Covid-19 scare, we are closing down for a few days until our staff has tested negative. We're committed to the safety of our staff and patrons, so we take even the slightest risk as a serious issue. Stay safe, wear a mask if you can.
UNCLE WOLFIE'S BREAKFAST TAVERN
Important Uncle Wolfie's + Orange and Blue Co. update for this week, PLEASE READ! |Before stay at home orders, before mask ordinances, we shut our doors and headed into take out and pick up. We haven't stopped, just tried to protect ourselves + you. But, we've decided this week, based on a lot of things around us, that we will be taking a couple of days to close and have all our staff tested for Covid and deep clean even more. We have not had any one on our team test positive, we are just preemptively having our staff do a health check in, and giving ourselves time before we continue with our normal masked up take out. -Want to support us during this? You can purchase gift certificates at www.unclewolfies.com + swag via the Orange and Blue Co. on shop. | We appreciate your continued support through all of this —stay safe, mask up + continue to be kind to each other.
ZOCALO FOOD PARK
Even with the best laid plans and implementation of socially distanced dining , contactless payment system, disinfecting the picnics table, mandatory masking for staff and limited seating, we had a member of Zócalo test positive for COVID-19. This individual has had minimal contact with other staff at the park, and no others have or currently are exhibiting symptoms. We feel it is our responsibility to the community, the vendors and all staff to temporarily close out of an abundance of caution concerning their health and safety. We will use this time to disinfect the interior of Tavern and commissary kitchen used by some of the trucks and provide time for staff to be tested. Even though the contact was minimal, we felt it important to be proactive and put safety first and foremost. We apologize for the inconvenience, however the health and well-being of our community, staff and trucks takes priority. Please remember to wear a mask, wash your hands and social distance. These are the best preventative steps for us and everyone. Thank you for your patience and understanding, please check our social media for updates on our re-opening.
UPDATE (7/16): WE ARE BACK! Thank you for your patience & for understanding. We've electrostatically disinfected and test results have come back negative. Our positive case is in good spirits and doing well in isolation. We are reopening in stages. This weekend the following vendors will be open during their normal hours of operation: Fontelle's Eatery, Anytime Arepa, Ruby's Bagels, Scratch Ice Cream

We can't wait to see you.
Remember NO MASK, NO SERVICE.
Thank you for understanding and for doing your part
Exclusive articles, podcasts, and more. Support Milwaukee Record on Patreon.
---
RELATED ARTICLES
• Nearly 100 Milwaukee businesses (including us) call on officials to support mask ordinance
• Committee passes mandatory mask ordinance; Common Council will vote July 13
• Company offers to make 1 million free masks if Milwaukee passes mandatory mask ordinance
• "Please don't let us become Florida or Texas": More than 70 Milwaukee businesses call for mandatory mask rule
• Please enjoy the many delightful emails supporting or opposing a citywide masking policy
• Milwaukee bars and restaurants explain why they will or will not reopen on Friday
• Open or closed? Milwaukee-area bars, restaurants, businesses respond to whatever's going on now