It's an unprecedented and incredibly difficult time for restaurants right now. Wanting to highlight local establishments who are keeping food quality high while also keeping its customers and employees as safe as possible during the ongoing COVID-19 crisis, we're going to focus on restaurants that have completely shifted to carryout and/or delivery service in a series we're calling "Carryout Chronicles."
Since starting Carryout Chronicles more than six months ago, the series has brought us to a wide variety of takeout- and/or delivery-only businesses in and around Milwaukee. In addition to covering a vast range of restaurants from all over the dining spectrum and visiting various sections of the city, our carryout quests have also found us picking up items from cafes, Middle Eastern grocers, bakeries, a Sherman Park marketplace, a suburban arcade and music venue, and a brewery that also has a full kitchen and sizeable food menu.
Sticking with the brewery angle, we figured it was high time to shift the focus a little for one of these installments and, instead of picking up food again, go on a good old fashioned beer run. And in terms of a pandemic business model, there's only one brewery in Milwaukee (at least by our calculations) that remains carryout-only right now. Coincidentally…and embarrassingly due to how close to it we live, it's also one of the only breweries in the city we've never visited. However, with the sterling reputation it has developed since opening just shy of four years ago and its continued commitment to both patron and employee safety here in month number 15 of the COVID crisis, we finally took a trip to 1840 Brewing Company (342 E. Ward St., 414-236-4056).
Policies And Procedures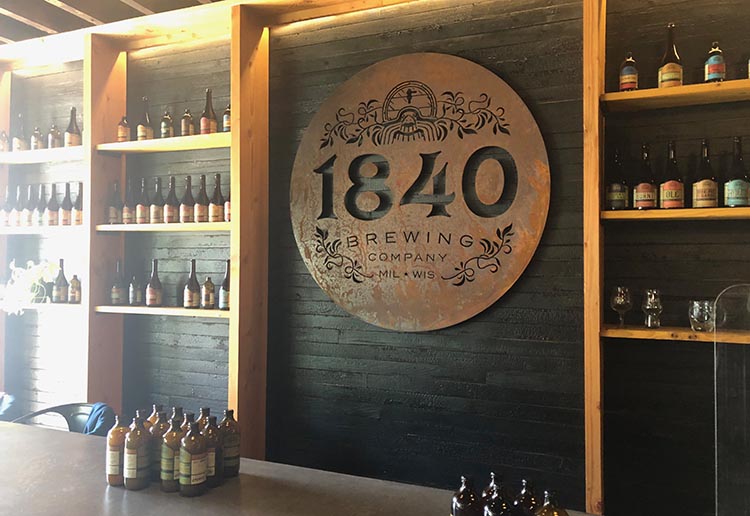 Even in the "before times," 1840's hours of operation were limited. That's still the way it is, as its "Pandemic To-Go Hours" are 4-7 p.m. on Fridays and 12-5 p.m. on Saturdays. Customers can either order online to pick up (either themselves or with a "proxy" buyer who is 21 or older) during those hours, or folks can simply mask up and come into the taproom to buy beer on-site to enjoy elsewhere. There is no drinking allowed on the premises at this time and the staff currently limits occupancy to three customers at a time.
Last Saturday, we stopped in to pick up a few beers to enjoy outside during the warm (but windy as all hell) day. Stopping about 30 minutes after it opened, we selected a few options from one of the brewery's beer lists that were posted near the Plexiglass-partitioned bar. We paid with a card, both out of habit and 1840 policy, then picked up a box with our haul inside and left through an exit-only door. The whole contact-free interaction/transaction took less than five minutes.
Carryout Quality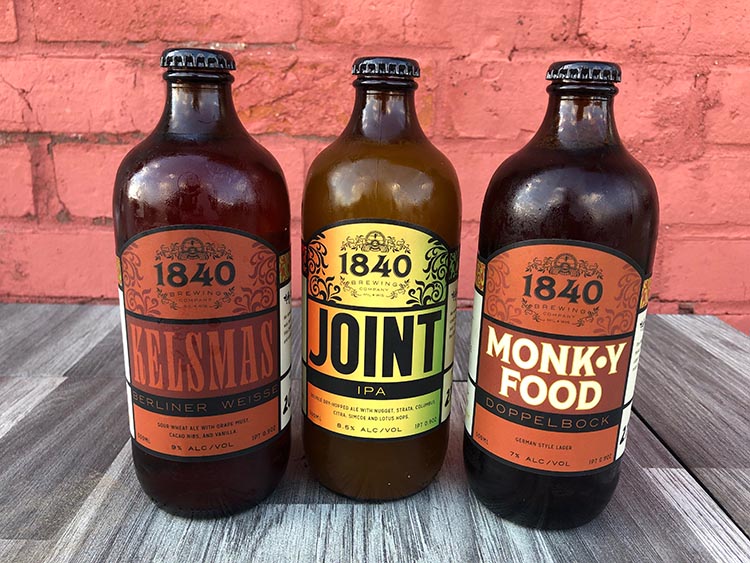 While the pickup experience was quick and efficient due to the current conditions regarding COVID-19, it's evident that a great deal of time, care, and personal touch is put into the beer the "Urban Farmhouse Brewery" produces. Owners and husband-wife team Kyle and Stephanie Vetter specialize in aged beers, which they make in small batches using "rustic methods" that (true to the business' 19th century name) honor Milwaukee's rich brewing past.
Our order consisted of a total of five 500 ml bottles (which are approximately 16 ounces apiece) of beer that we felt gave a diverse sampling of styles. We got the newly-released "Joint" IPA ($8), which 1840 collaborated with Eagle Park to make in time for this year's April 20 festivities. It was juicy, delicious, and—thankfully—seemed more like a New England IPA than the "dank" and hop-packed 8.6 percent ABV beer we were expecting on account of the name. We thoroughly enjoyed it. On the maltier end of things, Monk•y Food ($6) was smooth, tasty, and deceivingly light for a doppelbock. Finally, we took advantage of a three-for-$10 special on Kelsmas, a sour wheat ale that had notes of grape, vanilla, and cacao. Honestly, with the seemingly clashing list of ingredients, we had no expectation of this being the standout, but the Berliner Weisse was the star of the show and proved to be a perfect patio pairing for an 80-degree day. We're glad we got three of 'em.
Other Info
If none of those beers strike your fancy, 1840 typically seems to have somewhere between 10 and 12 beer options on hand in its taproom. And if you don't live in or around Bay View, you can also find some of their beer at local retailers, such as Ray's Wine & Spirits (who 1840 recently worked with on an "I Got It At Ray's" barrel-aged Imperial Stout). You can also support the brewery through this difficult time AND get deals and 1840-branded items by signing up for the VIP Program.