Are you buckled up, libs? Are you prepared to get OWNED? Are you [insert something about Hillary Clinton or AOC here]? Then check out this Sunday-night tweet from News/Talk 1130 WISN radio dude Gregory Jon. It's a picture of lib Mayor Tom Barrett—the same lib mayor that has you cowering behind your masks—TOTALLY FOLLOWING THE LAW!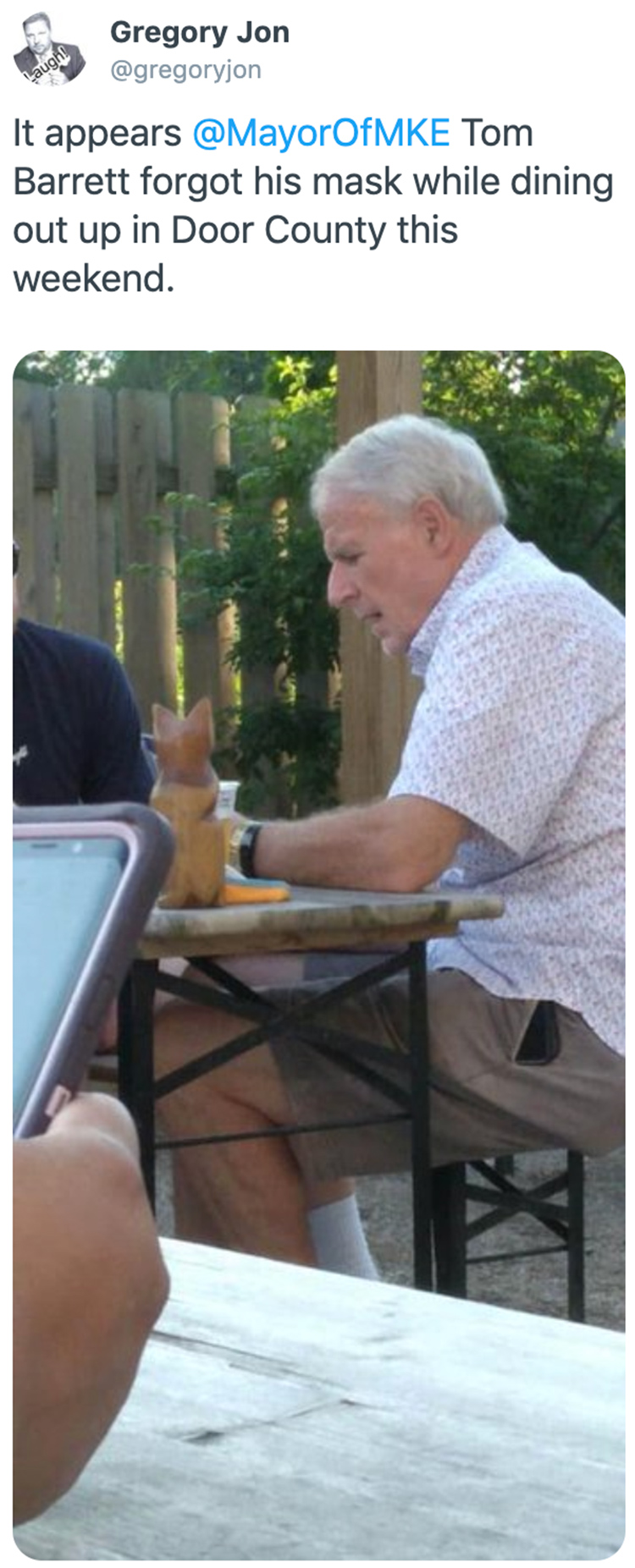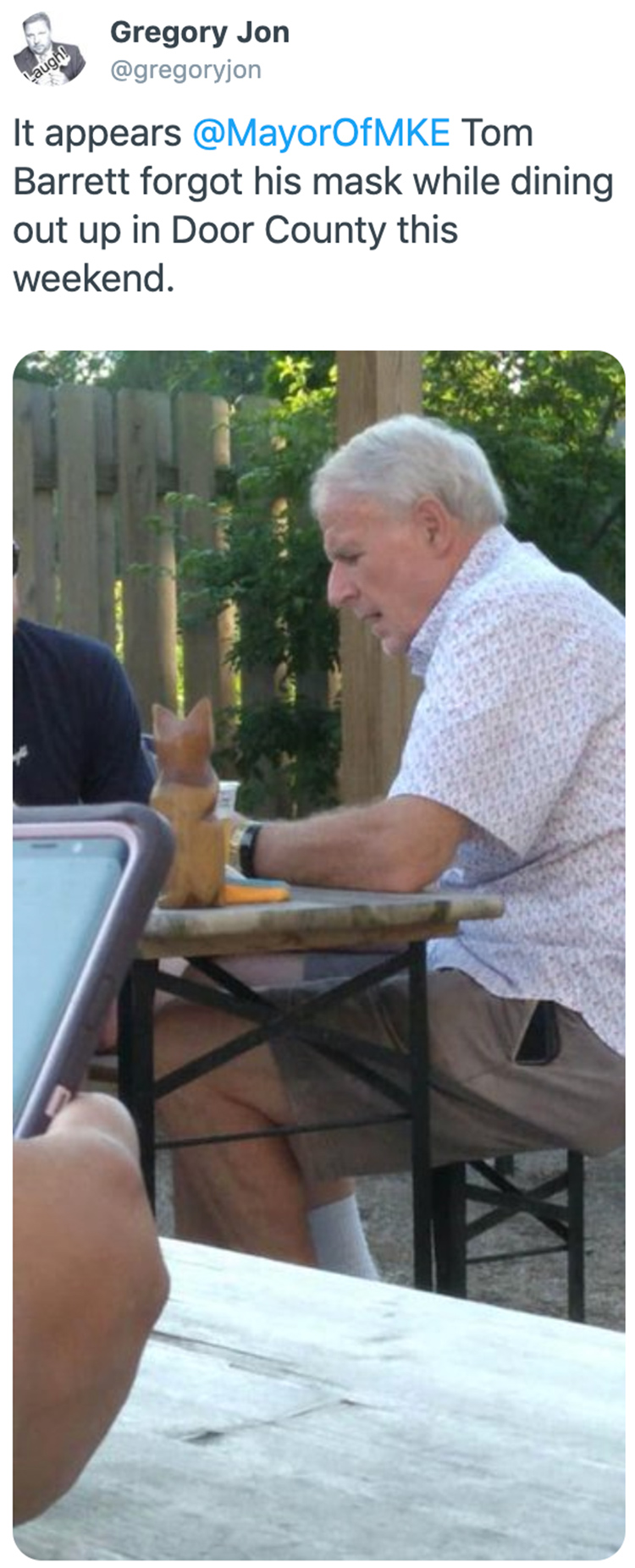 Haha! Suck on THAT, you PC virtue-signaling sheep afraid of the common flu! There's your beloved mayor, not wearing a mask in a restaurant located in a part of the state (Door County) that doesn't have a mask order! And even if Door County DID have a mask order (which it doesn't), and the hypothetical mask order was identical to Milwaukee's (which it isn't, because it doesn't exist), Barrett would STILL be following the law by hanging out with his own family, being six feet apart from other folks, and eating and/or drinking! Plus, he's outside! Which doesn't even matter, because Milwaukee's mask order allows folks to remove their masks while eating and/or drinking both inside and outside! TRIGGERED YET? I'M POSTING THIS ON FACEBOOK, TOO, YOU SJW CUCKS!
Also, you can totally see Barrett's mask on the table and here he is wearing it: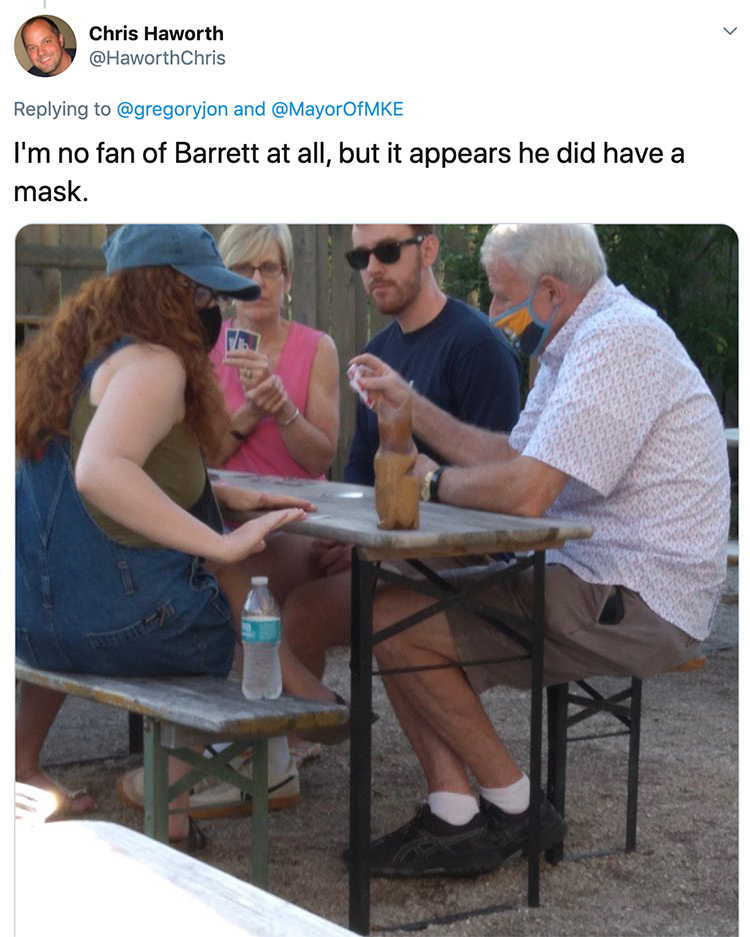 So, um, whatever. Elites. Trump. Walker. Yeah. And "Black on Black" crime (which isn't a thing). OWNED.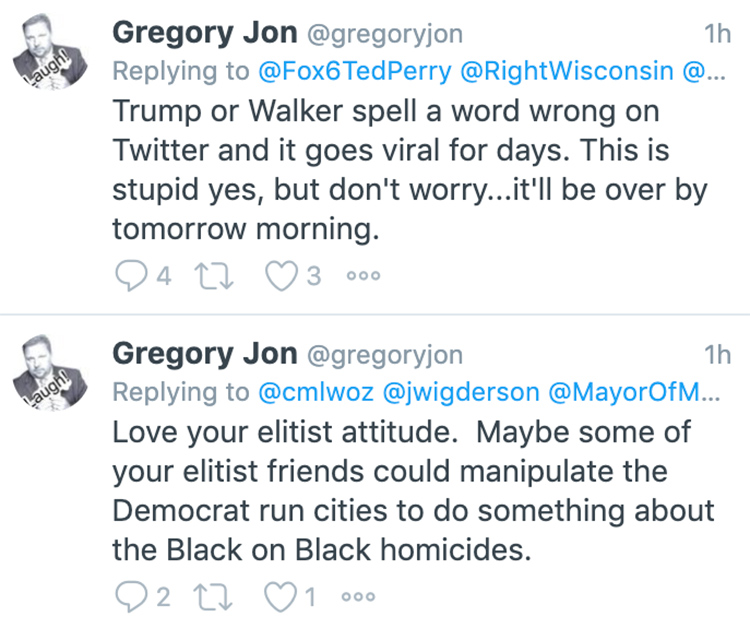 Exclusive articles, podcasts, and more. Support Milwaukee Record on Patreon.
---
RELATED ARTICLES
• Milwaukee Common Council unanimously passes citywide mask mandate
• Nearly 100 Milwaukee businesses (including us) call on officials to support mask ordinance
• Committee passes mandatory mask ordinance; Common Council will vote July 13
• Here's Milwaukee's proposed (and updated) mandatory mask ordinance, to be discussed Thursday
• Company offers to make 1 million free masks if Milwaukee passes mandatory mask ordinance
• "Please don't let us become Florida or Texas": More than 70 Milwaukee businesses call for mandatory mask rule
• Please enjoy the many delightful emails supporting or opposing a citywide masking policy
• Milwaukee Health Commissioner: "We're going to have to be more aggressive with our enforcement"