Yeah, we know it's early, but through nine games, the Milwaukee Brewers haven't exactly done much on the diamond worth highlighting. With a dreadful 2-7 record, the makeshift franchise is not only mired in last place in the National League Central, they're dead last in all of baseball. With Carlos Gomez headed to the disabled list, Ryan Braun having already missed time, no offense of which to speak, the front office's utter unwillingness to trade veterans to replenish the currently laughable prospect pool, and Ron Roenicke likely preparing to sublet his place in Milwaukee any day now, it's not an ideal time to be a Brewers fan. Though fans have yet to see anything too promising from the ramshackle cast of characters on the diamond, perhaps the players can at least be worth following on the Internet.
As the Brew Crew heads to Pittsburgh to, hopefully, climb out of the cellar this weekend, Milwaukee Record went through the 25-man roster to check out the team's collective Twitter presence and give out some Follow Friday recommendations. Unfortunately, 11 players don't tweet at all (Braun, K-Rod, Adam Lind, Jean Segura, Khris Davis, and Aramis Ramirez among them), but here's our evaluation of the 14 Milwaukee Brewers who do.
Michael Blazek (@MichaelBlazek34)
In purely baseball terms, trading John Axford for Michael Blazek made sense. Milwaukee was shedding salary and a former closer who (at least to this point) would never regain his dominance, and they managed to get a power pitcher with some upside in the process. In Twitter terms, though, the Cardinals straight up fleeced the Brewers. With the Ax-Man also went what was far and away the team's best social media representative. Now on his third post-Brewers team, Axford is still delighting more than 78,000 devoted followers with spot-on Oscar predictions, goofy mustache photos, and witty one-liners. Meanwhile, Blazek has composed three tweets this year and shown nothing more than league average grammar and spelling skills. This is his best tweet of 2015.


Deep shit, man.
Mike Fiers (@Fiers64)
On the whole, Brewers starter/dude who launched a million "fire" puns Mike Fiers seems to be a pretty intelligent dude with a keen sense of humor. Yet the pitcher's near-15,000 followers must sift through a shit ton of Brewers-oriented team tweets in order to unearth any semblance of that personality that's all-too-rare in baseball today. Those ticket packages won't sell any more or less based on a No. 4 starter's retweets. Hopefully he breaks down his Fiers-wall (Sorry!) and lets fans into his seemingly interesting personality sooner than later.
Matt Garza (@Gdeuceswild)
Fiers is kind of withholding, sure, but Matt Garza's Twitter account is literally protected. That wasn't always the case. As a member of the Rangers in 2013, Eric Sogard bunted an insurance run home and unlocked the veteran starter's inner misogynist. Now, fewer than 400 followers are privy to Garza's antiquated views on gender roles. Private Twitter? #MansGame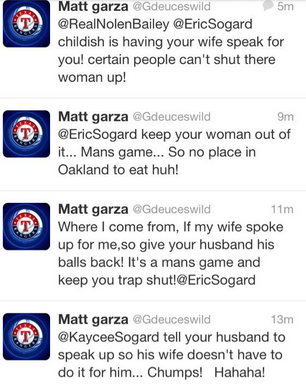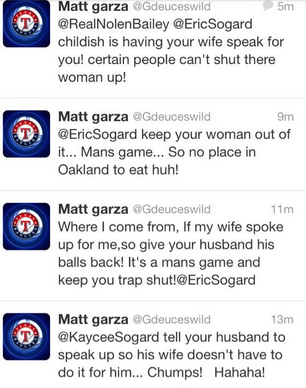 Jeremy Jeffress (@JMontana41)
After a tumultuous first tenure with the Brewers that included suspensions and a snail's ascent up the minor league ladder (before being traded to the Royals, who then traded him to the Blue Jays), the former first round selection found his way back to his original team last season and finished strong. In this short campaign, the redeemed reliever has continued to impress. Stubborn fans who are still seeking reasons to hate the misunderstood middle reliever won't find fuel from Jeffress' Twitter account. There, you'll find sponsor shoutouts, fan retweets, Vine (or YouTube) clips, and photos. Like seeing the redeemed righty trotting out to the mound these days, you also won't mind seeing him come up on your Twitter feed.
Kyle Lohse (@KyleLohse26)
If you watch enough of a Brewers broadcast during a Kyle Lohse start, you're going to hear mention of the veteran pitcher being the resident clubhouse clown, usually accompanied by footage of him fucking with rookies or mugging into the dugout-adjacent camera. We'll be honest, Lohse's sense of humor does not translate to social media. Aside from making fun of Scooter Gennett "Photobombing" a billboard with more established Brewers (most of whom are hitting over .200), @KyleLohse26 essentially just promotes sales of K Cancer shirts—which, yes, is admirable—and team-oriented photos as well as other Brewers propaganda.
Jimmy Nelson (@Jimmy_J_Nelson)
If you like grammar-free sentence fragments about video games, terrible movies, and inside jokes directed at girlfriend of the best pitcher in the system of team without a minor leaguer ranked in Baseball America's top 150 prospects, you'll love Jimmy Nelson's Twitter account.


Wily Peralta (@WilyPeralta38)
Started on December 30, 2014, Peralta has tweeted 14 times so far. His most compelling one was thanking a company for giving him speakers. Twitter isn't for everyone.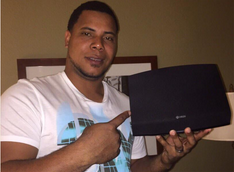 Will Smith (@White_Willy31)
A great sign that an organization is rudderless and seemingly cool finishing in fourth place (as long as Hank merchandise and artisan donuts keep selling!) is when it shoves a virtually unproven left-handed specialist to the forefront to serve as the face of its social media. Fortunately, Will Smith is that unofficial ambassador. He's pretty funny, openly appreciative of fans, and he doesn't seem to take himself too seriously. Hopefully tweets trolling his teammates and pictures of himself in a weird outfit beside Bob Uecker will help ease what looks to be a long season.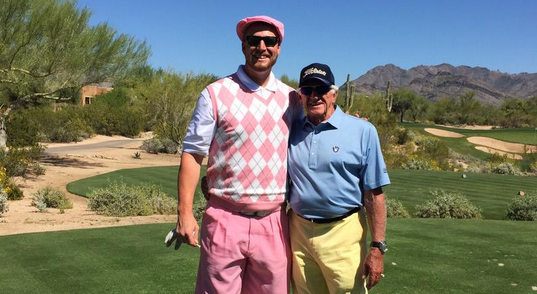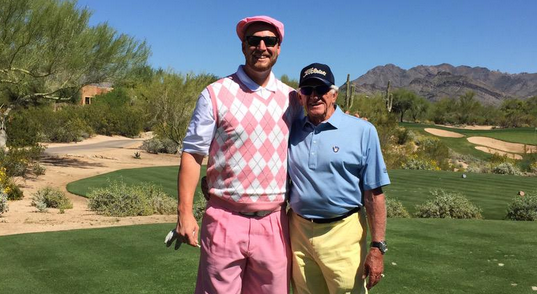 Tyler Thornburg (@TylerThornburg)
Suggesting the reliever has a sense of humor, Thornburg refers to himself in his bio as a "Pitcher/Pinch Runner." Additionally, he strengthens otherwise mundane musings with funny and nonsensical hashtags like #TheStruggleIsReal, #NipSlip and—you're going to love this one—#BrewCrewWorldSeries. Too funny.
Jonathan Lucroy (@JLucroy20)
Miraculously, an All-Star catcher and the unofficial face of a franchise who has 69,400 followers and 820 tweets to his credit somehow manages to offer virtually nothing worth reading. In under 140 characters, followers quickly learn Luuuuuc has no character. That said, you can't underscore the importance of the word he does for Honor Flight.
Martin Maldonado (@Machete1224)
The ever-present back-up catcher spells Jonathan Lucroy once or twice a week. Off the field, Maldonado spells reactionary tweets about sports. Beyond tons of retweets, Maldy composes stream of consciousness tweets that—if not seen within minutes of publishing—have little or no context. We think he was watching basketball when he wrote this one.



Ryan "Scooter" Gennett (@Sgennett2)
With a mere 117 tweets to his credit, Baseball John Kuhn is still pretty new to the platform. Still, the minute middle infielder is off to a good start with an interactive account where he holds off day contests and talks semi-candidly about his recent marriage (photo of his wedding band and all!) amid clumsy Pepsi plugs and seemingly-team-mandated retweets.
Carlos Gomez (@C_Gomez27)
GoGo tweets in two languages and constantly retweets fans. But mostly, he just tweets this.



Never change, Carlos.
Gerardo Parra (@88_gparra)
Most of Parra's tweets are in Spanish, but two things are apparent. The two-time Gold Glover loves soccer, and he loves his wife. We've only seen a few shots of them together, but we think we might love his wife, too.
BONUS TWEET
Since, 11 guys on the 25-man roster apparently don't have Twitter, we'll recommend following Front Row Amy. You won't be sorry.