On April 26, 2008, a capacity crowd packed Mad Planet for the release of the .357 String Band's second album, Fire & Hail. Although the Milwaukee four-piece had been building a reputation as a genre-shattering act for more than four years, the band's torrid set in front of frenzied hometown fans served as validation that bigger things were ahead.
"It just felt like all pistons were firing at the same fucking speed," Jayke Orvis, the band's mandolin player, says. "Full power. Great fucking crowd. Everybody was singing along. Everybody was dancing. It felt great. It felt fucking awesome, man."
The .357 String Band members called their raw, blistering-fast blend of punk, bluegrass, folk, and traditional country "streetgrass." By the time Fire & Hail came out, Orvis, banjo player Joseph Huber, guitarist Derek W. Dunn, and upright bassist Rick Ness had mastered their respective instruments and developed a ferocious live show.
"They didn't need drums and they still ripped your face off," outlaw country singer Bob Wayne, a regular touring partner with the .357 String Band during their seven-year run from 2004 to 2011, says.
While the .357 String Band's other two albums—2006's Ghost Town and 2010's Lightning From The North—are also revered among fans of punk-inspired roots music, Fire & Hail was the band's clear apex. With three gifted songwriters—Orvis, Huber, and Dunn—each delivering his own spin on the streetgrass dynamic, the album is an unrelenting force from start to finish. The band masterfully mixed the sneering fury of Dunn, the introspective artistry of Huber, and the gypsy punk edge of Orvis, each with his distinctive singing voice, to produce a seamless roots classic that has stood the test of time.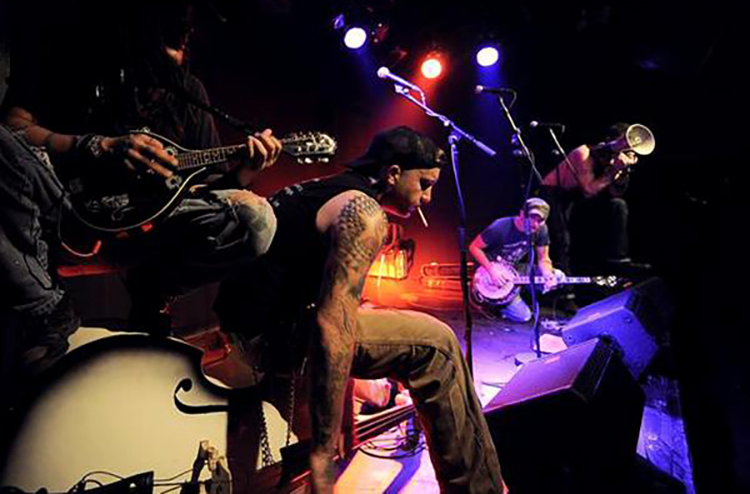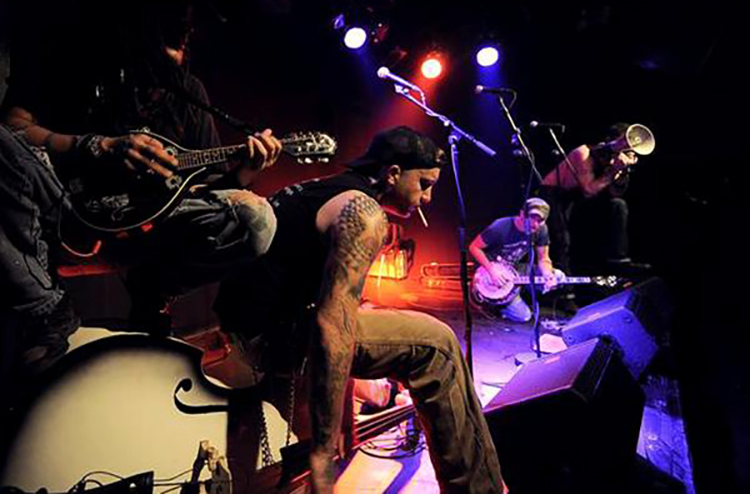 FROM CREAM CITY TO MUSIC CITY
The .357 String Band recorded Fire & Hail in East Nashville at Andy Gibson's home studio from January 27 to February 3, 2008. Gibson, who played steel guitar in Hank Williams III's band, was recommended to the band by Wayne. The recording sessions lasted 12-plus hours every day, and Gibson refused to let the band cut any corners, demanding that they keep recording takes until each track was perfect.
"He pushed us a lot," Orvis says. "It was exhausting, but it was fucking great, man. I feel like I cut my teeth working with Andy Gibson, looking back on it."
GOSPEL TRUTH
Gibson's friend Don Herron was living in the house while .357 String Band was recording. The Nashville veteran played fiddle, steel guitar, trumpet, and other instruments with BR549, Bob Dylan, and others. Orvis and company were more than a little star struck.
"We might as well be fucking hanging out with the Louvin Brothers or some shit," Orvis recalls thinking.
Huber had hoped to include some fiddle on "Long Put Down That Gospel," a slower song he wrote for the album, but one no one in the band knew how to play. With a world-class fiddler in house, the opportunity to at least ask if Herron would play on the track was too good to pass up.
Huber worked up the courage to ask and Herron agreed to do it on one of the band's last days in Nashville. When Herron dropped into the studio to record, he listened to the song once, worked up his part as the song played and then recorded the fiddle track in one take.
"He was like, 'How's that?,'" Orvis says. "And Joe and I and Derek and Rick were just like jaws dropped, 'Holy shit. Damn, that was amazing.'"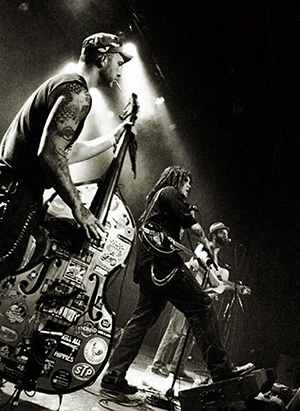 WELL DUNN
Dunn was the most prolific songwriter on Fire & Hail, with six songs he penned himself and a co-writing credit he shared with Huber on "Rollin' Down the Track." Huber wrote four other songs, Orvis wrote two, and the band recorded two covers. Dunn's in-your-face angst and clever turns of phrase, often with a tip of the hat to folklore, set the tone with formidable tracks like "Little Black Train of Death," "Darlene," "Black River Blues," and "Two White Horses."
"I always loved Derek's songwriting, especially when he was fucking pissed off, man, because he was very articulate, and he was really good at spitting venom," Orvis says.
TIGHT WITH THE BAND
Country singer Rachel Brooke makes a guest appearance on Fire & Hail for a duet with Orvis on "Hold Me Tight." The young musician drove all the way from northern Michigan just to record the song. Brooke recorded her parts in two takes, hung out with the band for a few hours, and then headed right back to Michigan.
"The songs are one thing, the album is one thing, but it's little things like that that I think about when I look back at Fire & Hail" Orvis says. "Those are the moments where I realize this is fucking special. This is what I want to do with my life. I don't know. I get sentimental talking about that album."
HALLELUJAH
The only song on Fire & Hail that was not recorded by Gibson was "Glory, Amen." The band recorded the Those Poor Bastards cover at a house studio in Port Washington several months before they headed to Gibson's studio.
Orvis details the whole story about how that recording came to be and why it almost didn't make it onto the record in the clip below:
A DECADE LATER
There were plenty of bands playing music inspired by traditional country and bluegrass in the early 2000s, even a few with punk influences—Wayne, Hank Williams III, the Legendary Shack Shakers, Scott H. Biram, Joe Buck, and the Hackensaw Boys to name just a few. But that type of music was a tough sell in rock clubs.
"We all slugged it out in rough bars for hours on end," J.D. Wilkes of the Legendary Shack Shakers says. "You weren't laying out your clothes in preparation for some Americana fest. You were trying to make a living selling beer with hillbilly music and trying not to get stabbed in the process."
Even as Americana music began to see a resurgence and bands the .357 String Band had shared stages with—such as the Avett Brothers, Old Crow Medicine Show, and Trampled By Turtles—started to pack clubs, the .357 String Band didn't quite seem to fit that niche. Instead, with their punk and metal roots, the band served as a gateway for punk kids to discover traditional music and the just-developing roots scene.
"It's safe to say that, without them, we wouldn't exist," Alex Dalnodar, the lead singer and guitarist of Stevens Point bluegrass band Dig Deep says. "They were my first exposure to bluegrass and a great bridge between the stuff I was, and still am, into and that genre."
Adam Greuel, of bluegrass band Horseshoes & Hand Grenades, also of Stevens Point, echoes that opinion.
".357 really laid the foundation, along with a couple other bands, like Sloppy Joe, for non-traditional bluegrass in the Upper Midwest and Wisconsin, in particular," Greuel says. "They showed younger musicians, such as ourselves at the time, that you can take bluegrass-type instruments and make original music that, while rooted in bluegrass, was truly unique to themselves."
STRUNG OUT
As the .357 String Band peaked musically, tensions grew within the band.
"We had this fucking magical thing going on. We had this chaos that kind of conforms to itself and it was great," Orvis says. "But, ultimately, the chaos took over more than the harmony did I guess."
In June 2009, a little over a year after Fire & Hail was released, the .357 String Band decided to split ways with Orvis. He quickly landed with the Goddamn Gallows.
Watch the YouTube video below for an entertaining story from Orvis on one of his last nights with the .357 String Band:
To replace Orvis, the band added Billy Cook, who had previously played with Bob Wayne & The Outlaw Carnies. Cook was a master on the mandolin, like Orvis, and also played dobro. The third .357 String Band album, Lightning From The North, came out in February 2010. In November 2011, the band capped off their seven-year run with a sold-out Turner Hall show and a farewell performance at the Crunchy Frog in Green Bay the following night.
POST-.357
Huber has released four solo albums, including three since the .357 String Band's breakup. His latest album, The Suffering Stage, came out in 2017. Orvis eventually left the Goddamn Gallows to front Jayke Orvis & The Broken Band full-time. He released two albums—2010's It's All Been Said and 2013's Bless This Mess—before joining the Goddamn Gallows again in 2015. Their latest album, The Trial, came out in March 2018. Dunn released a solo album, Poisonous Serpents, in 2014. He is now a full-time school teacher in California.
Ness joined the cast of Discovery's Gold Rush after the .357 String Band breakup. He met one of the show's stars, Parker Schnabel, while on tour with the .357 String Band and expressed interest in pursuing a career in gold mining. After the breakup, he was offered a spot on Schnabel's crew and has worked with him for six seasons, beginning with Season 3. During Season 8, which concluded in March 2018, Ness announced he would be running his own operation in Season 9.
REUNION?
The .357 String Band members shoot down conversations of a full reunion, but a reunion show? Or maybe even a reunion tour? There's some hope for .357 String Band fans.
"It's gotta be done right when we're ready and when everything is lined up the right way and we all feel good about it," Orvis says. "Who knows when that's going to happen? I don't know. It might happen. It might not ever happen. I hope it does because I miss playing those songs live."
Former .357 String Band members have joined each other on stage several times since breaking up, but never with either of the full lineups. It's not for a lack of opportunities, though. There have been plenty of tempting offers, according to Huber.
"There were always at least two out of five people that were like 'nope' or 'can't do it,'" he says. "So, at this point, will it ever happen? I would say, in my mind, it's definitely still in the air in terms of just maybe never happening ever again."