On Saturday, as many Milwaukeeans were enjoying the Summer Soulstice music festival, seeing bands at Lakefront Festival Of The Arts, or experiencing any of the other events happening within city lines on the particularly bountiful day of entertainment, a few hundred people braved the construction and converged at The Metal Grill in Cudahy to see a dozen (predominately) punk and hardcore acts from five states in the central standard time zone partake in a plucky first-year festival. Yes, the inaugural Dummerfest was by all means a success. Nobody got shot and nothing got damaged. Between-band breakdown actually went so smoothly that the show ended an hour before it was expected to, and the only fire in the venue occurred when one band's lead singer lit his shirt ablaze while he was still wearing it…to protest pizza, or something. Milwaukee Record was there to take in every note of Dummerfest 2015, to pacify nine hours spent standing with a Monster energy drink and $3 pints of "Metal Brew," and wait almost two hours for a pizza with cut-up hot dog on it. Here are some of the most memorable moments, along with photographs (mostly compliments of Bambi Guthrie Photography).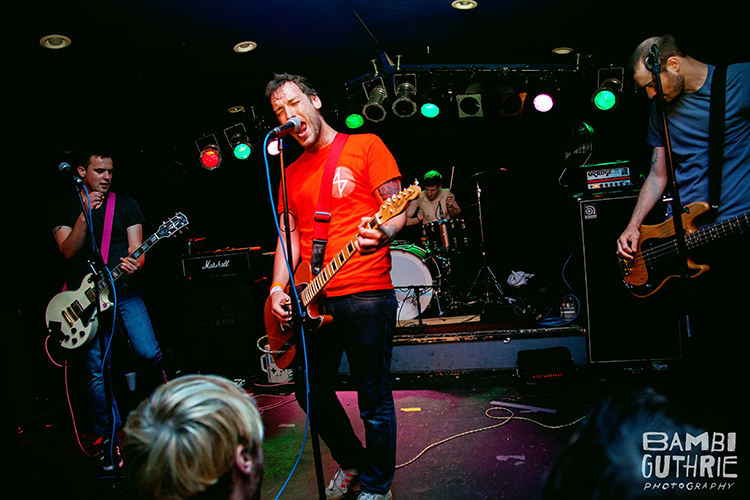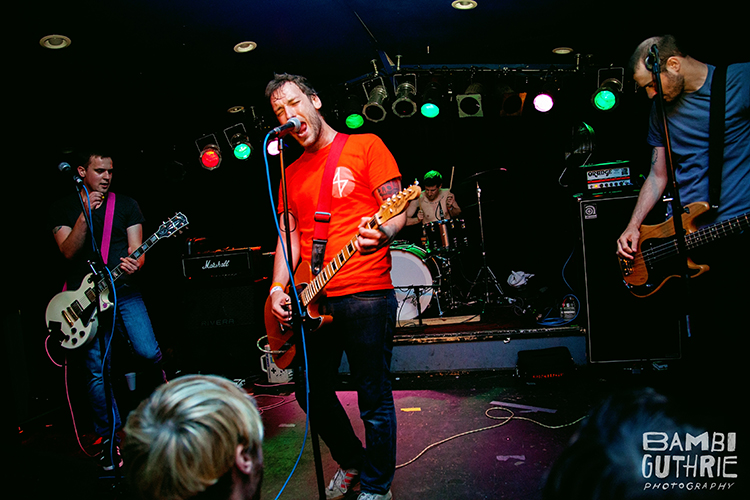 • You have to hand it to Nick Woods. Not only did the Direct Hit! lead singer take on the glut of risk and responsibility to organize Dummerfest, he also put his band—one of the event's bigger draws—in the opening slot of an event with no re-entry. Thus, the show got off to a strong and well-attended start at 2 p.m. sharp, as the local hosts delighted with less-visted cuts from Brainless God and Domesplitter, "Werewolf Shame," and a song from their forthcoming record.
• One of the reasons roughly 400 people—just our estimate, fire marshals out there!—were able to cram into an understated suburban rock and roll bar was due to Metal Grill's spacious and awesome side-yard patio. Much of it was covered by a merch tent that featured wax and wearables from acts, thus alleviating congestion inside. As we browsed the selection and then took a load off at a pub table, the sweet sounds of Meat Wave could be heard inside. The patio also gave those in attendance a chance to get away from the music in the instance a band wasn't up their alley.
• Many people utilized the patio when Midnight Reruns' set started. With the possible exception of Juiceboxxx, Midnight Reruns were probably the biggest outliers on the bill. Despite landing nowhere in the vicinity of punk rock, the room slowly began to fill and the applause swelled more with each (primarily new) song the Reruns played during their 3:30 set, which doubled as singer Graham Hunt's birthday party. By the time the band's new go-to set closer/Mistreaters cover "The Other Man" ended, The Metal Grill was decidedly won over. There might not be a more exciting band in Milwaukee (or Cudahy, in this instance) right now.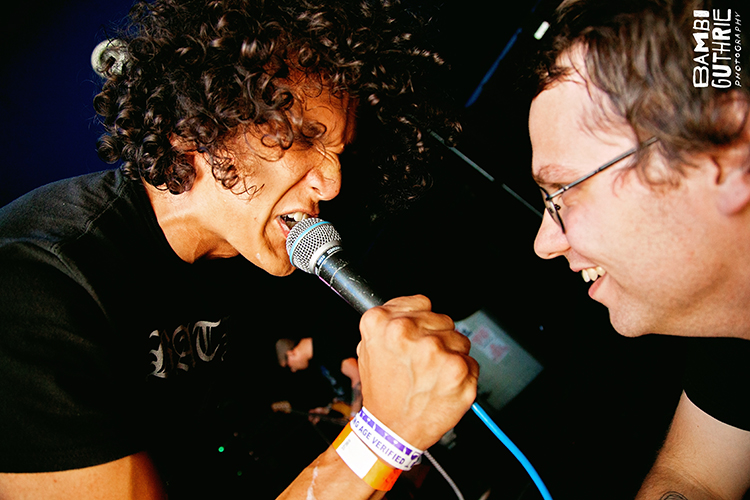 • Arguably the most memorable set of the day was probably the worst and unquestionably the weirdest. Big Zit made the trip up from Chicago to scream obscenities at the few dozen audience members who hadn't fled to the patio when the set started. The maybe 15-minute set was rife with gibberish vocals reminiscent of baby-talk-meets-MacGruber-sex-noises. At one point, the drummer fired a stick into the crowd. After the set ended, we ran into Milwaukee Record contributor/patio pundit Rachel Seis, who showed us the bloody wound incurred when said drumstick pelted her in the face, missing her eyeball by a fraction of an inch.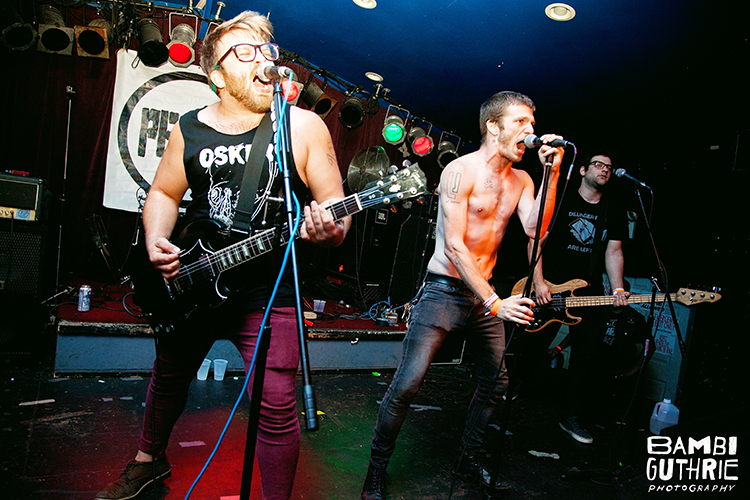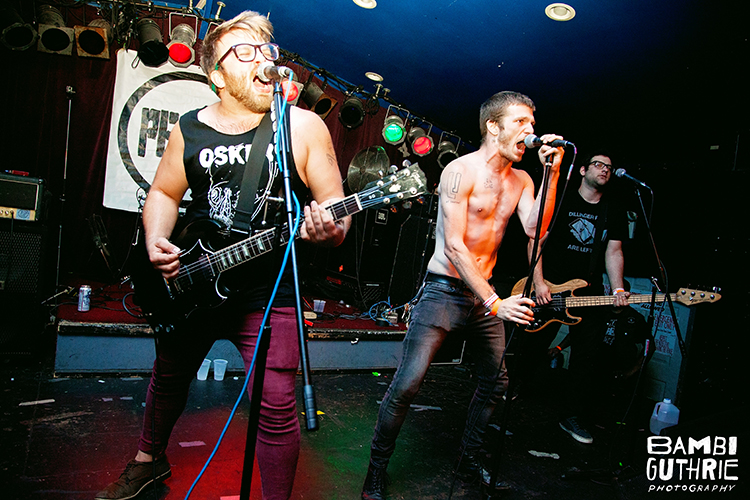 • Any good will Dummerfest lost in Big Zit's attempted punk rock performance art was regained (and then some) in the dinner hour by PEARS and Get Rad. The former showed why Fat Wreck Chords came calling, with blistering numbers from its latest, Go To Prison, between loops of the Family Matters theme song and an interlude that sampled from the SNES classic Donkey Kong Country. Milwaukee hardcore royalty Get Rad started their 10-year anniversary show by giving a scene from 1986 BMX movie Rad the MST3K treatment and leaving the movie on while they ran through their songs from all corners of their catalog (from "Say 'Fuck No' To Rules, Man" to "Sparks" and "Fuck Off Death"). Mid-show, two grade-school-aged kids with painted faces executed their first stage dives.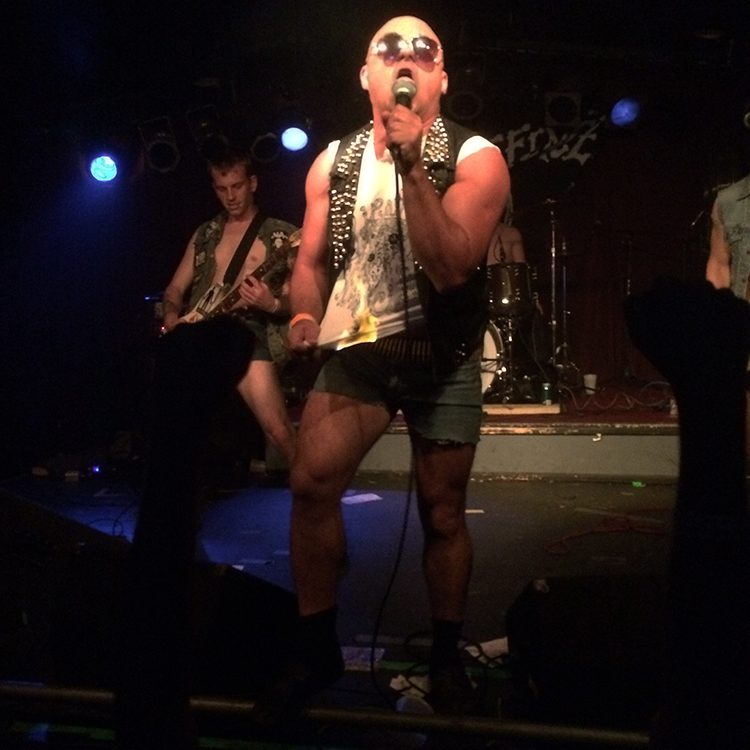 • Veteran Minneapolis hardcore outfit In Defence echoed the action with sheer insanity with a comedic bent. To kick the set off, the band's singer lit a stolen Lipstick Homicide shirt (with a slice of pizza on it) on fire while he was still wearing it to illustrate the band's long-held pro-taco, anti-pizza stance. After security and the enraptured crowd beat out the flames on his tattered shirt, the cut-off clad frontman had people draw on his face with a marker while he sang songs and told Jeffrey Dahmer jokes (which led to a brief "Dahmer Fest!" chant). The memorable set concluded with a poem calling for the end of gun violence…in favor of sword violence. It was a welcome respite from the day's distortion.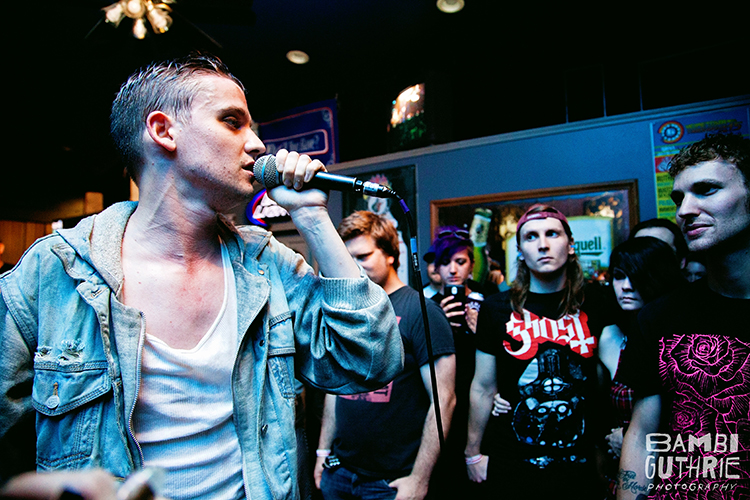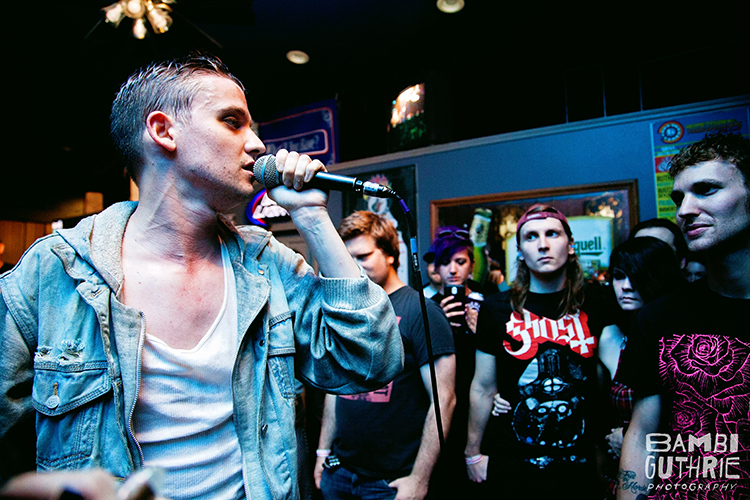 • Following a brief, interaction-free Tenement set wherein the burgeoning Wisconsin pop-punk darlings (and new touring bassist/former Surgeons In Heat member Tyler Ditter) churned through Predatory Headlights standouts like "Dull Joy" and "Crop Circle Nation," as well as old set-staples like "Dreaming Out Loud" with businesslike efficiency and attention to detail, Juiceboxxx took the stage with a guitarist, drummer, and regained passion. As the trio shot through an incomparably energetic set that featured "Renegade," "Banging Your Head Against A Brick Wall," and "Never Surrender Forever," the Juicer poured soda on himself and bloodied his own head with the microphone in a successful effort to "take things to the next level." Then he sold energy drinks out of his van.
• With all due respect to headliner 88 Fingers Louie, Dummerfest belonged to Masked Intruder. The Madison-based band, no, experience was the apex of the evening's entertainment. Each donning a different color ski-mask and unabashedly bad New Jersey accents ("That's coo!") the Fat Wreck Chords quartet ran through their catalog of disproportionately-poppy songs about crime sprees and running from the cops, much to the chagrin of the ever-present "Officer Bradford." The band calling a kid named Keegan on stage to watch them play—before Officer Bradford goaded him to stage dive—was a testament to the all-ages event. As 88 Fingers Louie delighted the remaining crowd with songs they've hardly played since the end of last century, a kid who looked awfully like Keegan watched excitedly with two guardians. We can't be sure it was him, though, since he was wearing a ski-mask and running around in sheer excitement.
Though the Milwaukee area has no shortage of events with the "Fest" suffix, the first Dummerfest filled a gaping void in a region hungry for all-ages shows from touring punk bands. Hopefully it's the first of many. Great job, Cudahy!