Between beloved and well-established local staples and a steady wave of new bars and restaurants popping up in and around Milwaukee almost every week, worthwhile dining and drinking gems can occasionally get lost in the shuffle. With Tucked Away, Milwaukee Record digs deep with the hope of unearthing some of these gems.
As noted in previous installments, not all restaurants we deem to be "Tucked Away" are establishments that are outright hidden from the view of the general public. In fact, some of the places most deserving of the distinction reside on some of the region's busiest streets and in its most bustling urban segments. Often, those types of businesses are but a meek and localized whisper that's overtaken by a din of nearby multi-national corporations and popular area offerings. Sometimes, though, an excellent eatery does itself in through a perplexing mixture of poor outward appearance and a sort of entrepreneurial ambivalence that seems to work directly against the idea of persuading prospective consumers from sampling the delicacies within.
Moonshine Pub & Grill (3300 S. 27th St., 414-231-9168) sits squarely between those two categories. The bar is bordered on one side by a Taco Bell and looks out upon a Wal-Mart. Any civic good will the block can still muster is allocated to Leon's, Mazo's, and Ned's just a few address to the north. Moonshine itself is nothing short of an eyesore. Past a partially enclosed bus stop are dirty bricks that come together to form a façade that's reminiscent of a by-the-hour motel (which, who knows, it could actually still be). The weather-beaten, sun-cracked signage uses four different fonts to inform the few who have managed to hold their gaze that this misleadingly-named "Pub & Grill" is a place for sports games and entertainment.
Strangely, neither the text nor the clip art of a burger, beer mug, and dart board mention that Moonshine is a top-notch traditional Serbian restaurant that's inexplicably masquerading as a dicey southside townie bar.
The space: The puzzlement persists within. Past a license plate-lined foyer is a large, swooping U-shaped bar that only served to accentuate the relative emptiness of the business during a weekday lunch hour. Four other people were inside—our bartender/server Melinda was discussing literature with what seemed to be a frequent patron when she wasn't bestowing friendly and all-around outstanding service upon or section of the bar. Meanwhile, a shortorder cook occasionally looked up from her growing pile of diced onions and red cabbage on a bar-side cutting board to converse in Serbian with a jovial and elderly regular.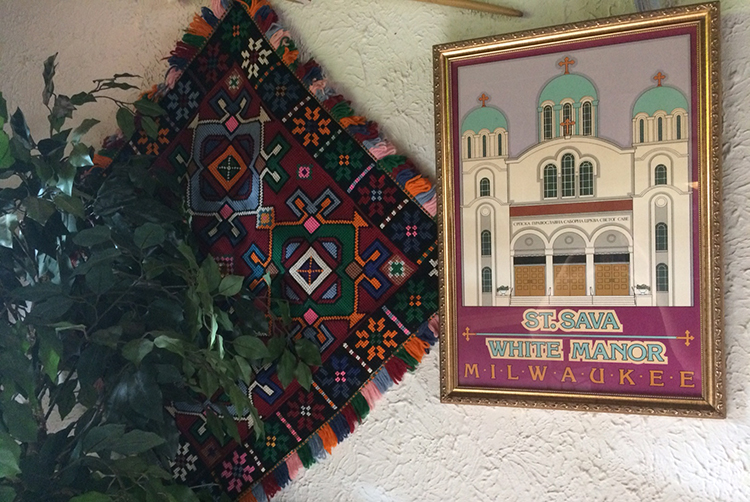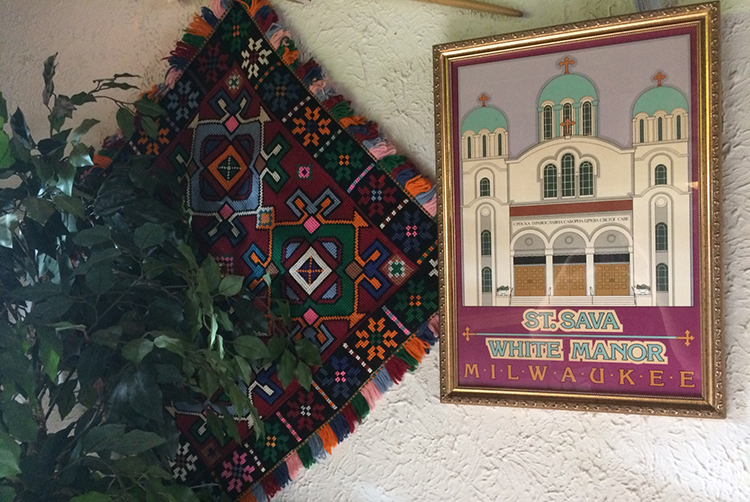 The walls were decorated with a confusing accumulation of animal pelts, rifles, framed pictures of 1920s gangsters, and beer signs. The bar gave way to a quaint six-table rear dining room, which extended further down some stairs to a couple more pub tables flanking a pool table. The dining room walls were covered with snowshoes, farming tools, wood for the fireplace, and—forgive our ignorance—what we construed to be traditional Serbian tapestries and artwork. The TVs above the bar showed a baseball games and we were serenaded by the sounds of Tom Petty, Huey Lewis & The News, and Journey for much of our stay. All those things, coupled with the refreshing local touchstones like pull tabs and (for entertainment only!) video poker machines made for a thematically-schizophrenic but altogether inviting atmosphere that seemed to work in opposition with its imposing exterior. Hopefully the rifles weren't loaded
Milwaukee Record's food: As indicated above, Moonshine specializes in Serbian specialties. That said, customers who stumble in for the cheap domestic beer and the northwoods gangster motif won't feel alienated, as the bar offers pizzas, burgers, a Reuben, and a number of deep-fried appetizer favorites. Conversely, the menu alternates from those widely-available standards and things like Pljeskavica, Mesano Meso, Burek, and Karađorđe's schnitzel. Confused, we opted to dip a toe in each of the starkly divergent waters to see how Moonshine held their own in both Serbian specialties and Americanized eats by ordering a California Burger ($2.50) and a platter of Ćevapčići ($12.95).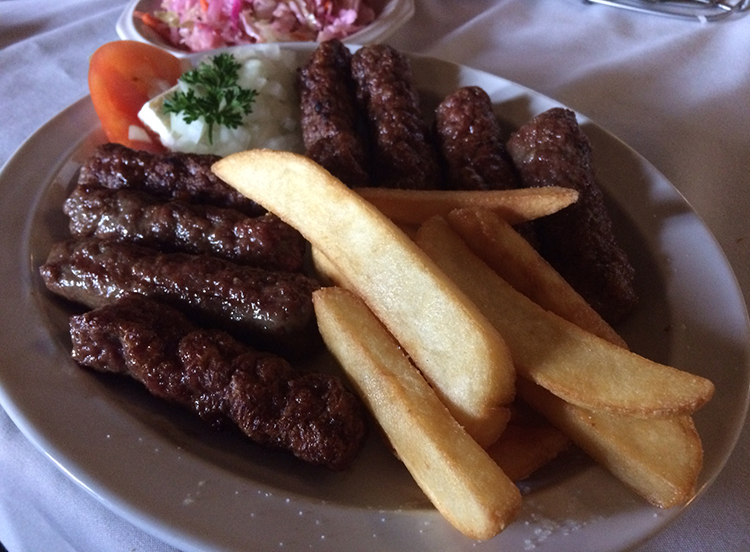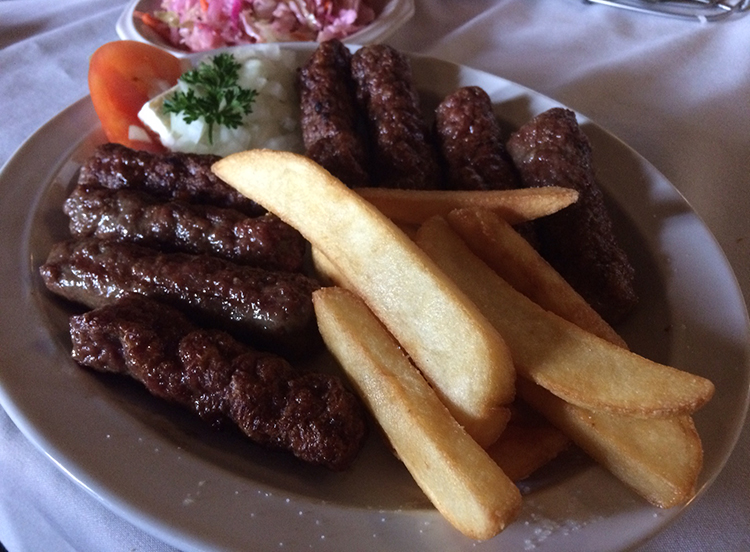 Our burger, which is a listed among Moonshine's daily specials, arrived within minutes, along with a sizable plate of slaw, a small warmed baguette, and two dipping sauces: sour cream and a semi-spicy varietal of orange tapenade. The burger featured a thin fried beef patty that was set atop a generous pile of tomatoes, American cheese, pickles, raw onion, and lettuce. It was drizzled with a zesty southwest sauce and pressed between a lightly toasted white sesame bun. It wasn't anything special, but an apt representation of a basic drive-in burger. It would be make for a hell of a $5 combo with one of Moonshine's tap beers for an unadventurous eater. About five minutes (and a shameful amount of hot bread and whatever that orange stuff was for a party of one) later, our entree arrived.
Though ćevapčići—which we were told had several silent letters—is a tough word to get out of your mouth, your tired and twisted tongue will surely be rewarded with this octet of miniature sausages. The eight-piece amalgam homemade pork, beef, and veal was packed with a potent punch of savory "secret" species. It was joined on the platter by a small batch of thick-cut fries, a tomato slice, a hunk of feta, and some diced raw onions. Thankfully, we saved some of our pickled red cabbage slaw and let the oily, vinegar-doused roughage complement bites of succulent sausage. Admittedly, it was a heavy lunch, but one we'd highly recommend. It's also available for dinner service.
The verdict: As you make your approach, the rough exterior, the less-than-inventive name, the chain-laden surroundings, and the abundance of themes battling one another will tell you to turn back. Ignore that feeling. Press on, sit down, and dive into some Serbian delicacies served somewhere you'd never expect to enjoy them.