Caleb Westphal hasn't missed a Friday fish fry since 2013. Follow along with his never-ending adventures here.
The plan was to get a fish fry at a place called Korbellys. The problem? Well, Korbellys hasn't existed for over five years. I didn't know that at the time, of course. In fact, I knew next to nothing about where I was headed. I found some information online that said a place called Korbellys was located in West Allis, and found some other information that indicated that they might have a fish fry. I'll admit, I was initially drawn in by the old Pabst Blue Ribbon sign that appeared to hang outside the building.
Going there sounded like an adventure. I thought perhaps I would uncover that long-sought-after fish fry promised land, or at least something close to it: a solid fish fry that was unknown to me and a large swath of the general public. Now, if I simply would have typed the address of the place into Google, I would have found that I wasn't heading to Korbellys, but to Guzzlers Sports Lounge (7408 W. Walker St., West Allis, 414-257-0097). But hey, it's been a long year, and I am tired, and I can't think of everything.
As I rolled up to the corner of W. Walker Street and S. 74th Street with fellow Milwaukee Record contributor Maggie Iken, it was immediately apparent that we were arriving at a place that served what we were looking for. A sense of elation filled the air as we spotted one of the two sandwich boards that said "Fish Fry." Upon a closer reading of the sign, I found it also said "GUZZLERS Sports Lounge." I was a bit surprised, but it didn't make me hesitate one bit. The part of the sign I had read first was the only part that really mattered.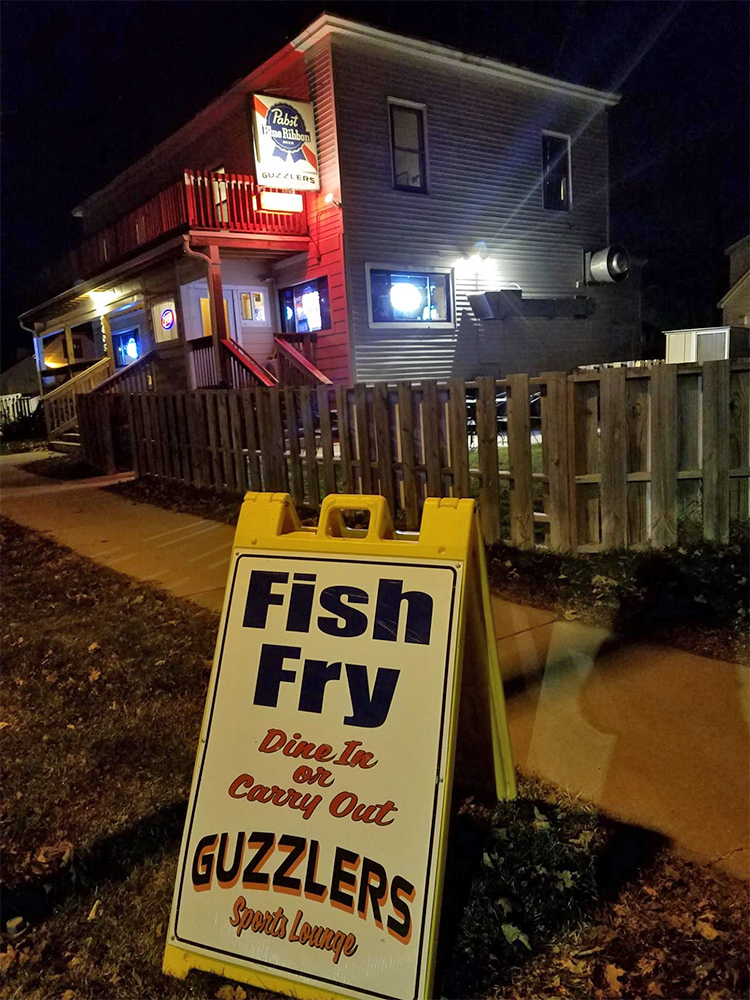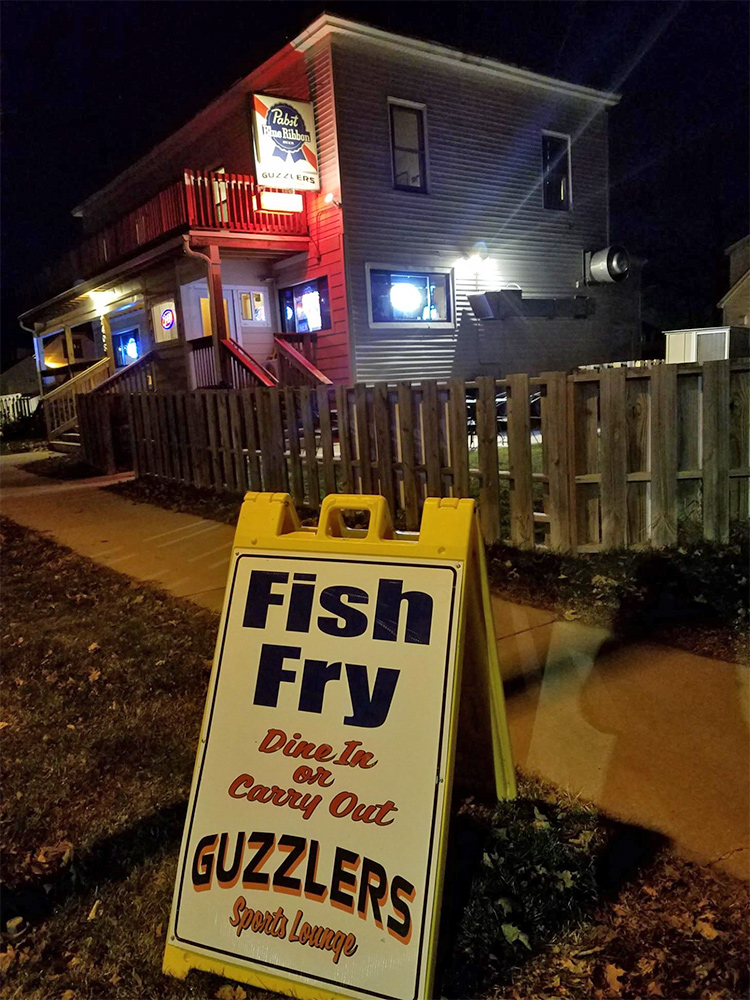 A handful of people were sitting at the bar as we entered, all of whom seemed to be regulars. Almost immediately I asked one of them—a man perhaps in his late 50s—if he knew how long the establishment had been Guzzlers. He said he thought it had been six years since it had been Korbellys (he was close, it turns out Guzzlers opened in October 2014), and then started listing off other places it had been in the past. Perhaps being a regular is not just an allegiance to a name, but to a location, a sense of place, and a community.
Indeed, Guzzlers has gone through many changes and names over the years. Built in 1916, the building appears to have first been a boarding house. The 1918 West Allis city directory lists it as "Federal Boarding House." (At the time, the address for this location was 6602 Pullen Ave.) From around the end of Prohibition until the mid-1950s it was the Erste Tavern—or some iteration of that name—and it went by at least seven different names following that, until the mid-1980s, when it became Legends. By 2002 it had changed to Korbellys.
The bar has an unmistakable blue-collar feel to it, which seems apt, as it is just blocks to the west from where the Allis-Chalmers West Allis Works was located, and the timelines of the two places overlap each other for well over half a century. Although the building appears rather large from the outside, the inside is rather small. The front room is home to the bar, as well as to a few tables, televisions, and gambling machines. A pool table can be found in the back room.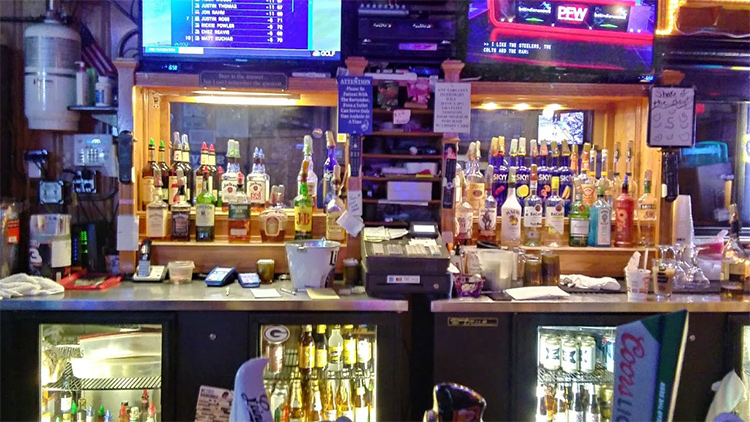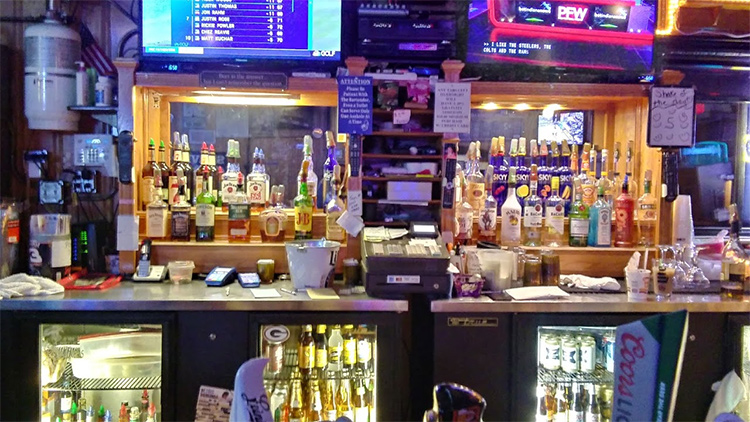 We were contemplating sitting at one of the tables, when one of the patrons encouraged us to take a seat at the bar. I ordered an Old Fashioned, while Maggie ordered a Kiddie Cocktail. When looking around, I spotted the specials listed on a sign on the wall, which included the Friday fish fry. The fried fish is $9.45 and comes with either french fries, tater tots, or potato pancakes. Baked fish is also available, being priced at $10.45. Each fish order comes with a complimentary MillerCoors product: a tap of Miller High Life, Miller Lite, or Coors Light. I went with the fried fish, of course, and as the pancakes weren't homemade, I decided to go with the french fries.
We sipped our drinks as we waited for the fryer to heat up. (At the time no one else was eating a fish fry, although I did see someone eat one after us.) The Old Fashioned was slightly muddled and generous on the booze. When the food arrived, I asked for the free High Life.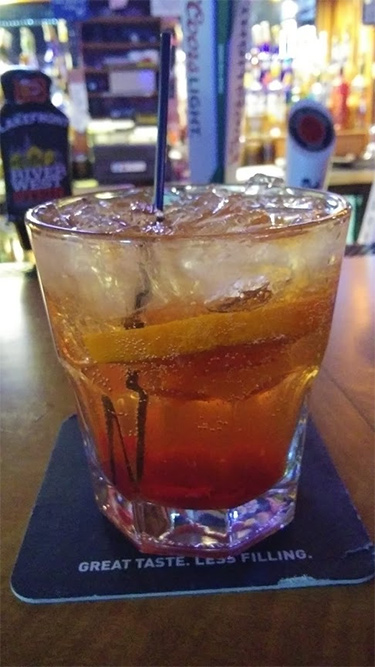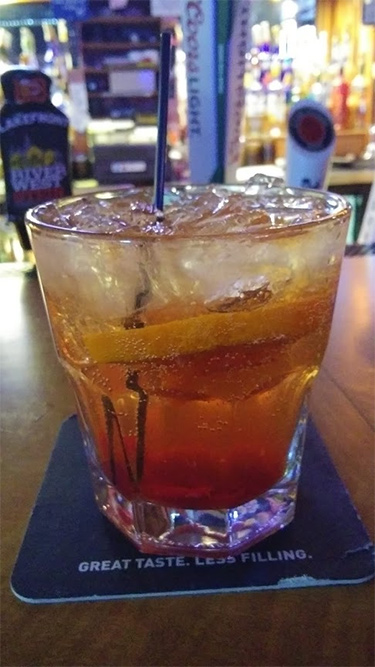 The meal came with those usual suspects: rye bread and coleslaw. The bread was a thinner everyday marble rye that had been halved and buttered by hand. The coleslaw was extra creamy, and flavorful, but came in a container that was the same size as the one that held the tartar sauce. The fries were satisfying but not exceptional. If you've had frozen fries made in a bar deep fryer, then you can probably imagine these.
And then there was the fish and tartar, both of which pleasantly surprised me. There were only two pieces of fish, which, as sure as the Earth is round, had to be cod. They consisted of large chunks of white, flaky morsels covered by a lightly seasoned and flavorful breading. The tartar was tangy, but sweet, and matched well with the fish. For a moment, something still gave me an inkling that I was eating basic "bar food," but I couldn't place what it was. The fish largely seemed to escape the entrapments of this, more so than the other parts of the meal did, and was the definite highlight.
Guzzlers Sports Lounge is the kind of place where you can go when you want to get away from everything and be by yourself, but it is also the kind of place where you will be welcomed in if you want to be—you can roll some dice with the bartender or chime in with the friendly conversation and jokes being bandied across the bar. Although only two pieces of fish come with the fish fry, they are pleasantly fulfilling, and not bad for being from a corner bar with a limited menu. Being that the meal is only $9.45 and comes with a beer, it is almost as if it is only $6.45. When you are shooting for Korbellys and end up at Guzzlers, embrace what life gives you and eat the fish fry. Rock over West Allis, rock on Milwaukee. Friday fish frys. There is nothing better to eat.
Takeaways: Longstanding corner bar; when a place changes its name, the fish shall remain; the fish fry is cheap and you get a free beer with it so it feels even cheaper; the fish was better than I expected, but two pieces was not enough; the rest of the food was just okay; you can go here to feel at home or to be alone; I hope your next birthday is on a Friday.