DAY 33: NIGHTMARE AT ORIENTAL THEATRE!
Is it possible to write about Milwaukee's Oriental Theatre without calling it an "opulent movie palace"? No, because it is an opulent movie palace. And this October, that opulent movie palace will screen the first three Elm Street films! Oh, and part 2 (Freddy's Revenge) and part 3 (Dream Warriors) will be shown in 35mm! Oh, and a documentary on part 2, Scream, Queen! My Nightmare On Elm Street will also be screened! Oh!
Here's the lineup!
October 19, 9 p.m.
A Nightmare On Elm Street
October 20, 9 p.m.
A Nightmare On Elm Street 2: Freddy's Revenge (35mm)
October 21, 9 p.m.
A Nightmare On Elm Street 3: Dream Warriors (35mm)
October 25, 9 p.m.
Scream, Queen! My Nightmare On Elm Street
There's more horror goodness coming to the OT in October, including the first two Scream movies and the director's cut of The Exorcist. Check it out HERE.
DAY 32: UNCONVENTIONAL HALLOWEEN PLAYLIST SONGS, PT. 5!
Eighties new wave/pop group Thompson Twins are probably best known for their '80s-compilation staple "Hold Me Now." But dig a little deeper and you'll find this gem, "Lay Your Hands On Me." I don't know why, but I always pick up subtle goth-y, Halloween-y vibes from this song. The intro and backing track are what I hear when I'm walking down a damp leaf-strewn sidewalk on a Sunday in October.
And even though "Lay Your Hands On Me" seems like it's about religion in general—or perhaps Jesus in particular—it really isn't. "We were interested in the idea of group rituals of that sort, and particularly how it relates to artist, performer, and audience," explained frontman Tom Bailey "[The song is] nonspecifically religious. It looks at religious ritual in that way, and then draws a kind of metaphor." Good enough for inclusion here!
DAY 31: HALLOWEEN BOO BOX!
We receive random emails from random companies asking us to sample (and review) their random products all the time. I always politely delete these emails the second they appear. But when I receive an email asking me to sample (and review) something called a Halloween Boo Box, I say YES YES HERE'S OUR ADDRESS THANK YOU SO MUCH.
So here it is! The Halloween Boo Box, from Sugar Plum Chocolates! It retails for $49! You can get one HERE!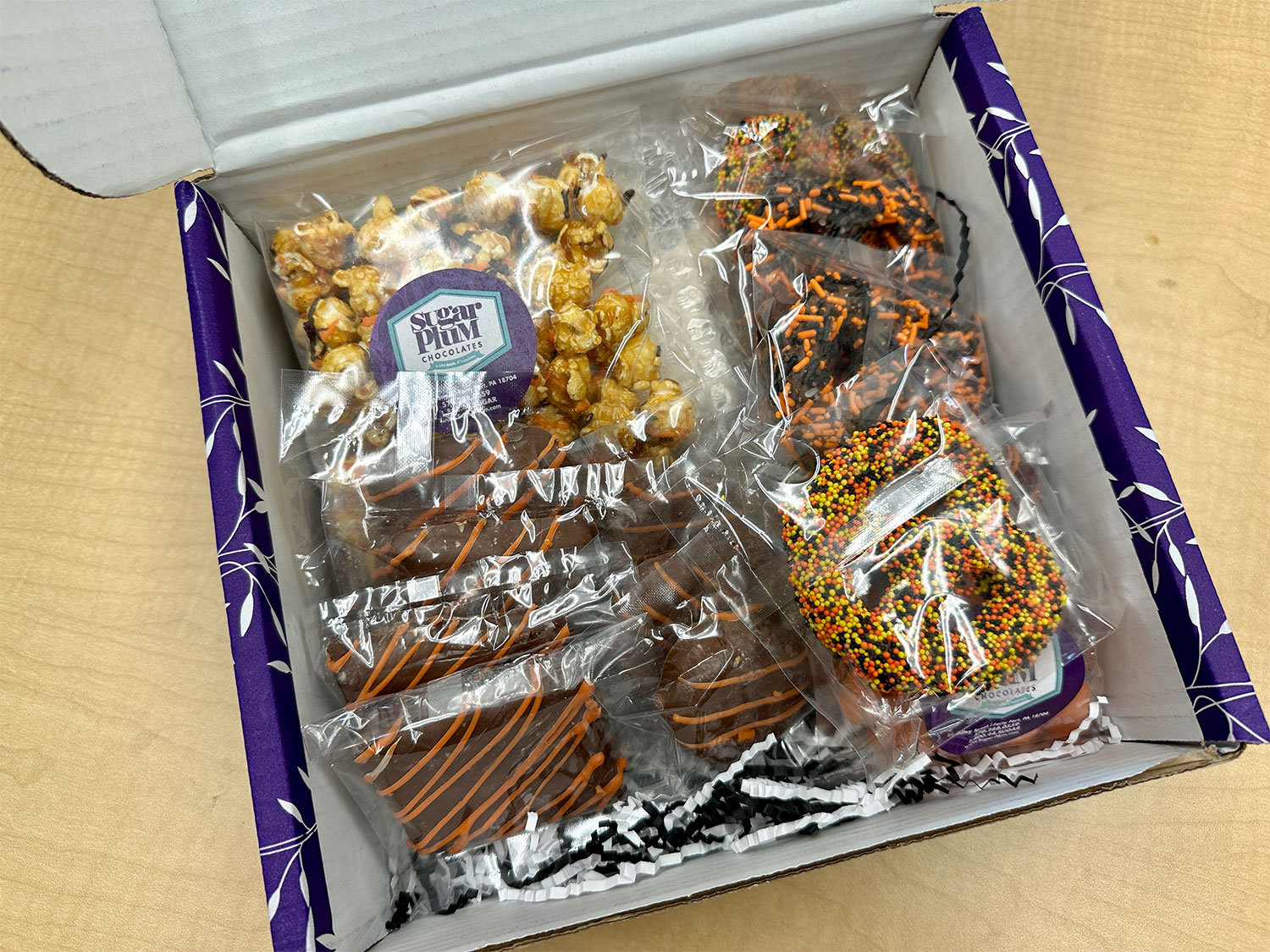 What's in it? Oh, just some chocolate-covered pretzels, chocolate-covered cookies, chocolate-covered graham crackers, chocolate-drizzled caramel popcorn, chocolate-covered pretzel balls, and a white chocolate ghost lollipop. Chocolate!
I love the Halloween Boo Box. Like the pumpkin patches in It's The Great Pumpkin, Charlie Brown, the Halloween Boo Box is refreshingly sincere. No "weird" food items or gross-out combinations here; just good ol' fashioned snacks covered in good ol' fashioned chocolate. You can dig in and there's not a sign of hypocrisy. Nothing but sincerity as far as the eye can see…