Depending on which news sources you follow, Milwaukee is going through either a "renaissance" or a "reinvention." Or maybe it's a "reboot" or a "reimagining," like that crappy Tim Burton version of Planet Of The Apes. However you want to define it, it's safe to say that Milwaukee is currently building a lot of new and wonderful things.
• You know what sounds really good right about now? A rooftop bar with 360-degree city views featuring a unique curated sake collection, that's what. And hey, would you believe that Nō Studios—the gorgeous film and art center founded by Academy Award winner and Wisconsin native John Ridley, located at 1037 W. McKinley Ave.—will soon open exactly that?
"There's really nothing like this in Milwaukee," Ridley said in a press release last week. "The panoramic views offer a different, must-see perspective of the city which can be enjoyed from inside or the outdoor patio areas."
Yes, the so-called Skyline Bar + Lounge will open May 8. It will be open to the public Thursday through Saturday from 5-11 p.m. Nō Studios members will also be able to hang out Monday through Wednesday and Sunday from 8-10 p.m., as well as Thursday through Saturday from 8 a.m.-5 p.m.
As for the sake, that'll be the specialty of 88Nine Radio Milwaukee's Tarik Moody. The longtime DJ and sake enthusiast will put on a series of tastings beginning May 8. That one is already sold out, but there are others scheduled for June 12 and July 10. Sign up HERE.
"I have always been fascinated by sake since I first tasted it during college at Howard University," Moody said. "Last year I decided I wanted to learn more about the culture of sake, so I took a Sake Professional Course, and now I'm a certified sake professional. This is the beginning of a three-year journey to learn all I can and hopefully one day brew my own sake. I'm excited to partner with Nō Studios to share my passion with others." [Nō Studios]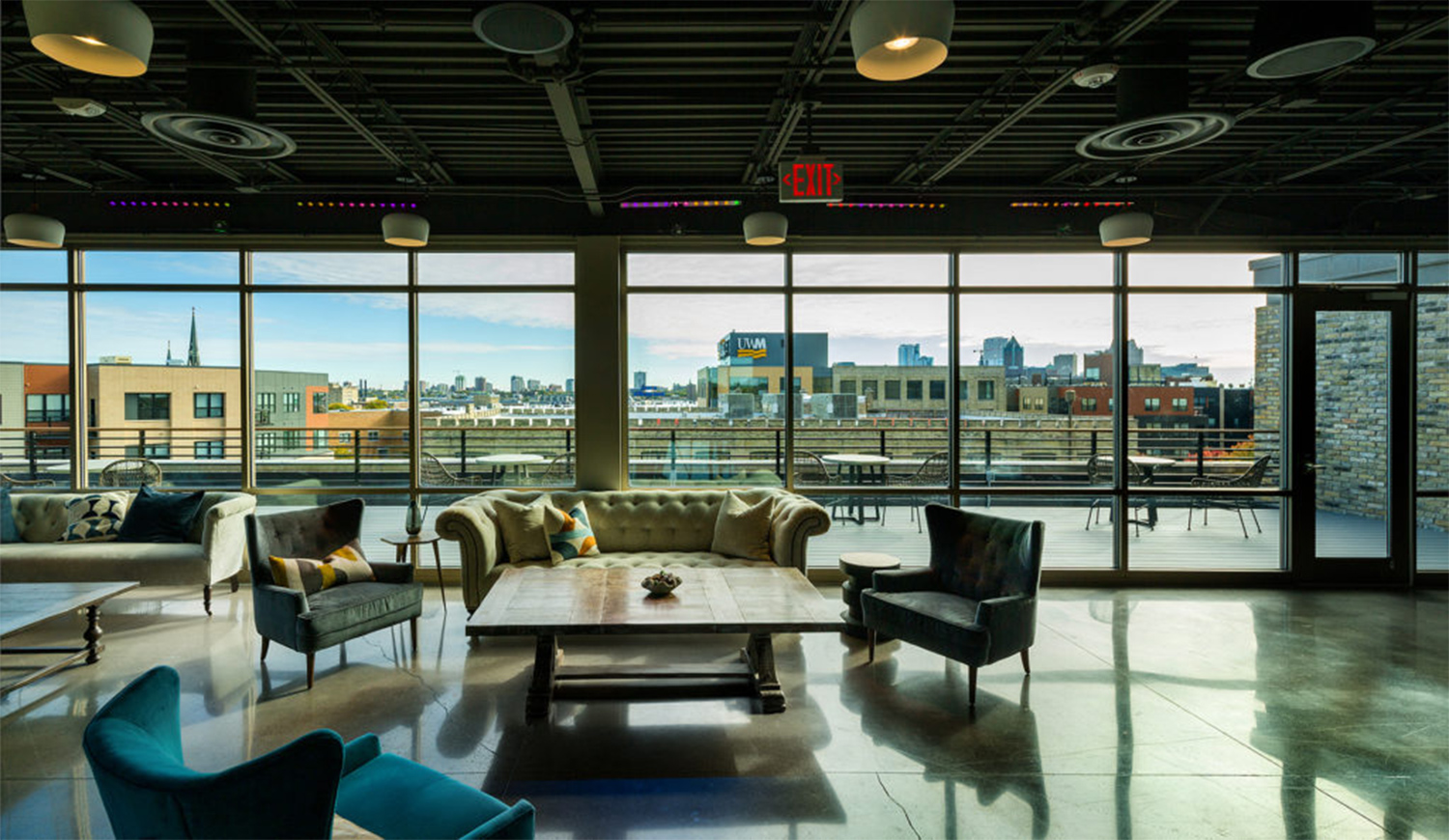 • After some back and forth with the Common Council and Mayor Barrett, the big "let's bring Brookfield-based Milwaukee Tool to Downtown Milwaukee—and with it, up to 2,000 employees and a four-story addition to a largely unused five story building at 501 W. Michigan St." plan seems to be moving forward. The Common Council will vote on the plan—which comes complete with $20 million in city financing—on Tuesday. [Milwaukee Journal Sentinel]
• Also moving forward: the nine-story, 205-room Marriott Autograph Collection hotel across from Fiserv Forum at 420 W. Juneau Ave. Oh, and there might be a nearby commercial building and apartment building, too! [Milwaukee Business Journal]
• The former Phillis Wheatley School, 2442 N. 20th St., is set to become a 42-unit affordable housing complex. An additional 40-unit building will be built nearby. [Urban Milwaukee]
• Want more affordable housing? There's a lot of it in the works. [Urban Milwaukee]
• A long-vacant building last used as a daycare, located at 1540 N. Jefferson St., is either gonna be redeveloped into an office building, or be knocked down to make room for an office building. There'll be some new townhouses on the site, too. [BizTimes]
• A beat-up old building at 309 W. National Ave. is being gutted and turned into a three-unit apartment building and a bar. [Urban Milwaukee]
• "It's been five years in the making," says the Milwaukee Journal Sentinel about a project that has transformed a former (and condemned) rooming house at 425-431 W. National Ave. into a 12-unit high-end apartment building known as The Block. "Meanwhile," continues the JS, "work began last fall on remodeling the street level and basement into The George, a venue for weddings and other events. It is scheduled to open May 1." [Milwaukee Journal Sentinel]
• And what did we learn this week? Well, they're always building something. Isn't that right, old song from my old band?
Exclusive articles, podcasts, and more. Support Milwaukee Record on Patreon.
---
RELATED ARTICLES
• Full "New And Wonderful Things" (formerly called "New Shit") archives