Queenie was a blonde and her age stood still,
And she danced twice a day in vaudeville.
The Wild Party, by Joseph Moncure March
From ancient Rome to today's hip-hop, vibrant cultures have always come with hefty doses of lurid drama and boozy excess. The Wild Party shows just how wild the Roaring Twenties could get. With its graphic depictions of sex, drug use, and same-sex attractions, this long narrative poem by Joseph Moncure March was instantly banned from polite society upon its publication in 1928. But it became an underground favorite, eventually inspiring not one but two musicals, that both opened in New York City in 2000. One of these, with book, lyrics, and music by Andrew Lippa, is coming soon to Milwaukee, in a joint by All In Productions.
In a tipsy, hoochie-coochie cadence, March's poem tells the story of a burlesque star called Queenie and her live-in boyfriend, a successful clown by day, sexual tiger by night, by the name of Burrs. It's a relationship based more on bedroom athletics than affection—Queenie is "sexually ambitious" according to March—but they are royalty in their Greenwich Village demimonde. The party they throw, with generous helpings of bathtub gin and cocaine, is just part of their power struggle, and their guests all speak the same language of glamour and desire.
"This is going to be unlike any other show we've done," says Robby McGhee, All In co-founder and director of The Wild Party. "The ensemble is onstage 95 percent of the show, and I'm asking a lot from them for this story to be told well. At several points I've said that I don't know that I would be able to do this if I were an actor myself, so godspeed. I mean, we've had violence in shows before, but we've never had to have the conversation about rape before."
The company is working carefully to handle this potentially threatening subject matter in a good way. "We have a fight choreographer who also teaches intimacy," McGhee says, "so people can communicate well with each other. Fighting and loving, there's really a lot in common. There's use of weapons, and we're going to see a lot of skin. The last thing I want to do is have a safe show. I definitely don't want to make people feel uneasy, but I need them to feel something."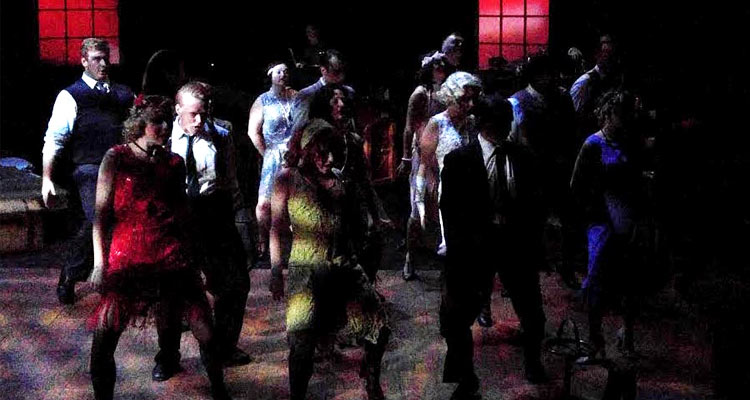 With an eight-piece orchestra, music director, choreographer, and even a dramaturge to "chime in if something [is] completely off base," McGhee and his creative team are aiming for a fully realized, pro-level show. "The tone we're going for is realistic chaos," he says. "The music is so fun to sing, the ensemble work is really fun. You get to be really close and intimate with other people onstage. We're trying to give the setting [the feel of] looking through a whisky glass. Our color scheme is maroon, gold and brown, and I can't wait. I'm thankful that our theater has a bar, because people are definitely going to want to feel good, because it's so much fun, and so hot.
"My favorite number in the show is called 'The Wild, Wild Party,'" McGhee continues, warming up to his topic. "They put on a little mini-show. One of them is an uninvited guest, another is a potential producer who they're trying to impress, so two of the performers share this musical number about God, Moses, and Abraham, and it's high energy, so much fun, and you get to see a little glimpse of who they are as performers. Everyone has an equal role. Even the man without a tongue has a dance solo, and it's beautiful. He's in love with one of the gay incestuous brothers, and we try to tell that story. The research we've done on lesbians in the 1920s is important, too. Our costume designer and our dramaturge worked together to make sure we got it right.
"We're going balls to the wall on this one, and I'm really excited to see how the audience takes it."
The Wild Party plays September 2-17 at Next Act Theatre. Tickets are $25, or $15 for seniors, students, and veterans. "This production contains content to which some audiences may be sensitive. It is NOT recommended for those under the age of 18."