The metal community was stunned to learn in February that longtime Judas Priest guitarist Glenn Tipton had been diagnosed with Parkinson's disease and would be forced to drop out of the band's 2018 tour. It's a particular shame because somehow, the band's classic lineup (come on, drummers don't count) was basically intact right up until 2011, when founding guitarist K. K. Downing up and quit, making way for unknown longhair Richie Faulkner to debut as Downing's replacement on American Idol that May. But who could now replace Tipton on the eve of this tour? Cue Downing's surprise at not being asked to rejoin, and the rest of the band's surprise at his surprise; enter Andy Sneap, Grammy-winning producer of, among many other metal albums, Judas Priest's latest, Firepower. He was probably the only clear choice to step in at such a late hour, already being familiar with the new material and, let's be honest, if there were a few old Priest riffs he didn't already know, it probably wasn't too tough to pick 'em up. With the band's only remaining original member, Ian Hill, still holding down the bass, and its legendary singer Rob Halford still fronting, the version of Priest that played to a sold-out Riverside Theater on Tuesday night was a good illustration of why old bands refuse to ever break up.
It took about two minutes to understand the key factor Priest has going for it: Halford, at age 66, can still sing like a motherfucker. Clad in the first of at least seven different studded leather bathrobes he'd don throughout the night, Halford took a couple songs to loosen up onstage, but his voice was clear and menacing right from the start. Few people in the history of music have had more influence on any genre; both in terms of singing and fashion, Halford was a true original in the late '70s, and he's still able to exercise his full dynamic range with barely any noticeable degradation in tone. You may not know the words to these new songs, but you know from the first note who's singing them.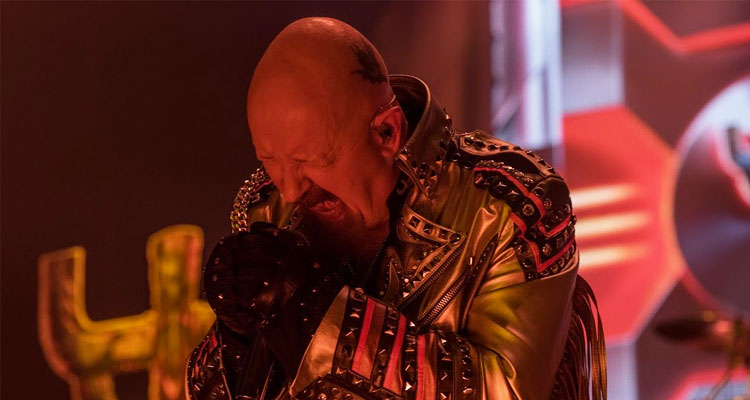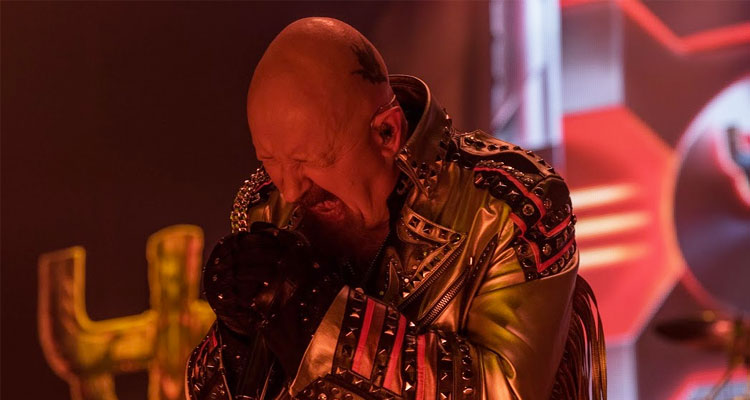 At some point in the life of a metalhead, the ability to think critically always breaks down, as evidenced by the praise lavished on recent self-cannibalizations by the likes of Iron Maiden and Metallica. As such, the stage is set for Firepower to fulfill the need for the redemptive narrative, fandom triumphing over the inevitable ravages of aging. Besides, the album features not one, not two, but four songs whose titles end in "er"—and one song that ends in "re," an unprecedented total that all but guarantees instant-classic status. Sadly, the only mildly original offering from this lot—the dubiously timely "Flame Thrower"—doesn't appear in the current tour set list. In fact, the title track was the only new "er" song Priest played, but we did also get old standbys "Grinder," "Sinner," "The Ripper," "Turbo Lover," "Hell Bent For Leather," and "Painkiller," more than fulfilling the quota.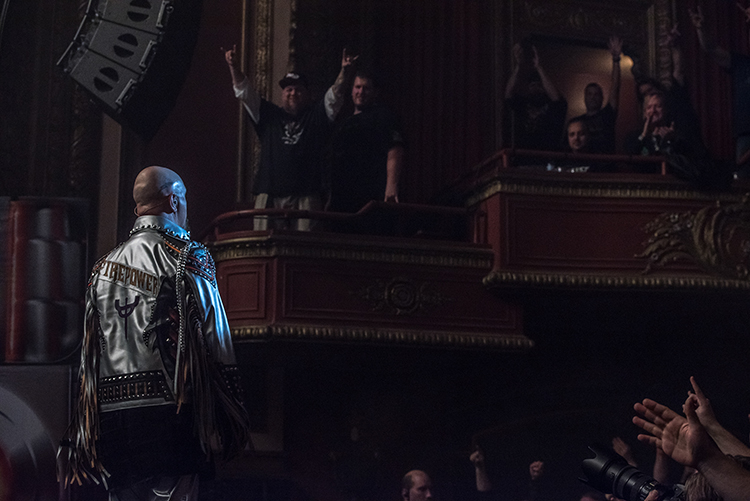 As for the new tunes, they suffer a fate common to many way-past-their-prime icons of metal: retreads of old Priestly motifs, yes, but beefed up with half-hearted tropes heisted from has-been headbangers half their age. Opener "Firepower" gleamed with the slick melodicism of Gothenburg metal; "Evil Never Dies" came off like a post-grunge/nu-metal hybrid; and "Lightning Strike," aside from the mechanical double-bass drumming, sounded like mid-'80s thrash. To be fair, these styles may never have existed if it hadn't been for Priest, and Halford and company knew better than to throw too much new material at us. "Evil Never Dies" in particular was also a terrific showcase for Halford's vocals, and by this point in the show, the crowd was about as fired up as it could possibly be on a Tuesday night.
Prior to "Saints In Hell," Halford acknowledged this tour's missed opportunity to celebrate the 40th anniversary of Priest's 1978 classic Stained Class. "Time sneaks up on you," he admitted. One wonders if he envisioned the current Priest scenario when he quit the band in 1991; rather than a victory lap with your old road-warrior mates, you find yourself fronting a virtually generic rock band, watching some younger guitarist strut and mug for the cameras and toss guitar picks out to fans who don't even know his name. It made little difference to the fans, though. They were on their feet the entire show, heads bobbing, fists flailing, devil horns flying, roaring their approval after every song. It could've been anyone up there strumming the chords of "Breaking The Law" and "You've Got Another Thing Comin'" and "Living After Midnight." As long as it's Halford taking the stage on a Harley made of chrome, belting out these canonic tunes, all is right with the world.