Today is the last day of winter, but if you turn on Dig Deep's new album, Heavy Heart, hoping for a little bluegrass pick-me-up for the tail end of another long Wisconsin deep freeze, you might want to skip the first song. The title track of the Stevens Point band's seven-track release features lead singer and guitarist Alex Dalnodar wrestling with a serious case of seasonal depression.
"I don't want to die with a heavy heart," Dalnodar bellows in his signature gruff voice. "I want to find that place where the ice is thin, take a few steps and let myself fall in. But I don't want to die with a heavy heart."
Bleak outlook aside, "Heavy Heart" has been a crowd favorite at Dig Deep shows for several years and serves as a powerful kickoff to the self-released album the band put out last month. The driving anthem showcases the four-piece string band at its finest—foot-stomping rhythm, sing-along harmonies, and infectious mandolin and banjo picking—topped off with a scorching guest appearance from veteran Madpolecats fiddler Angela Martin Licari.
"It's a pretty simple tune, but it's fun and it's a little bit different," mandolin player Bob Weigandt says. "It doesn't have your traditional bluegrass groove."
Dig Deep recorded Heavy Heart with Bryan Wheeler at Big Wheel Recording in Waunakee, Wisconsin, over a span of more than nine months of spread-out sessions. With the exception of the lyrically grim title track, longtime fans will notice a more upbeat aura compared to the 2015 self-titled debut and 2017's murder ballad concept release, The Lotta Morgan. It's certainly not a full departure from the band members' punk and metal roots, but Heavy Heart is decidedly less dark and aggressive—both in music and lyrics—than the band's earlier work, and Dalnodar maintains a more natural vocal delivery throughout the album too. The band members credit the evolution in sound mostly to a natural progression in songwriting.
"I think we're just happier too," Dalnodar, the band's primary songsmith, says.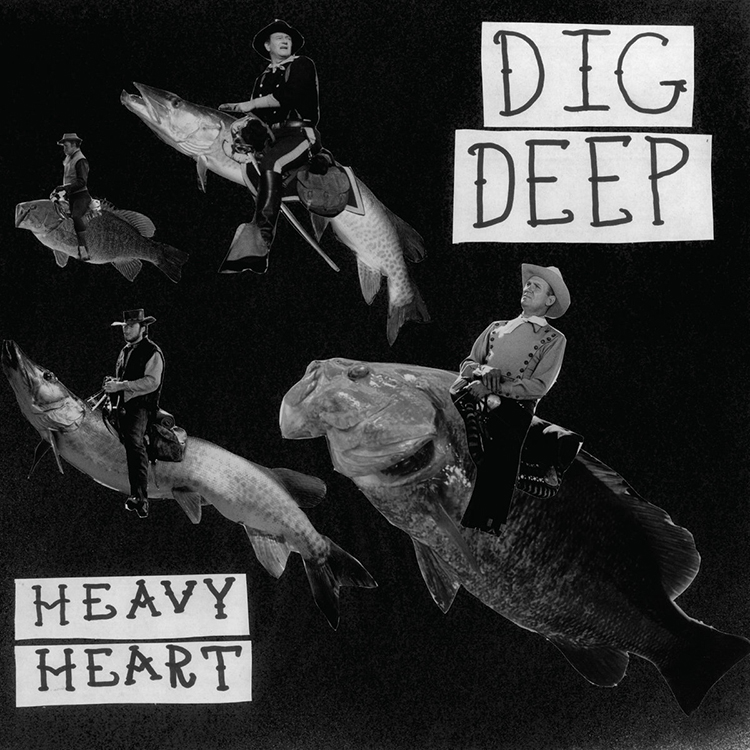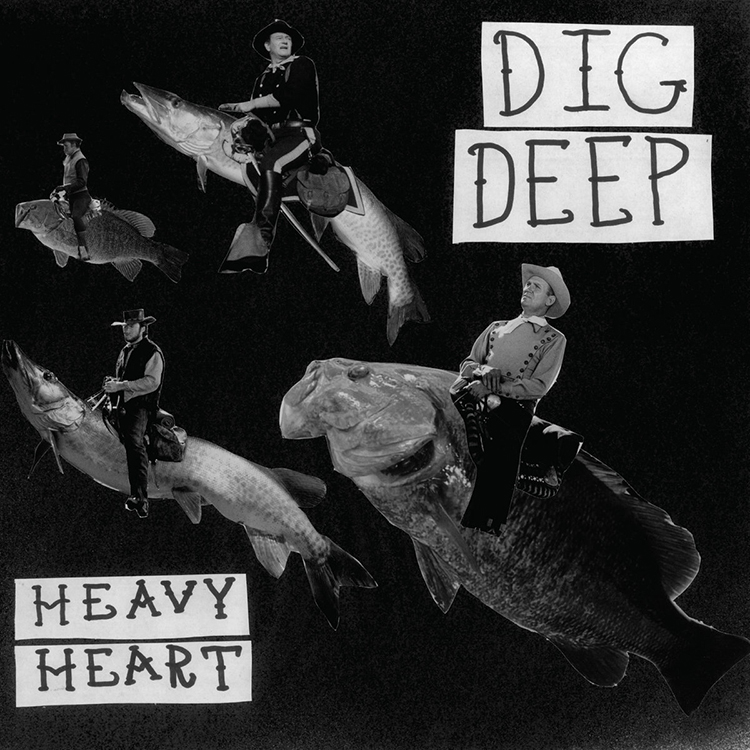 While the transition means less face-melting string work from Weigandt and banjo slinger Oscar Noetzel, the extra air in the tracks actually allows both players to shine more than ever. Weigandt and Noetzel would be the first to admit they're not traditional bluegrass pickers (or necessarily even trying to be), but their playing style, partially adopted from one of the band's primary influences—the .357 String Band—is tailored perfectly for Dig Deep's twist on roots music.
"We wouldn't exist if it wasn't for the .357 String Band. Period," Noetzel says, recalling hearing the long-defunct Milwaukee streetgrass band for the first time through a friend's headphones on a school bus when he was just 11.
"Waupaca Peach," perhaps the band's catchiest tune, hits on a theme the .357 String Band revisited regularly in its heyday—the separation from home and loved ones while traveling. The song is built on the thumping upright bass part slapped out by Aaron Von Baron, who joined the band after longtime bassist Pete Pagel moved away from the Stevens Point area in 2019. "Waupaca Peach" has become a staple of Dig Deep's energetic live show, partially because even those who have never heard it can quickly pick up on the "on my way back home" theme and sing along.
Keen-eared listeners will notice another new layer on Heavy Heart. Noetzel, a multi-instrumentalist with a penchant for all things stringed, laid down some pedal steel on the soothing fifth track, "Madeline."
"It wouldn't be a Dig Deep record if I didn't play an instrument I have no business playing," Noetzel joked.
Noetzel pulled a couple more tricks out of his bag on "Lost In The Kobold Cave" and "Like Kings Of Old"—the first two Dig Deep songs written and sang by the long-haired, headbanging banjo picker. He penned "Like Kings Of Old," a touching ode to his father, just hours before his dad passed away in 2018. And "Kobold Cave," a song about a game of Dungeons & Dragons, is a nod to the band members' nerdier sides and favorite way to pass time on long drives between shows.
There's no shortage of D&D campaign opportunities either. Dig Deep plays more than 100 shows annually, typically including one or two out-of-state tours each year, but the band members spend most of their time within Wisconsin's borders, baiting hooks on lakes and rivers by day and performing in bars by night. Over the years, the fishing-obsessed group has developed an impressive Northwoods circuit of dozens of small-town Wisconsin bars, usually with very appreciative audiences.
"[Small-town audiences] don't have a lot of live music happening on a regular basis, so when they do get a good show going on, they're happy to come out and see it," Weigandt says. "They're anxious to come out and see it, especially if it's something a little unique, if it's not your standard bar band."
The drummer-less string band is also able to play rooms that don't have the space for drum kits or the volume that comes along with them.
"By simplifying the instrumentation and simplifying the whole setup, it's allowed us to get into a lot more opportunities and get in front of a lot more people at the end of the day," Weigandt says.
Dig Deep was set to make a rare voyage to Milwaukee to play at Sabbatic this weekend. However, due to Coronavirus-related precautions, the show will no longer be happening. Dig Deep will be playing at this summer's Blue Ox Music Festival in Eau Claire in June.