Beaumont James & The Wild Claims have been building a reputation in the Milwaukee area over the last year as a raucous country act led by a fiery front man. But when the four-piece country band hit the studio to record their debut album last October, the energy wasn't translating to tape.
"After we went through and did the first pass at these songs on the new record, I just wanted to do more," singer-guitarist Beaumont James says. "I wanted it to be bigger, and I wanted it to be a little more diverse sonically."
So, for the last 12 months, the band—James, drummer Dan Neis, fiddler Nathaniel Dickson, and bassist Rob Collier—meticulously reworked the tracks. With Andrew Jambura of Sat. Nite Duets manning the controls at Milwaukee's Silver City Studios, the band members modified some songs, re-recorded pieces of others, and introduced additional instruments, including pedal steel guitar, accordion and piano.
"It was a tough process recording it," Neis says. "It was fun, but it was tough."
The end result—Try Every Trick—is a rough-edged, honky-tonkin', punk rock punch to the ear drums. Drawing from influences as diverse as Dwight Yoakam, The Hooten Hallers, and The Legendary Shack Shakers, the band takes listeners on a nine-track roller coaster of commotion and emotion that's driven by Dickson's fast fiddling and James' deep, powerful voice.
"When we practice, we never mic up and [James] just belts," Neis says. "His voice carries like crazy."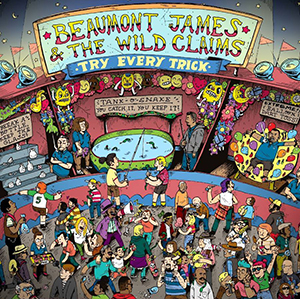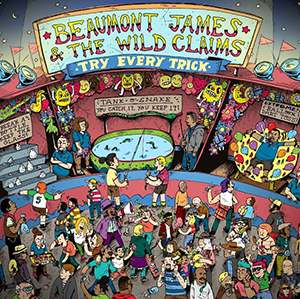 Try Every Trick wastes no time building up, kicking off with "Indiana Bust Out," the breakneck banger Beaumont James & The Wild Claims usually uses to close their live sets. The song sounds a little like what might have happened if The Charlie Daniels Band dropped acid while writing "The Devil Went Down to Georgia," and the tale within the track is just as captivating.
"On the radio on some AM station, I heard a guy telling a story about when he worked for a traveling county fair," James says. "At the traveling county fair, apparently they have settled disputes by having this contest where two carnies will pit themselves against one other and they'll work each game in the whole fair."
James says whichever carnival worker ends up with the most money at the end of the day—whether they pocketed it fairly or with some crooked tricks—gets to keep both workers' earnings.
Other standout tracks on Try Every Trick include "Don't Come Home," "No Damn Clown," and "The Great Baraboo Flood"—with the latter two showing deep connections to James' hometown of Baraboo.
Try Every Trick, complete with intricate carnival cover art drawn by artist Shelby Criswell, will be released on Friday, November 9. The self-released record will be available in CD and digital formats.
Beaumont James & The Wild Claims' album release show will be on Friday, November 30 at Linneman's Riverwest Inn. Milwaukee's own S.S. Web will open the show.