Seventy-sixth Street in Greenfield is host to many fast food chains and mini malls that look like they haven't had upgrades since the mid-'80s. Yet there is a strange familiarity that all Milwaukeeans have with this stretch of land, particularly the intersection at Cold Spring Road. There is a huge empty lot that once had a T.J. Maxx and a Pick 'N Save—and, once upon a time, an Aladdin's Castle arcade and a movie theater where I first saw John Woo's action masterpiece Face/Off.
"They're going to make it all into high rise apartments," Alex Romero tells me. "It should be good for business, since we are the only sit-down restaurant with a bar in it for a couple miles either way."
Romero owns the eponymous Romero's Restaurant and Bar (4171 S. 76th St.), which sits across from the aforementioned lot in the shell of one of the best franchises Wisconsin ever saw, Ponderosa. "It also used to be a Pizza Hut," Alex reminds me when I tell him about how many times I have been in this building.

Alex, his brother Carmelo, and his nephew Tonny opened the location a mere three months ago, after having launched a food truck business in 2020. That business started in Fond du Lac; it was such a success that Alex saw fit to get three more trucks. Today, those trucks serve West Allis, Wauwatosa, and New Berlin
"The pandemic proved to be an enormous boost for loncheras [food trucks]," Alex says. "We really thought we had made a huge mistake buying a food truck because two months later, the world shut down. It was looking pretty grim for a few weeks, but one day we had lines around the block and people were waiting up to ninety minutes to get their food. It was a blessing for people like us."
I sought out Romero's Restaurant after I got a friend hooked on quesabirrias while on a trip in Denver. He liked them so much he started seeking them out here in Milwaukee, claiming Romero's gave Taqueria el Cabrito a run for its money. El Cabrito has been the only restaurant in Milwaukee that has remained true to the original concept of what birria is: slow roasted goat meat, which is then shredded; stock made of the drippings from said goat meat, blended green tomato, pulla, and chile de arbol peppers. Many purists say anything else is not birria.
What is sold at Romero's is indeed something different. The meat is slow roasted beef, which is the case with most birria places in Milwaukee, like Chucho's Red Tacos or El Tlaxcalteca. "People don't really like goat meat, and neither do I," Alex says. "It has a sort of tang, a gaminess that never really can be cooked out." His stock has blended red tomato in it as well—which, while very succulent and flavorful, is in a different league from birria.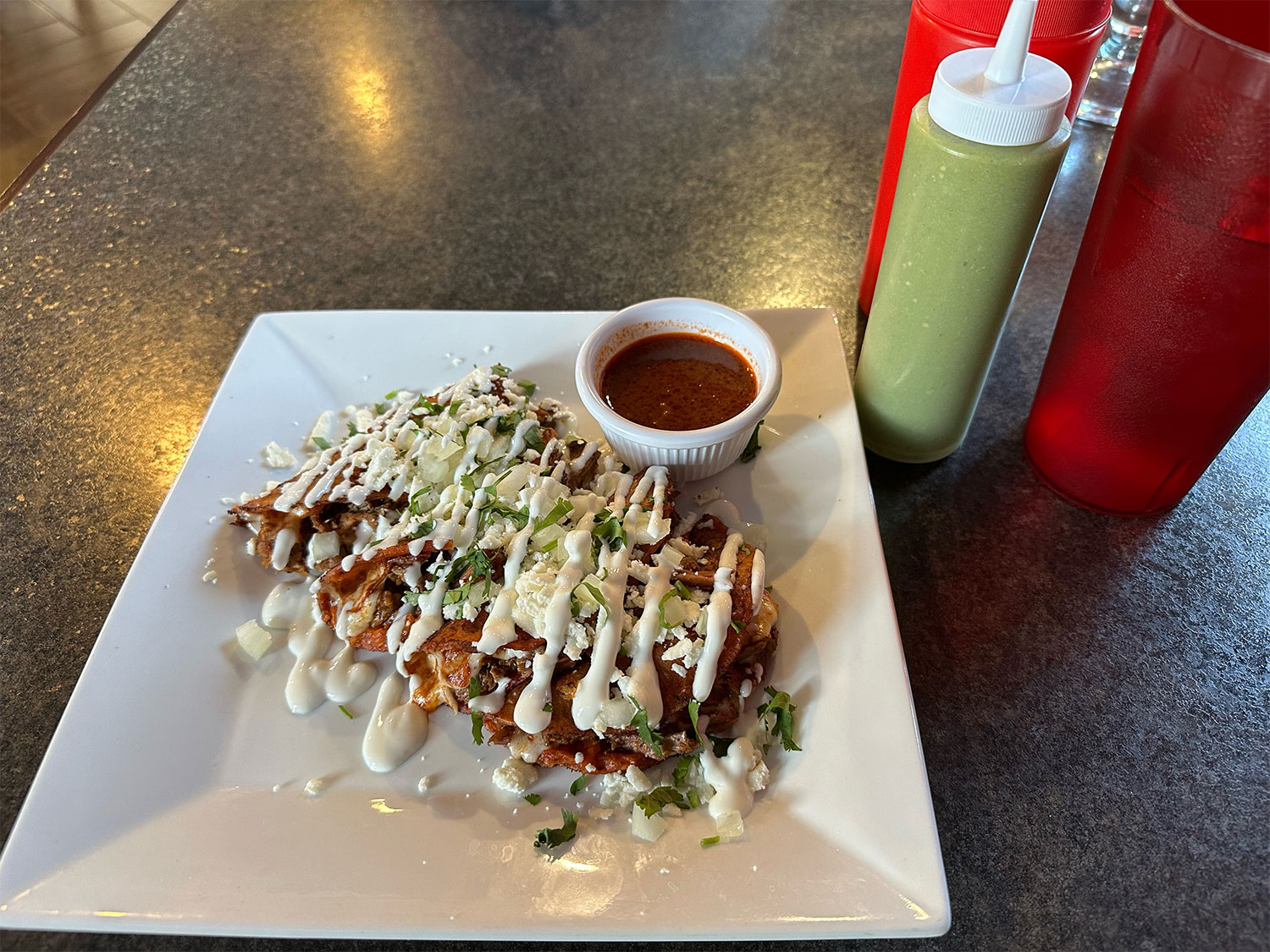 Alex believes beef birria started in California and became a beefy behemoth because of social media. "It's one of those dishes that people eat and can then tell their friends they have tried. It's kind of like softening the edge for folks," he says. "Everyone loves the way the beef birria is made, people of all different cultures."
To demonstrate, Alex pulls out his phone and shows me pictures of a Ramadan celebration he catered. "We went through four hundred pounds of halal beef in five hours," he says. "My goal is to feed everyone and show them the beauty of our Mexican culture."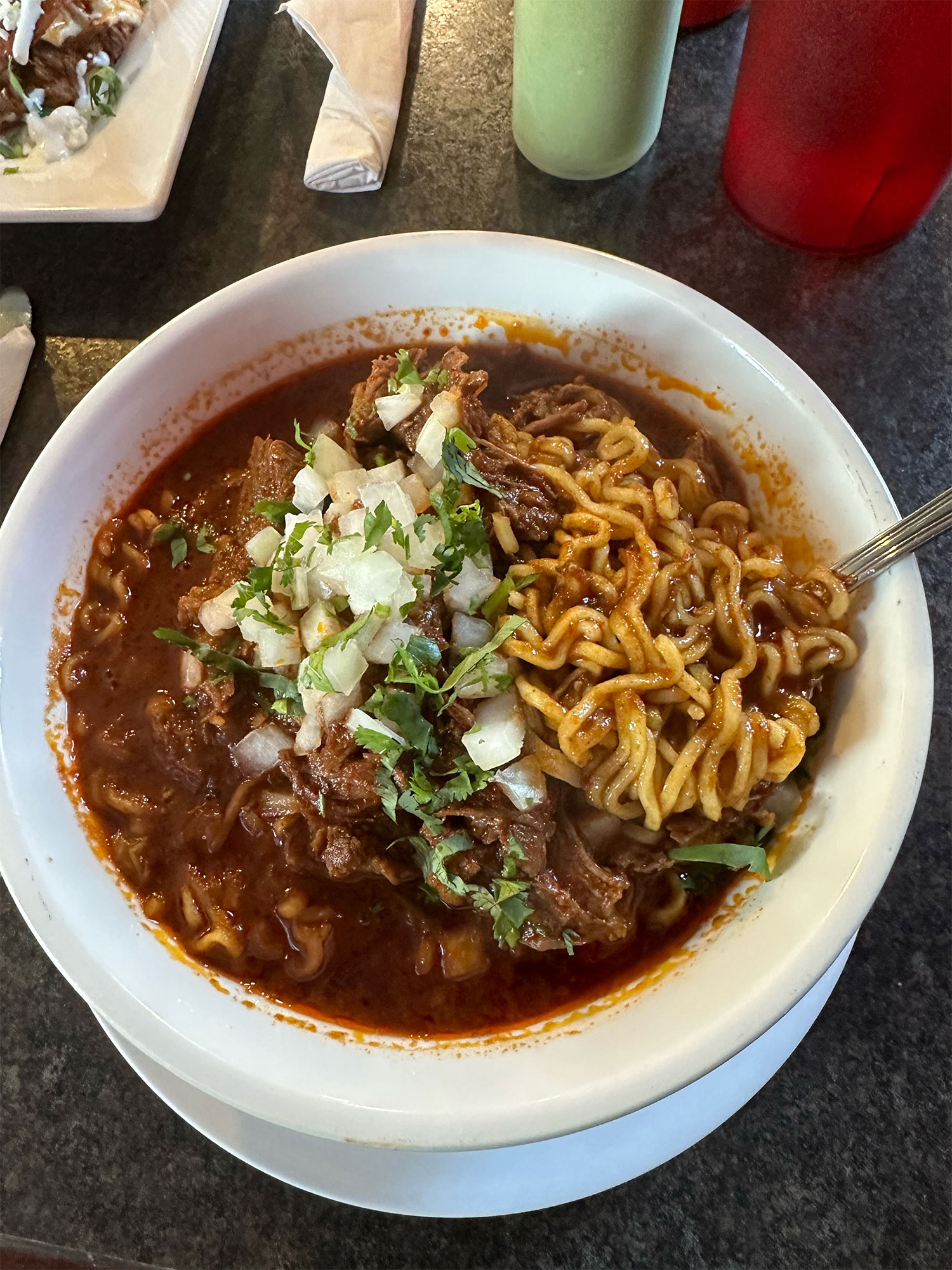 Alex and his family hail from the State of Mexico, a few hours outside of Toluca. While they have a birria recipe that is similar to other stewed beef joints in town, the flavors from couldn't be further apart.
"We make our birria a little different here," Alex says. "I would say the main difference is the sazon [seasoning] that my family and I bring to the table. It's not the hardline Jalisco-style birria. It's our own thing."

Exclusive articles, podcasts, and more. Support Milwaukee Record on Patreon.
---
RELATED ARTICLES