For hundreds of years, mankind has willingly left the comforts of home no matter the conditions and resigned itself to the concept of paying inflated bar prices for drinks that sometimes take upwards of five minutes to receive. This ritual is colloquially called "going out." But what do patrons do while "out" once they've exhausted their pick-up lines, and conversations with friends reach an inevitable lull? Play games, of course. There is no shortage of drinking establishments that rely on entertainment to keep patrons drinking. From dart boards and pool tables to pinball machines and board games, it's almost more rare when a bar doesn't have something to help customers kill time. So how does a brand new watering hole set itself apart? Wauwatosa's newest bar, The Thirsty Duck (11320 W. Bluemound Rd., Wauwatosa, 414-988-4485), is trying to make a name for itself using something the greater Milwaukee area has only seen once before. Last Monday, the zoo-adjacent business joined Koz's Mini Bowl as the region's second duckpin bowling alley. Just days after The Thirsty Duck's ribbon cutting, Milwaukee Record stopped by the suburban bar to knock back some pins and some pints.
The space: Save for its new sign and wood slats replacing the Legion Hall-like exterior of the last tenant, not much has changed with the basic outside appearance of the place that once housed Guadalupe Mexican Restaurant and, most recently, Pitch's Baby Grand piano bar. Inside, we immediately took notice of the duckpin alley, six pristine lanes in all, and PVC pipe ball returns suspended from the ceiling that all served to liven up the otherwise dark, cookie-cutter interior in all its former fledgling suburban Mexican restaurant glory. To the east of the diminutive dining/bowling area and a hostess area was a modest bar and more pub tables. We were expecting the joint to be larger, honestly, but it was kind of like your average bar that featured pull tabs, a respectable number of TVs, and modest drink selection…plus a miniaturized bowling alley.
The music selection (which we noticed was provided by a cell phone playing a Spotify playlist) leaned heavily on material from the '90s. Seated amongst an almost exclusive middle-aged male customer base, we were subjected to Savage Garden, two Christina Aguilera songs, Mariah Carey, Justin Timberlake, Britney Spears, and TLC. The nostalgia breached the fun vibes of our bowling game with the strange inclusion of that classic bowling bar track, Celine Dion's "My Heart Will Go One" from the Titanic movie soundtrack.
The service: Upon entering in the thick of happy hour we were somewhat surprised to be welcomed by three young women crowded behind the small U-shaped host station. One member of the trio directed us to the bar where we were helped by a nice and attentive bartender named Kristen (judging by what a schlubby gentleman called her before he finished his pre-work bomb shot and remaining dregs of Three Floyd's Alpha King). Eight days in, she was already well versed in the happy hour specials and had food recommendations. Meanwhile, the three women separated by a partition mere feet away didn't move or do much, really. Being a new staff in a brand new business without a grasp of when a "rush" is prone to come, we don't fault them entirely for their inactivity. Chalk it up as training. Eventually, we roused a third of the staff behind the booth to bill us for a game of duckpin bowling ($4/game or $30/hour).
Like Koz's, The Thirsty Duck also gives the act of pin setting a distinctly human touch. Unfortunately, that leads to human error. Again, two pin setters doing the work of one and chatting had its ramifications, as two frames were disrupted when pins were reset after our first throw. As an establishment that asks patrons to "please tip your pin setters" five times above the alley, this has to be remedied. Without the duckpin bowling, it's just Jackson's Blue Ribbon Pub 2. Would anyone go to Landmark Lanes if 20 percent of your game was fucked up?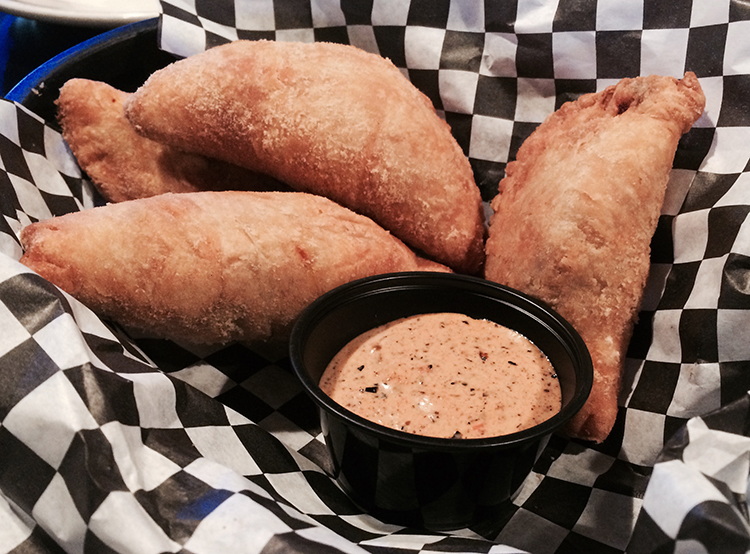 Milwaukee Record's food/drink: Before bowling, we started off by taking advantage of the week-long happy hour special with a $2 pint of Schlitz. Miller Lite also runs the same price, and rail drinks as well as house wines are $3 from 3-6 p.m. Beyond the Three Floyd's outlier and Milwaukee-made happy hour domestic duo, the tap line included Lakefront IPA, Riverwest Stein, and Leine's Summer Shandy. Not great, but we've seen worse. Between glasses of modestly-priced Schlitz, we examined the soft open menu. Of the 10 items (two of which were of the "Build Your Own" variety), we bypassed burgers, pizza, and the all-too alluring Giant Pretzel ($12) in favor of a thematically fitting order of Duck Empanadas ($10). Within minutes, our quartet of small pastries arrived. Flaky and filled with meat and vegetables, they were more pot pie or pasty than Portuguese meat pocket. Still, they proved to be a prime pre-bowling appetizer, complete with buttery crust and succulent, fatty duck meat. Good as they were, we could see why Duck Empanadas nested in the "Starters" pond, as we were still hungry and fought temptation to see exactly how giant the pretzel was. Other items included a $12 chicken sandwich, $11 turkey sandwich, and a pizza called "The White One" with grilled chicken, portabella mushrooms, and alfredo sauce that was a staggering $18 to $20 for 12- and 16-inch pies, respectively. If we're paying $20 for a pizza, the word "bowling" won't be anywhere near the business' name, thank you.
The verdict: Though we're glad to know there's another place to duck bowl in a 20-mile radius and our bartender was more than capable of bringing us affordable Schlitz, The Thirsty Duck is a little too far outside Milwaukee to account for the food prices, pin setting errors, and strange atmosphere (both musically and aesthetically) that all work against otherwise okay bar. For those who live in Tosa or who require a post-zoo drink, it's certainly worth a gander. That said, we'll probably just stick to making reservations at Koz's and eating somewhere beforehand.