Every Friday, Off The Record looks to other Milwaukee publications (and beyond) for bits of news we missed throughout the week.
• Throw a stone and you'll surely hit a businessperson, developer, and/or marketing major (see picture above) passionately touting the importance of art in Milwaukee. There's nothing more important, these folks claim, than the "creative class," a lucrative group of happy, smiling "creatives" who give the city an attractive aura of sophistication and creative-friendly creativeness. Support of art and artists is paramount to the city's success—and, hey, if you can make a few bucks spouting that kind of PR horseshit while simultaneously keeping artists starved and underpaid, so much the better.
So it goes with the news that The Fortress—a "rabbit warren of artist spaces," per Mary Louise Schumacher of the Journal Sentinel—will soon be converted into high-end apartments by Ambassador Hotel owner Richard Wiegand and Charlie Walter of Milwaukee Fortress LLC. While the Milwaukee Business Journal casually mentions the historic building located next to Schlitz Park "most recently was used as artists' studios," Schumacher actually details the countless artists, filmmakers, gallery owners, and bands who have called the rambling former boot factory home—or, in some cases, currently call it home. The list is impressive: Faythe Levine, Andrew Swant, Bobby Ciraldo, Chris Thompson, Davey Noble, Tyson Reeder, Evan Murphy, Peter Barrickman, Ray Chi, Sonji Hunt, and many more. As for the unstoppable march of progress that seems to give artists plenty of lip service while giving them fewer places to work and live (see also: Sydney Hih), the Business Journal dutifully quotes developer Gary Grunau: "We like it. In today's downtown, people want to live where they can walk to work or bike to work."
• The hits just keep on coming for radical Islamic terrorist expert Scott Walker. The latest turd to be unearthed from his state budget calls for the end of Downer Woods' status as a protected nature preserve. Urban Milwaukee has more on the provision that will inevitably turn the 11.1-acre woods next to UW-Milwaukee's Sandburg Halls into even more fucking mixed-use apartments or whatever.
• Bring the annual Journal Sentinel Sports Show back downtown, cries Wisconsin Center District board chairman Frank Gimbel via the Business Journal. We couldn't agree more—but hurry! There's only so much time before the "SPEAK ENGLISH OR GET THE HELL OUT!" bumper stickers regularly sold alongside hunting and fishing gear at the Sports Show run out of stock!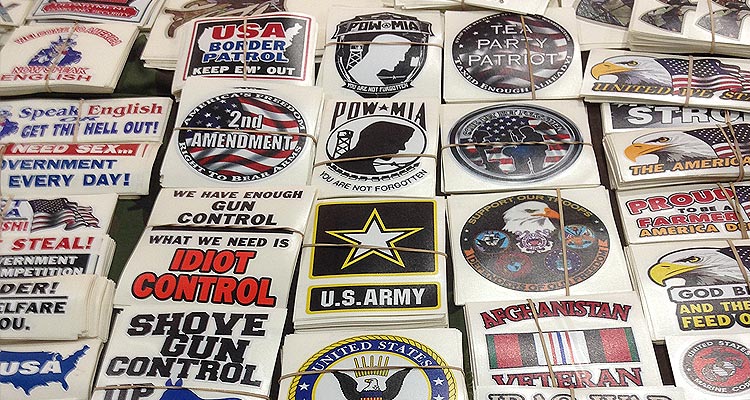 • The anti-streetcar crowd has refused to go gentle into that good on-rails night, vowing to start a new drive to collect signatures in hopes of killing the project. The Business Journal has more on this latest streetcar—OH GOD THE STREETCAR—development.
• Rolling Stone premiered the first new Violent Femmes song in 15 years, "Love Love Love Love Love." It's pretty good! (The Femmes, in case you've forgotten, are from Milwaukee.)
• According to the Business Journal, The Nomad will convert the space that once housed its kinda-sorta offensive Brazilian slum into a permanent outdoor beer garden and patio. A "world travel, street-food"-themed menu will also be introduced, which will probably piss someone off.
• Bobby Tanzilo rounded up 11 "dead and buried Downtown rock clubs" for OnMilwaukee.
• Complex premiered Old Soul Young Spirit, the debut full-length from 18-year-old Milwaukee rapper IshDARR. Evan Rytlewski at the Shepherd Express calls it the "Milwaukee rap album to top in 2015" We can't help but agree.
• Urban Milwaukee stroked themselves over that fucking swing park again, which is up for a MANDI award.
• 88Nine Radio Milwaukee debuted a new video series called "Collectors," which looks into the lives of obsessive music fans. For the first installment, the station checks in with Musical Memories owner Ken Freck.
• OnMilwaukee talked to Milwaukeean-turned-former-Milwaukeean-turned-Milwaukeean-again rapper Milo about his many relocations and the state of the city's rap scene.
• The Business Journal took great delight in promoting a story with this headline: "J.J. Watt's 'cabin' in Summit is 'freakin' sick' and 'awesome,' says TMZ." It's not "Man eats cocaine in brother's butt, dies," but it's close.
• Do we love The Vanguard, Bay View's premiere sausage emporium that occasionally hosts impassioned arguments about Norah Jones? Yes we do. So does Milwaukee Magazine, who sent a video crew to the restaurant to capture all the encased-meat goodness.
• The Pabst Theater Group had a doozie of a week for awesome show announcements. In addition to Kids In The Hall, Pabst announced My Morning Jacket (June 20 at Riverside Theater), Father John Misty (May 31 at Pabst Theater), and Bob Dylan (May 13 at Riverside Theater).
• And the winners of last weekend's WMSE Rockabilly Chili Fundraiser are:
Best Meat– Water Street Brewery
Best Vegetarian – Beans & Barley
Best Heat – McBob's
Most Unique – Hue Vietnamese
Best Display – Water Street Brewery
Best Firehouse – Milwaukee Technical Services