Depending on which news sources you follow, Milwaukee is going through either a "renaissance" or a "reinvention." Or maybe it's a "reboot" or a "reimagining," like that crappy Tim Burton version of Planet Of The Apes. However you want to define it, it's safe to say that Milwaukee is currently building a lot of new and wonderful things.
• A Madison developer wants to build a 15-story, 220-unit apartment building along the riverfront in Downtown Milwaukee. The so-called Edison building would be located at 1005 N. Edison St. (currently home to the Rojahn & Malaney Co. floral warehouse, which would be demolished), and would include "an indoor parking structure, a second-floor outdoor patio deck for residents, and 8,800 square feet of street-level commercial space, including a cafe overlooking the Milwaukee River." And oh yeah: the building would be another mass timber project (see below). [Milwaukee Journal Sentinel]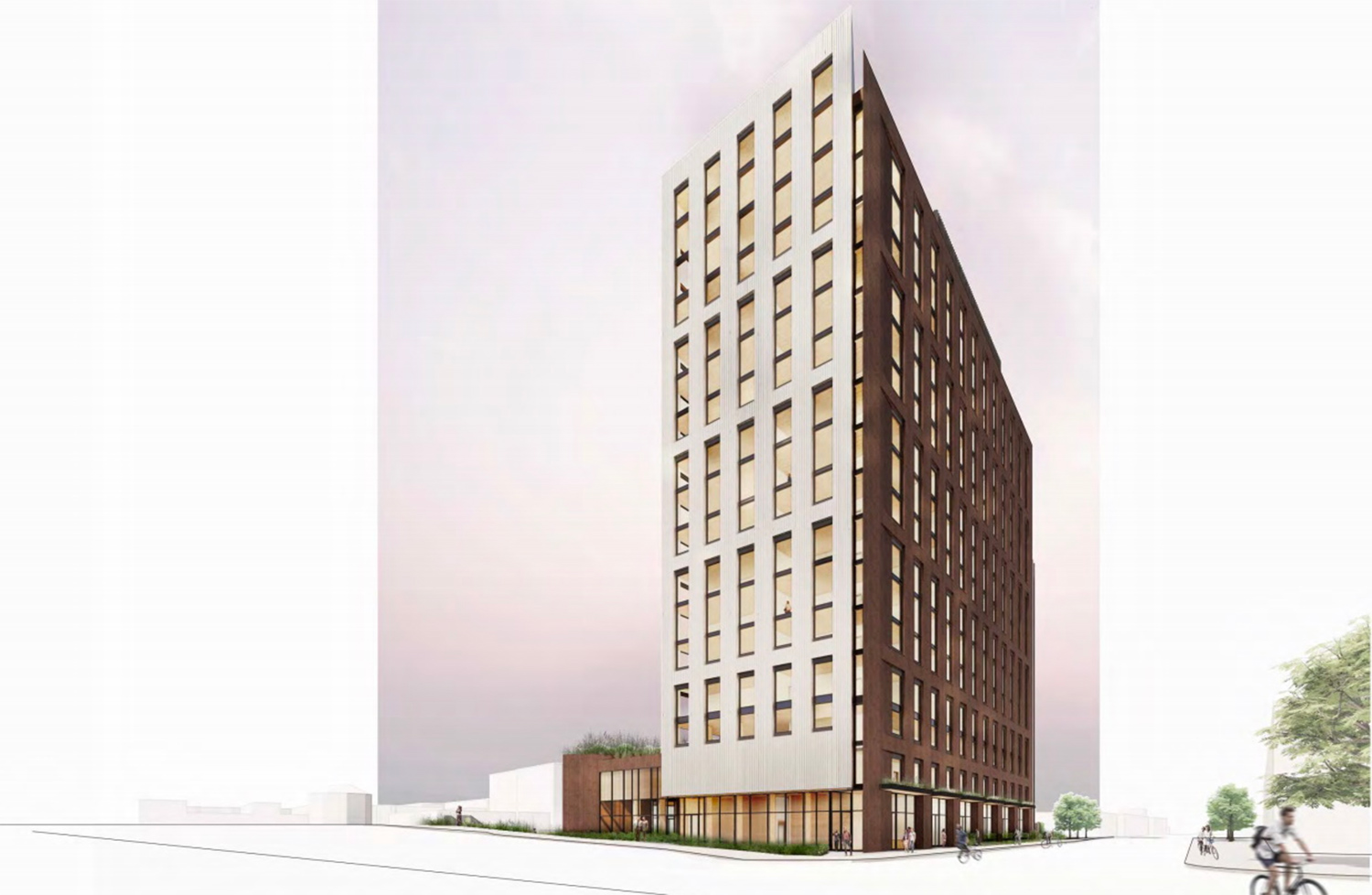 • That five-story, 79-unit apartment building planned for 1887 N. Water St. along the Milwaukee River—a.k.a. the site of that vacant and forever-tagged Pro Graphics building—got a thumbs-up from the city's Plan Commission. Sixty of the units would be set aside for folks earning "no higher than 60% of the local median income." Sixteen of those units would be set aside for folks "with physical and mental disabilities earning up to 30% of that income." The project, you may remember, isn't exactly popular with nearby condo owners. [Milwaukee Journal Sentinel]
• Officials would like $250,000 in planning money for an extension of The Hop streetcar system into Walker's Point, please. Of the several planned streetcar extensions, the Walker's Point extension is described as "the earliest in terms of planning and would require the most upfront work before the city seeks federal money." That initial $250,000 in planning cash would come from an existing tax incremental financing district in Walker's Point. [Milwaukee Business Journal]
• A former (and historic) Catholic church school at 2480 N. Cramer St. on the city's east side could be redeveloped into…something. The parish of the adjoining church—Saints Peter and Paul Catholic Church—have agreed to sell the former school to developer Aaron Matter. "We want to restore and repurpose the historic structure, but we haven't determined the end use," Matter told the Journal Sentinel. The former school is also notable because this author lived across from it during a few dicey years in the mid '00s. [Milwaukee Journal Sentinel]
• The owner of an 23,199-square-foot vacant lot at 356 E. Stewart St.—across from Santino's in Bay View and the Harbor District—wants to change its zoning and possibly have a four-story apartment building built there. The vacant lot is also notable because this business had an office around the corner from it during a few dicey years in the mid '10s. [Milwaukee Journal Sentinel]
• Demolition work is set to begin on the surface parking north of the Wisconsin Center. The site will be cleared to make way for the big $420 million Wisconsin Center expansion. Construction of the new downtown convention center is expected to take about two years after a formal groundbreaking later this year. [Milwaukee Business Journal]
• Take an under-construction look at the world's largest mass timber building, a.k.a. the 25-story Ascent apartment building, being built at 700 E. Kilbourn Ave. [Urban Milwaukee]
• And what did we learn this week? Well, they're always building something. Isn't that right, old song from my old band?
Exclusive articles, podcasts, and more. Support Milwaukee Record on Patreon.
---
RELATED ARTICLES
• Full "New And Wonderful Things" (formerly called "New Sh*t") archives