Get into a position that is comfortable for you. Relax your shoulders. Unclench your jaw. Let your tongue fall. Soften your gaze. Let your mind be at rest. Focus on your breath.
While on a trip to Denver three years ago, I tried a yoga class. It totally blew my mind. It left me noticeably clear-headed and my body felt great. Here in Milwaukee, I've been doing yoga at my gym roughly once a week. In the spirit of New Year's resolutions, I sampled a half-dozen dedicated yoga studios and put together a 2017 Milwaukee Yoga Guide.
Yoga Six
"Yoga at a studio is different than what you'll find at a gym," one of the girls behind the counter at Yoga Six tells me. With locations in San Diego, St. Louis, Columbus, Chicago, Leawood, and for the past year, Milwaukee, this chic, "science-backed" East Side studio a few doors down from Colectivo is the first to pop up in my Google search, and seems like as good a place to start as any.
The girls ask that I take my shoes off before leaving the reception area, as the rest of the studio is a "shoe-free zone." As promised, it's different than my gym. There is no incessant din coming from the TVs above the treadmills, and no metronome-like sounds from the racquetball courts. They have two rooms with buffer space between Prospect Avenue, maximizing the quiet.
As soon as I walk into the Juneau Room for my "Deep Stretch" class (I figure I'll start simple), I spot a familiar face. It's local comedian/producer Ryan Holman, one of the brains behind Hear Here Presents. Like me, Holman came to yoga because of a debilitating back injury he suffered a couple years ago. After months of watching yoga YouTube clips and "undoubtedly doing everything incorrectly," he tried classes.
"Since starting at Yoga Six this summer I have been taking my practice seriously, learning the correct breathing techniques, proper alignment, and really just taking control of myself both physically and mentally," Holman says. "Once I made yoga a focus in my life everything has been steadily trending upwards. I'm stronger, more confident in my body, and just generally happier."
Our class is led by Alex Druzny, who gives us each a mini leg massage during pigeon position. The tatami floor—traditionally used in Japanese homes, providing extra stabilization and soft on joints—plus the mat, pillow, and blocks make for a great class, equipment-wise. The studio also has an elevator for wheelchair access and a smartphone app. They even have an "Indiglo Flow" class held under black lights.
For a high-end, all-inclusive yoga experience, Yoga Six is hard to beat. If you're a new student and a local resident, your first week is free.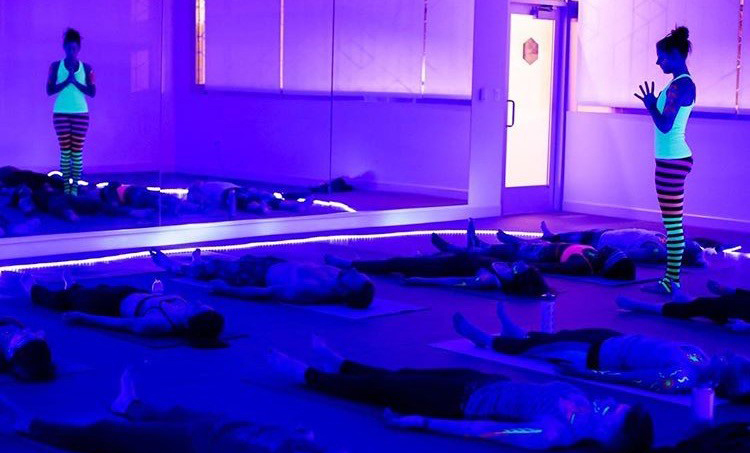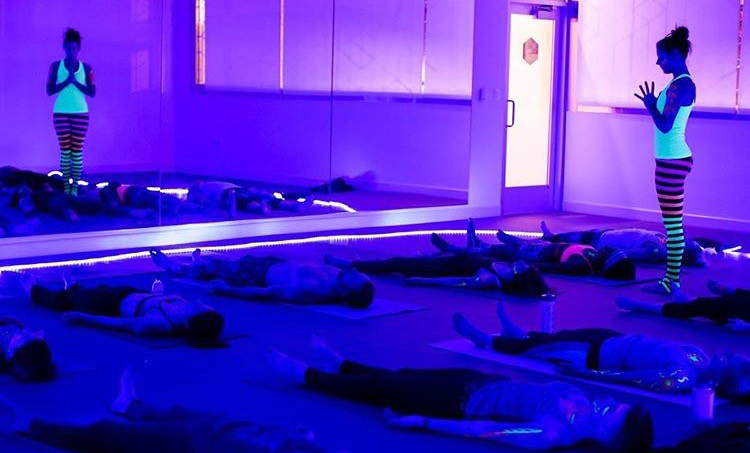 The Pink House
The Pink House in Riverwest is a holistic healing center that offers art and music workshops/classes in addition to yoga. Sarah Moore and her sister Claire opened it in 2007 with no real business model. They depended exclusively on word of mouth. Today, the homey wood interior with colorful tapestries and instruments provides a contrast to the sleek, modern confines of Yoga Six. I decide to sample a morning alignment class taught by Moore.
For me, equipment, setting, music, and temperature are all important factors in yoga practice, but nothing is as important as your teacher. Anyone can show you how to get into a position, but not everyone says things like, "Think of your vertebrate as being inside a rainbow and you're pushing up against the colors." The right words from an instructor are key to the mental practice of yoga, which feeds the physical. And it's almost equally important how something is said as what is being said.
Moore is playful and fun. She just got a new phone that only has that one free U2 album on it, so we decide against music. At certain points we just shake it all out, including our thighs and butts. Yoga teachers tend to provide a focus for each class, or they encourage you to choose your own. In Moore's class we do a lot of twisting, with the narrative being about the "magical spiral adventure of life." It's also the first class where we do vocal "Om" chants at the end, which I dig.
Savasana literally translates to "corpse position," and is the cool-down ending meditation/relaxation where you lay flat on your back. Moore puts sandbags over our eyes during savasana and asks us to imagine we're a fallen tree going back to the earth. It's a comforting thought, and the class is my favorite to this day. Moore also recommends the non-profit Riverwest Yogashala as another nearby option.
"You don't just come here for the expert teacher to make you a more perfect individual," Moore says. "You come here to be a social animal, to breathe together and chant together. You come here for the community."
Yoga at The Pink House is about $8-12 per class, with discounts for students and multiple-class packages.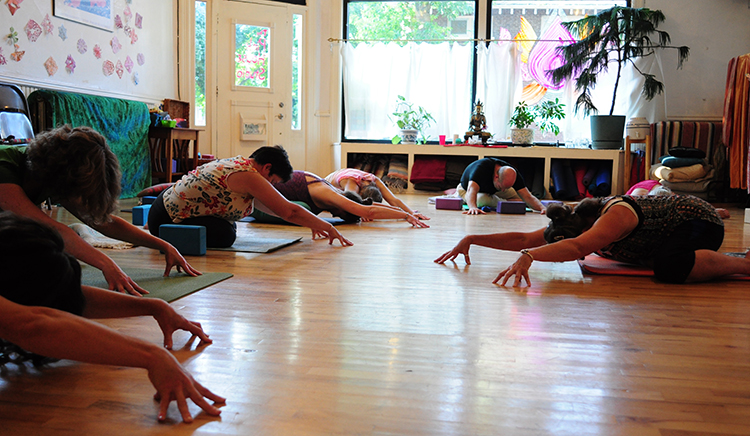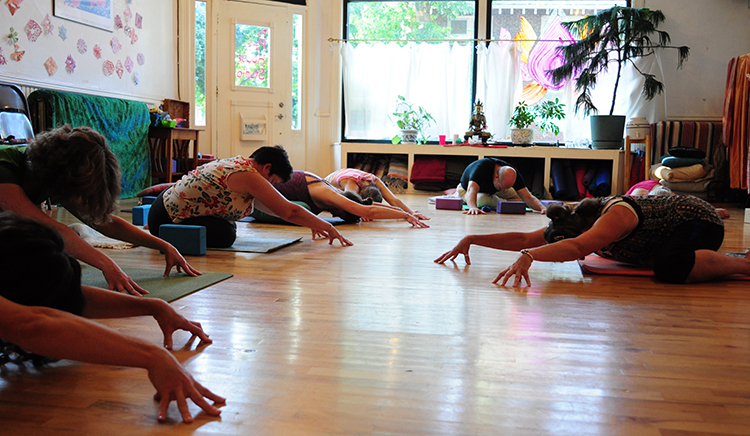 Urban Om
Thanks to a Jeff Redmon mural on their studio wall, I know about Urban Om before doing any research. I stop in for their midday "Lunchbox Flow" class taught by Jesse Burris. The electronic dance music puts the "urban" in that class, including a rap song about Ghandi's life by—get this—MC Yogi.
Urban Om has a large studio space with a disco ball and a small boutique. At one point it sounds like the neighbors above us are moving heavy furniture. "Don't mind the giant bird upstairs," Burris quips. Yogi joke! Later in the class Burris challenges us to do a difficult chin stand position, which I attempt and fail miserably. But like any good yoga teacher, Burris is sensitive to everyone's abilities, and gives us options.
Kelsey from Urban Om teaches classes for employees at 88Nine Radio Milwaukee. Radio Milwaukee's own Amelinda Burich attends these classes and is a member at Yoga Six.
"Yoga is like music in that I am completely in the moment," Burich tells me. "It's very hard to do that in other areas of life, so it's important to me to take that time. When I am on the mat, I make a promise to myself to clear my mind and stay present, to be connected to my body and my breath. Flexibility and strength help me feel healthy and positive. Yoga has helped me get through a lot and taught me to breathe, be relaxed, and face any situation with an open mind."
Urban Om has a $10 new student special for 10 days of unlimited classes.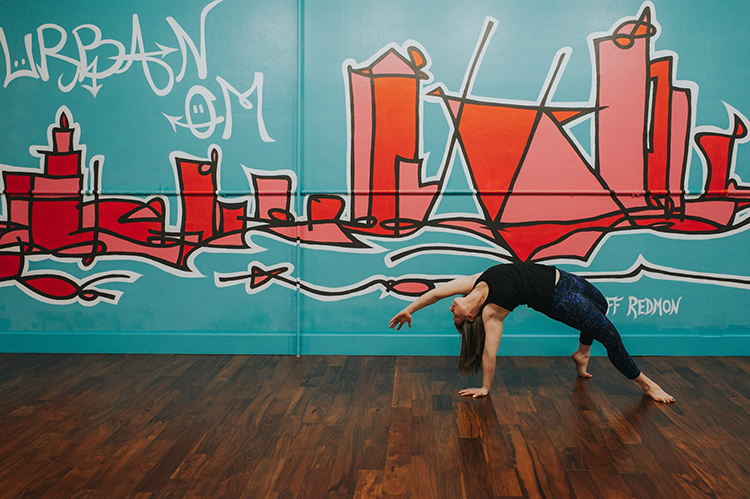 YogaOne
Located on the top floor above Salon Nova on Brady Street, YogaOne's East Side location (they have two others in Fox Point and Cedarburg) has the nicest studio space of those I sample. It's a high ceiling with skylights and two chandeliers. I imagine this is where Bucks players might practice yoga.
I stop by YogaOne for a "Gentle Yoga + Meditation" class taught by Kelly. With a number of props at my disposal and a straightforward mantra-based meditation, I reach a level of stillness that I haven't before. It's only broken by a honking horn from the street below. Afterwards, I'm offered a complimentary tea from YogaOne's kitchenette and told that manager Meg Galarza has very high standards for her teachers. Galarza also teaches a "Candlelight Flow" class on Friday evenings.
YogaOne offers a $30 new student special for two weeks of unlimited classes, and organizes yoga retreats to Panama and Costa Rica.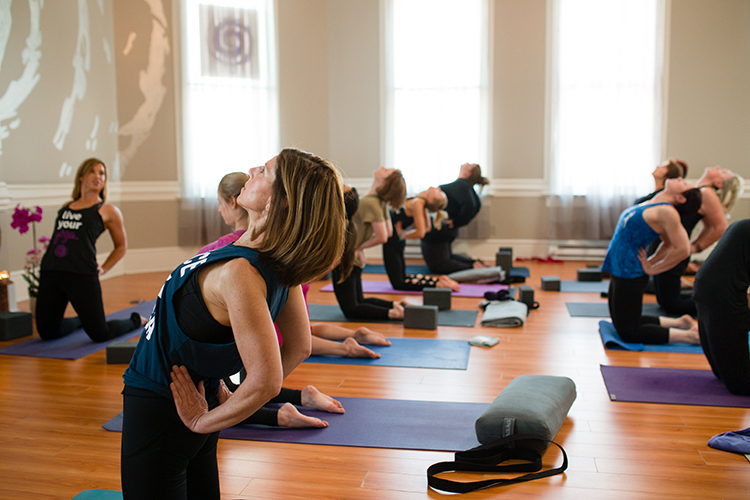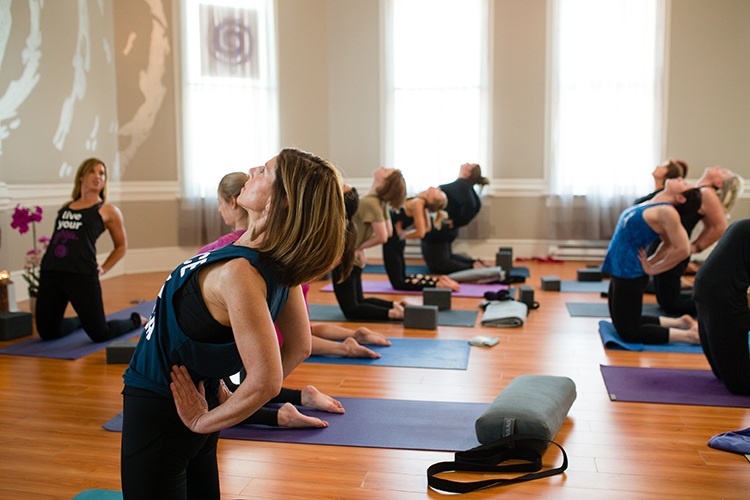 Healium Hot Yoga
The most common yoga stereotype includes a group of young women doing back bends in a 100-degree room. But hot yoga is not as common as you might think, probably due to the cost of heating a studio. I've never tried it until I take a class led by Robyn Lucks at Bay View's Healium Hot Yoga.
Once I arrive, the small studio is packed, but Lucks has kindly saved me a mat. I'm woefully underprepared for the class, but thank goodness I have water. (You should always bring two towels to a hot yoga class—one to put on your mat, and the other for wiping your face and arms.)
Not only is the room hot as hell, the class itself is intense. This is a far cry from gentle yoga—it's a full-on core workout. Lucks reminds us to take breaks when needed and to safely push ourselves. I'm not the only one falling into child's pose every 10 minutes, which is reassuring.
"The colder it gets, the busier we get," Lucks tells me after class. Healium is unique in that they're one of the few studios in town that offers yoga for kids. Lucks' three-year-old takes the class, which includes the mantra "peace begins with me." Lucks has caught her randomly saying it around the house, which is exceedingly adorable and honorable.
Healium offers a $28 two-week unlimited deal for new students.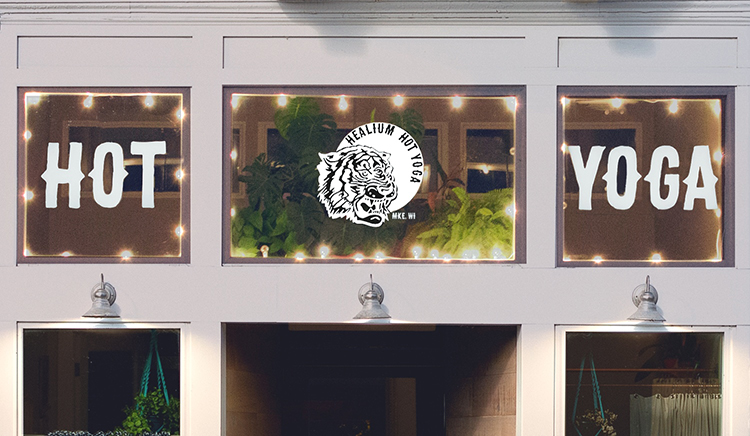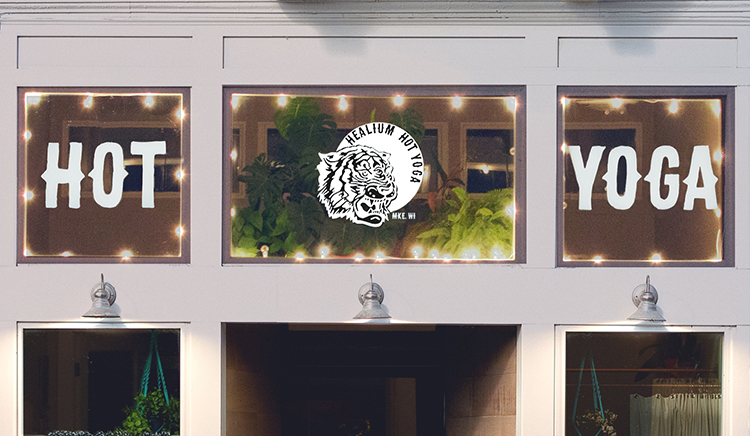 Yama Yoga
How did Marietta Pucillo go from being a full-time marketing director to opening her own yoga studio in the Third Ward? You guessed it! A back injury.
"Yoga got in my blood," Pucillo says. Eventually she became a teacher. When her ex-husband took a job in Milwaukee, she came "kicking and screaming" to the Midwest. This was 1990. At the time, she could only find two or three studios in town, plus the occasional chiropractic clinic and church basement. It wasn't until the late 1990s when celebrities began talking about yoga and Western medicine recognized the everyday benefits that the practice went mainstream.
Pucillo opened Yama Yoga in 2005 as a "nexus for a warm, vibrant, like-minded and supportive community." After all, it was the community she developed that kept her in Milwaukee after separating from her husband. I can feel this sense of kinship in the "Hatha Yoga: Concentration" class led by Laura Rooney.
The night of the Hatha class happens to be both the first official day of winter and the solstice. Rooney— who holds a PhD in kinesiology—waxes poetic about how we used to end the work day when the sun went down and retreated to our homes to "luxuriate in the darkness and commune with one another." But you know, that doesn't happen so much today. Throughout the class Rooney suggests we take the time to reconvene with the darkness and each other.
In essence, that's what yoga is all about. Whether it's in the bright sunshine of the morning or at night amid candlelight, yoga is about taking the time to convene with your body, your breath, your mind, and your fellow practitioners. It's not about losing weight or toning muscle, though those side effects are possible. Like Pucillo says, "You won't be asked to become anything. You already are. Your hidden gifts will be revealed."
Yama Yoga offers a $10 new student deal for 10 days of unlimited classes.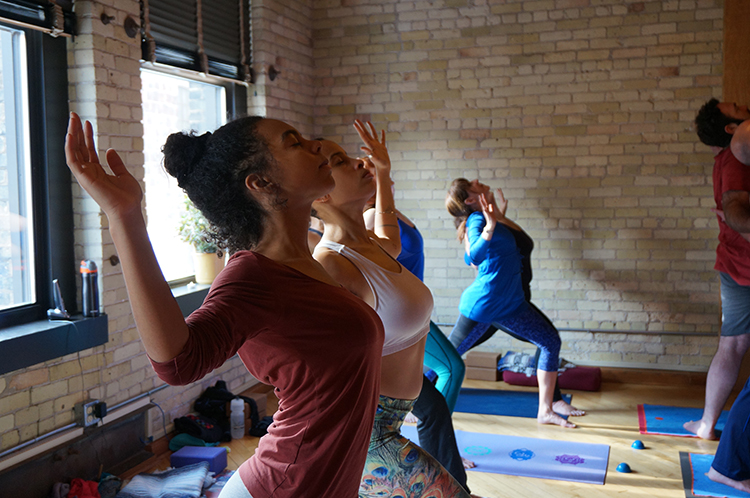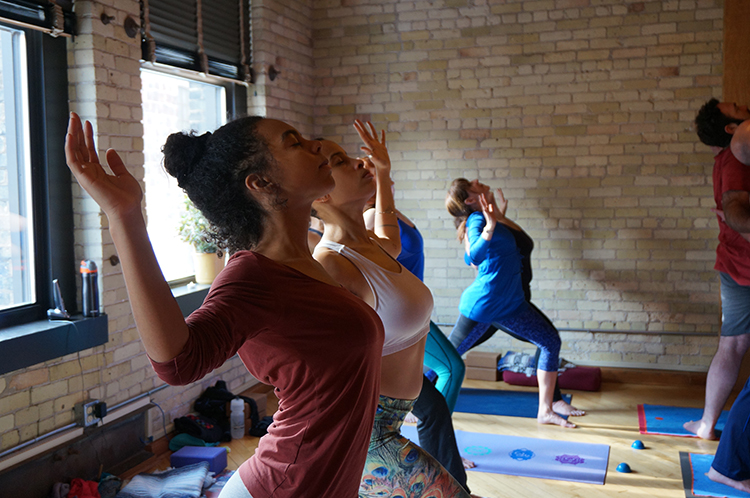 This guide should give you an idea of the benefits and various forms of yoga, as well as where to find them in town. But you should make your own Milwaukee yoga guide. Take advantage of all the introductory deals and have at it. Pucillo estimates there are 27 places to practice yoga in a five-mile radius of downtown.
"I wouldn't be surprised if the next time I go to get my oil changed they say, 'Would you like to take a yoga class while you wait?'" Pucillo says.