Starting a band can be hard. Starting a band during a pandemic? Good luck.
That's the situation members of earnest alt-rock/power-pop group Tigera found themselves in when they released their first EP, Part I, in November 2020. The usual "new band" questions of which venues to play and which bands to play with were compounded by questions of which venues were actually open, and which bands would be willing to venture outside.
So Tigera guitarist Alex Radish came up with a solution: the Milwaukee Music Village, a fledgeling "network of musicians, digital artists, podcasters, streamers, talent buyers, sound engineers, and other people with the vision of building Milwaukee into an artist hub and cultural epicenter of the Midwest." To date, MMV has hosted a number of meetups and shows. What's more, many of those shows have been benefits for local organizations.
"We have hosted several charity events in the past, including 'Racket 4 Jackets' at Indeed Brewing this past January," Radish tells Milwaukee Record. "At this event we collected winter clothing to be donated to Milwaukee Rescue Mission and Father Gene's Help Center. We also did a benefit for the Miracle League of Milwaukee at Broken Bat Brewery. Lastly, we hosted 'Push for Peace' at Company Brewing, which did not collect donations but called upon the need to reduce violence in our city and end gun violence."
On Friday, August 5, Tigera will be back at it. The group, along with fellow ever-busy locals The Keystones and Fuzzysurf, will play a Milwaukee Music Village show at Anodyne Coffee in Walker's Point. The show will double as a school supply drive for Milwaukee Public Schools. Acceptable donations include spiral notebooks, pocket folders, Crayons, washable markers, colored pencils, rulers, erasers, glue sticks, highlighters, scissors, supply pouches, and backpacks.
"I chose MPS this time because the new school year is coming and I know it can be tough on families to afford school supplies," Radish says. "We appreciate the community supporting us, and it's a way for us to give back.
As for the future, Radish says he's working on organizing a Thanksgiving show at Turner Hall to benefit the Hunger Task Force. It certainly fits with Milwaukee Music Village's mission statement: "It is our goal to show the world that Milwaukee is a city of music, a city of art, and a city of good people building towards something bigger than themselves. After all, it takes a village."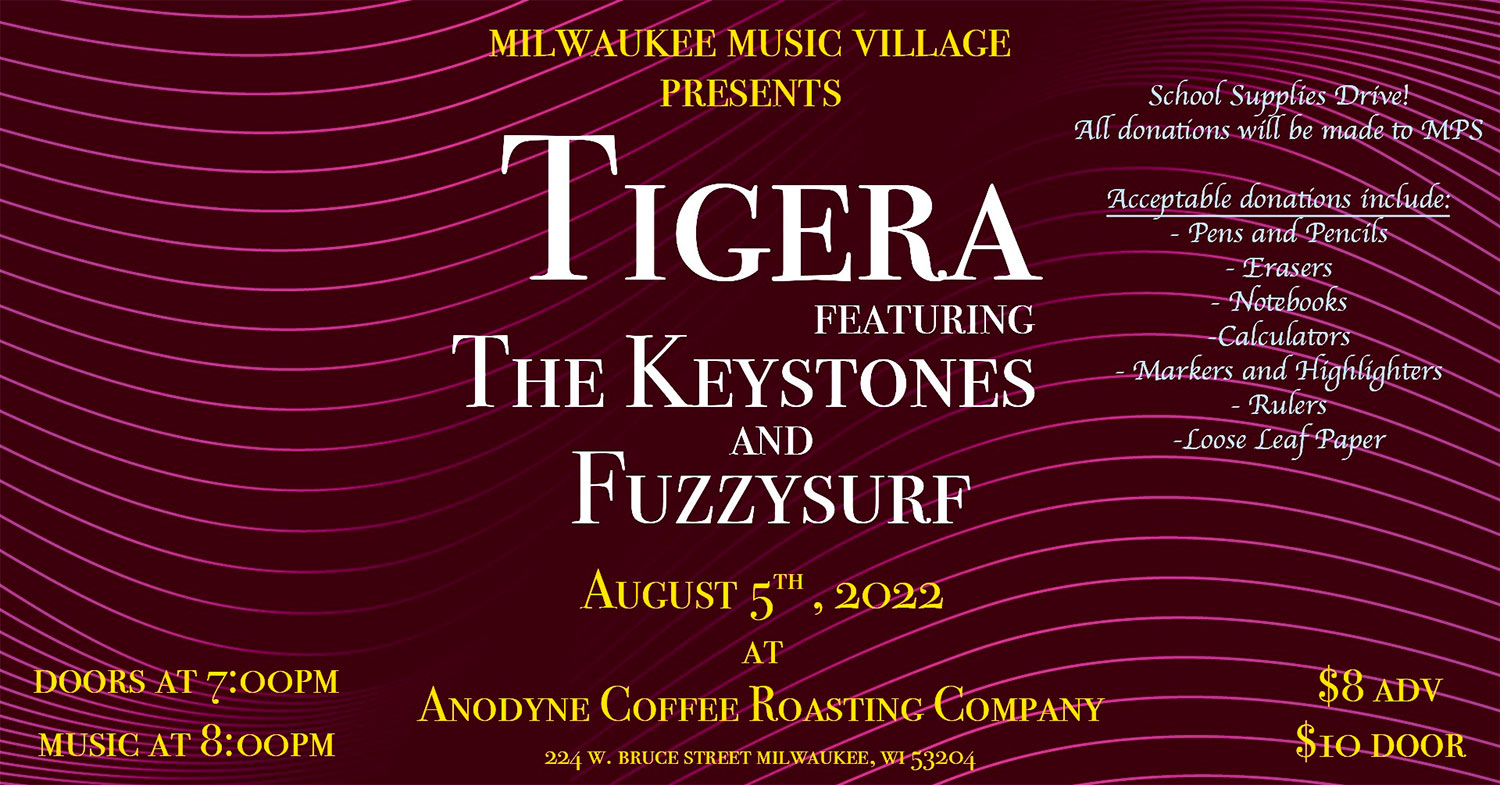 Exclusive articles, podcasts, and more. Support Milwaukee Record on Patreon.