In our MKE Music Rewind series, we revisit notable Milwaukee music that was released before Milwaukee Record became a thing in April 2014.
From beaches and beer gardens to festivals and Am Fam Field and more, Milwaukee truly shines in the summertime. But there's one slice of Cream City summer that's just a touch rotten: The scents wafting off Jones Island. This 1983 single from Don Nedobeck's North Water Street Tavern Band is a tongue-in-cheek ode to that island's top export—Milorganite Fertilizer.
But before we jump into the Milwaukee dixieland classic, a little biosolid background:
The Milwaukee Metropolitan Sewerage District operates two wastewater treatment facilities on Jones Island, which is located near where the Milwaukee and Kinnickinnic rivers flow into Lake Michigan's Milwaukee Harbor. About a century ago, this "island" was morphed into a mile-long peninsula, and since 1926, the Jones Island Water Reclamation Facility has been using a scientific process to turn human waste from more than 1.1 million people throughout the Milwaukee area into commercial fertilizer.
"Milorganite" is a portmanteau derived from combining the words MILwaukee, ORGAnic and NITrogen. The fertilizer is formed by putting sewage sludge through a process that eventually creates dead heat-dried microbes, which are definitely NOT human shit.
Despite this single-ply separation from raw MKE BM, buyers can't get enough Milorganite. In fact, the safe and effective biosolids fertilizer is so popular among gardeners that production cannot keep up with sales. Since its creation, this one-of-a-kind operation has diverted more than 10 billion pounds of waste away from Milwaukee-area landfills.
While we don't think nearly 100 years of innovative recycling stinks even one bit, the process to treat wastewater to create Milorganite, admittedly, does a little. Especially in the summer heat. The signature scent is most noticeable, of course, in the areas closest to Jones Island, like while driving over the Hoan Bridge, soaking in tunes on the Summerfest grounds or sipping suds on the Boone & Crockett patio. For what it's worth, the final product has a unique smell—some describe it as earthy—but the fertilizer scent is not nearly as eye-watering as the odor produced while creating it.
But enough about that crap. On to the song.
Milwaukee's Don Nedobeck, legendary for his inventive jazz clarinet and cornet playing, as well as his lively cat artwork, fronted the North Water Street Tavern Band in the '70s and '80s. In 1983, the dixieland band's trumpet player, Jack Consoer, wrote a song inspired by their journeys past Jones Island.
"We used to take a boat out on the harbor, and we always had to go past the Milwaukee MMSD Plant, better known as Milorganite," tuba player John Knurr explained. "And the—shall we say—'aroma was so rare,' so Jack wrote a song as a tribute to the Milorganite plant."
In the song, Stosh—narrated by Consoer—talks about his girlfriend Busia and her job at the plant.
"The fertilizer is the tantalizer that keeps me coming back for more," the love-stricken Stosh confides.
The catchy tune was released on 45 and included on the North Water Street Tavern Band's album "Moonlight, Milorganite, & You," which featured an unforgettable cover photo of Nedobeck and Consoer—pronounced, by some, as Con "Sewer," as the album's liner notes point out.
"Not only did they write this song, they went down to the Milorganite plant and got in a boxcar full of Milorganite bags," Knurr explained. "Jack, who was about 6'2″ and about 260, walked in dressed up like Busia with combat boots and a babushka, and Nedobeck, of course, was with his famous hat and his clarinet. It was a very, very interesting time."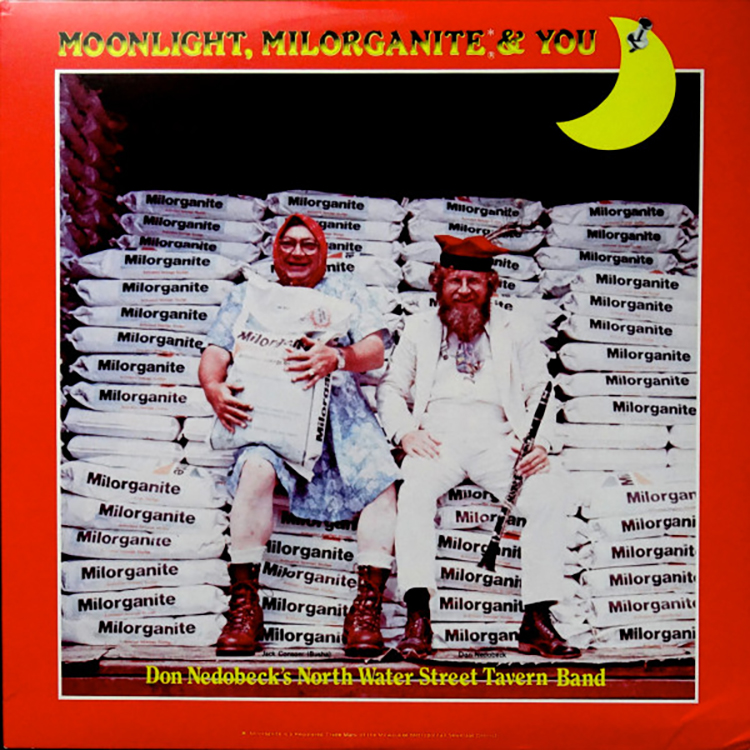 And it got a little more interesting for the ragtime band when local radio stations started spinning the record to listeners who couldn't get enough of "The Milorganite Blues."
"It's got, as I say, real sediment," Knurr joked.
Sadly, Nedobeck and Conseur passed away in recent years, but their music and album cover live on. "The Milorganite Blues" was featured on the famous Dr. Demento Show on June 13, 2020, and keen-eyed Milwaukee music fans may also recognize the altered album artwork from the cover of fellow Milwaukee band Drugs Dragons' 2011 release, "The Milorganight EP."
"The Milorganite Blues" Lyrics
I went up to Milwaukee
To see my baby there
She worked down on Jones Island
Her aroma was so rare
It seems the fertilizer
Is the tantalizer
That keeps me coming back for more
I've got those old Milwaukee pack 'em up Milorganite Blues
My baby's name is Busia
From Poland she did come
To work out on Jones Island
Amid the sludge and scum
She wears a bright babushka
And patent overshoes
She's a real hot mama for sure
That's why she keeps me wailing those old Milorganite blues
Now Busia's still a lady
Not some ordinary dame
And when she goes to work
It's fertilizer that's her game
But when we get romantic
She whispers things organic
I guess I'll have to pay all my dues
To end this plaintive wailing
And lose those old Milorganite blues
I've got those old Milwaukee pack 'em up Milorganite blues