Nestled a block off Brady street, a bar named after famed New York Yankee's catcher Thurman Lee Munson (player #15) has become many of its patrons' home away from home. Manhattan native Bill Lennon opened Thurman's 15 at 1731 N. Arlington Place in 1987, naming it after his favorite ball player. Over the years, Thurman's has hosted all walks of life in Milwaukee. Now owned by Bill's daughter Daisy, the cozy atmosphere offers solace, comfort, and camaraderie to everyone who frequents the place and those who stumble upon it.
There's also no denying Thurman's is a dive. It's easy to find similarities in every dive, yet each one has its own unique strangeness and charm that speaks to everyone who frequents it. Daisy describes Thurman's as "a little rough around the edges, but it's a diamond in the rough."
I'm a dive bar enthusiast, and Thurman's has everything a dive can offer you, and more. I love Thurman's, and here's why you should too:
1. It's a Dead Head bar
Thurman's has become locally known as a Grateful Dead bar. If you've always wondered why, it's because one of the original bartenders would bring and play his bootleg cassettes he got from attending Grateful Dead shows. If you're a Dead fanatic, Thurman's can become your new home base.
2. It's pet friendly
Along with human regulars, there are four-legged regulars as well. Althea (rightfully named after the Grateful Dead song) and Lola are usually in a few times a week. Also, Larry usually stops in on Sundays. Tails are always wagging at Thurman's.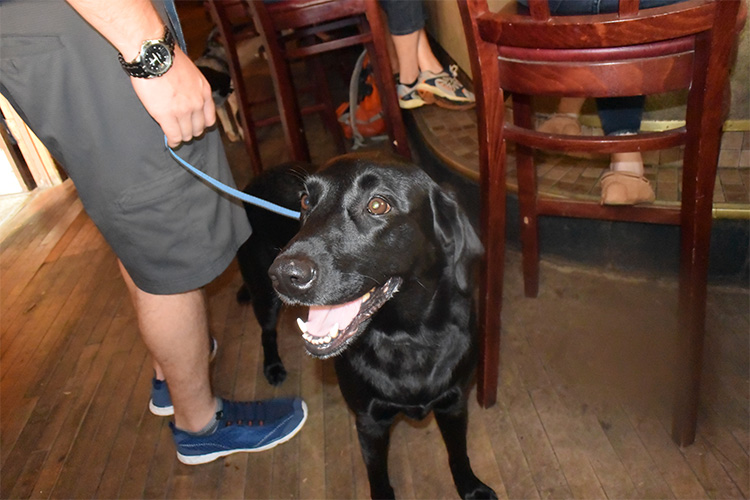 3. $2 PBRs all day every day
If Pabst is your drink, a few dollars can get you far at Thurman's. For a weekend booster, tall boys are $2 on Saturdays 12-5.
4. A $15 purchase gets you a free pizza
Wednesdays 5-9, every $15 spent gets you a free pizza. What goes better with beer than pizza?
5. Packer game potlucks
For every Packer game, Thurman's sets out a family-style game day spread. Patrons can also bring in a dish to share. Bring in your famous chili, or just bring yourself. Either way you'll have something to munch on while watching the game.
6. Vinyl night
The first Thursday of every month, Thurman's has someone spinning records all night. You can also bring in your own records to throw on the table.
7. Open mic night
The first Tuesday of every month, Press Play MKE and Thurman's host an open mic night. The band Jesse James performs at every open mic night; member Jesse Guten describes the band as "dirty outlaw blues." Sign up to perform or just come in to see locals playing their hearts out.
8. Live music
See a show and sip on your favorite bitter brew at Thurman's. Follow them on Facebook to see when the next show is.
9. It's comfy
Thurman's is so comfortable that owner Bill Lennon was known for coming into the bar wearing a bathrobe. Feel free to do so yourself.
10. Wood paneling
Wherever I'm at in the state of Wisconsin, I'll most likely be hanging out in a bar with wood paneling. The wood paneling gives Thurman's even more of a homey feel.
11. Yep, it's homey
Adding to the homey wood paneling, Thurman's just has that cozy, homey feel. I can't really put my finger on it why it's so homey, but as owner Daisy puts it, "It just feels like family here."
12. "Come as you are"
This is Daisy's simple invitation to Thurman's. Everyone is welcome and you'll never feel out of place.
13. The regulars
The people who fill the barstools add most of a bar's character. Almost every time I've gone in, I've seen the same familiar faces who strike up a friendly conversation with me. Daisy "loves the crowd, loves the regulars," and I do, too.
14. No one is too weird for Thurman's
"We're all weird, that's why we come here," says Dave, one of the bartenders. It's one of the many reasons I go to Thurman's, as I, too, am a weirdo.
15. It's just a good place to drink beer with friends or friendly strangers
Cheers!