Today, Milwaukee Record—the publication who brought you news about Public Enemy performing at Red Dot in Wauwatosa, 2 Live Crew playing at Silk Exotic, 50 Cent hocking vodka at the Oak Creek Woodman's, and Bubba Sparxxx bestowing his hits upon crowds in Cudahy (twice)—is happy to announce yet another instance of an act with a certified Gold record appearing at an uncommon venue in greater Milwaukee.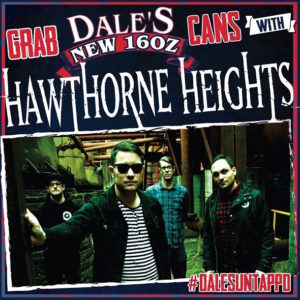 On Monday, Hawthorne Heights will be in Milwaukee as part of the Warped Tour. At some point either before of after their Warped set (times are decided the day of the show), the band will stop by Garage for an appearance sponsored by Oskar Blues Brewery. No show has been confirmed, but past Hawthorne Heights bar stops have each included acoustic performances.
For those who may not recall, Hawthorne Heights is an Ohio-based screamo band who had a moment in the early 2000s that included music videos in regular rotation on MTV2 and an alternative chart-topping single called "Ohio Is For Lovers." The band's 2004 debut The Silence In Black And White and 2006's If Only You Were Lonely both went Gold.
Since then, Hawthorne Heights' guitarist passed away in 2007, and various other members departed thereafter. Still, the band has trudged on, putting out a steady wave of records. Even if none of those records caught on the way its first two did, Hawthorne Heights is still one of the brighter spots on this year's iffy Warped Tour lineup. Plus, they're getting that sweet microbrew endorsement money.
If tipping some cans of Dale's Pale Ale with a band that had a modest hit in 2004 sounds like a way you'd like to spend your Monday, keep up to date on the event time at Garage's Facebook page, and be sure to take advantage of the bar's $5 Monday burger special while you're there.