The bustling 3rd St. Market Hall—a.k.a. the wildly successful food hall located on the first floor of the old Shops of Grand Avenue, 275 W. Wisconsin Ave.—will soon be even more bustling.
According to license applications filed with the city, Pho Spot MKE, a Vietnamese restaurant from husband-and-wife team Shimleng Lo and Mauly Her Lo, is set to open in 3rd St. in early March. It will be the couple's first brick-and-mortar location; the restauranteurs previously operated the Oxtail Noodle House food truck and ghost kitchen. Urban Milwaukee notes that Pho Spot MKE will be located "on the west side of the food hall, behind Anytime Arepa and near the radio offices."
Speaking of the overall food hall, "bustling" is certainly the right word. 3rd St. is currently home to Dairyland, Paper Plane Pizza, Greenhouse, Kompali Tacos y Tortas, Strangetown, Dawg City, Make Waves, Kawa Ramen, Kawa Sushi, Supernova, Anytime Arepa, Mr. Wings, the 3rd St. Market Bar, Brew City Apparel, a selfie museum, shuffleboard, virtual golf, and some Nintendo Switches where little kids can destroy you in Mario Kart 8. Oh, and the old Grand Avenue tightrope bear!
As for those other Grand Avenue bears, the Leonard Bearstein Symphony Orchestra, we promise to unearth those musical beasts sometime in 2023. Stay tuned.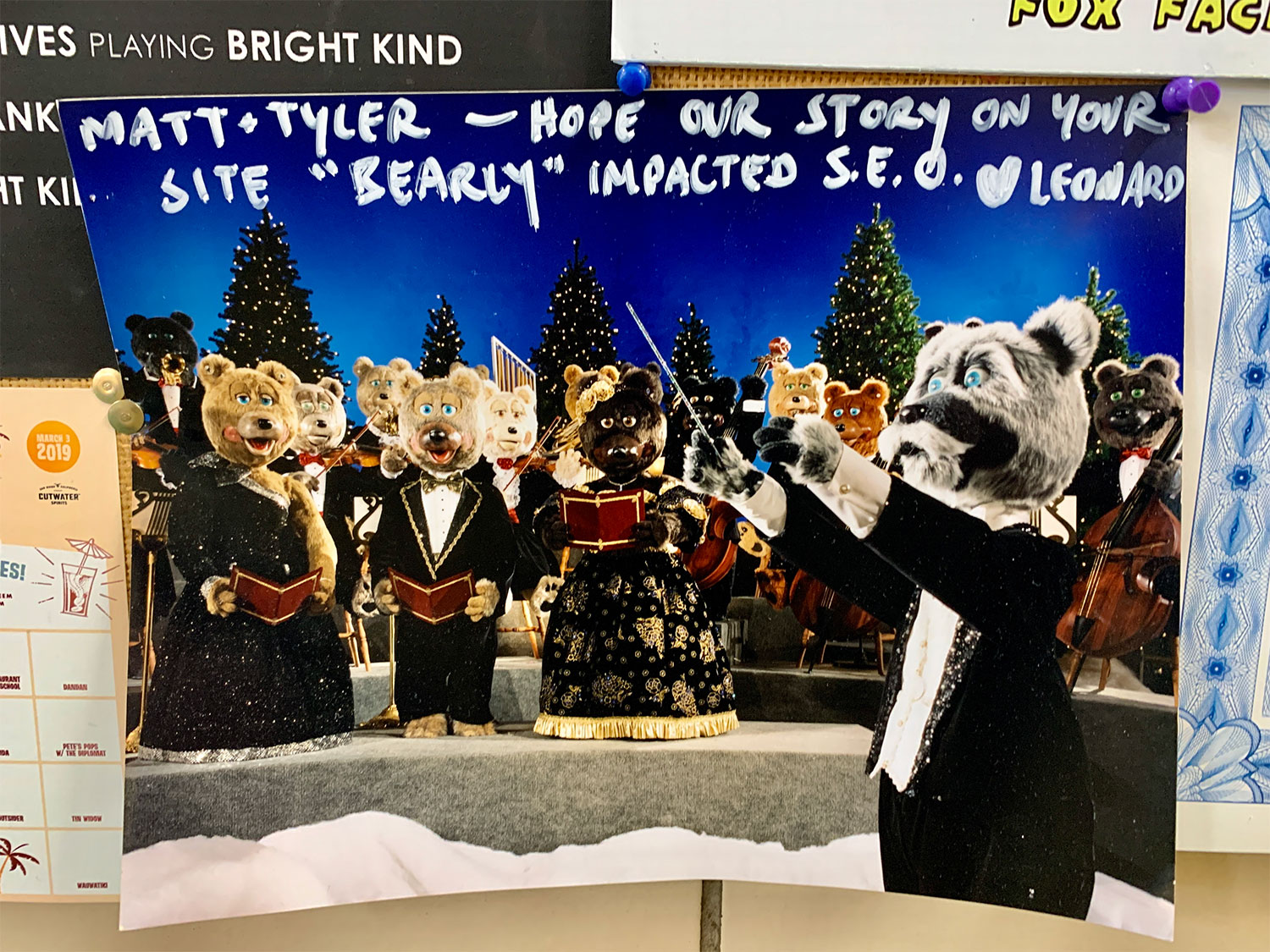 Exclusive articles, podcasts, and more. Support Milwaukee Record on Patreon.
---
RELATED ARTICLES
• New and open now at 3rd St. Market Hall: Kompali Tacos y Tortas
• 3rd Street Market Hall adds Venezuelan restaurant Anytime Arepa, open now
• 3rd Street Market Hall adds hot dog and sausage vendor Dawg City, open now
• Check out these new spots at 3rd Street Market Hall and Crossroads Collective
• Middle East Side now open at 3rd Street Market Hall
• Valor Aquaponics organic market will open this Friday at 3rd Street Market Hall
• 23 pictures of the just-opened 3rd Street Market Hall, plus 1 picture of the burger I ate