It's all come down to this. Following a five-week competition that found 64 Cream City seasonal staples facing one another in five heated rounds of voting, our Milwaukee Summer Bracket field has dwindled to just two remaining competitors. Over the course of the tournament, more than 34,000 total votes were cast. There were some close calls and a few upsets along the way. Now that the dust has settled, we're left with a Final Round matchup that some readers maybe could have predicted from the beginning: Uecker On The Radio vs. Patio Drinking.
Both of these summertime standbys came to play and, quite simply, wanted it more than the rest of their foes. In the most recent round, Uecker On The Radio narrowly overtook Summerfest on the final day of voting to move on. Meanwhile, sixth-seeded Patio Drinking obliterated top-ranked Bradford Beach to earn its place in the Final Round.
Unlike previous rounds, which lasted a full week, the winner of the Final Round will be decided after a one-day Summer Bracket Beatdown. Voting started July 6 (that's today!) and will end at 11:59 p.m. CST. As always, we encourage you to vote as many times as you'd like. The Final Round of Milwaukee Record's Milwaukee Summer Bracket (and a JPG of the bracket itself to this point) can be found below!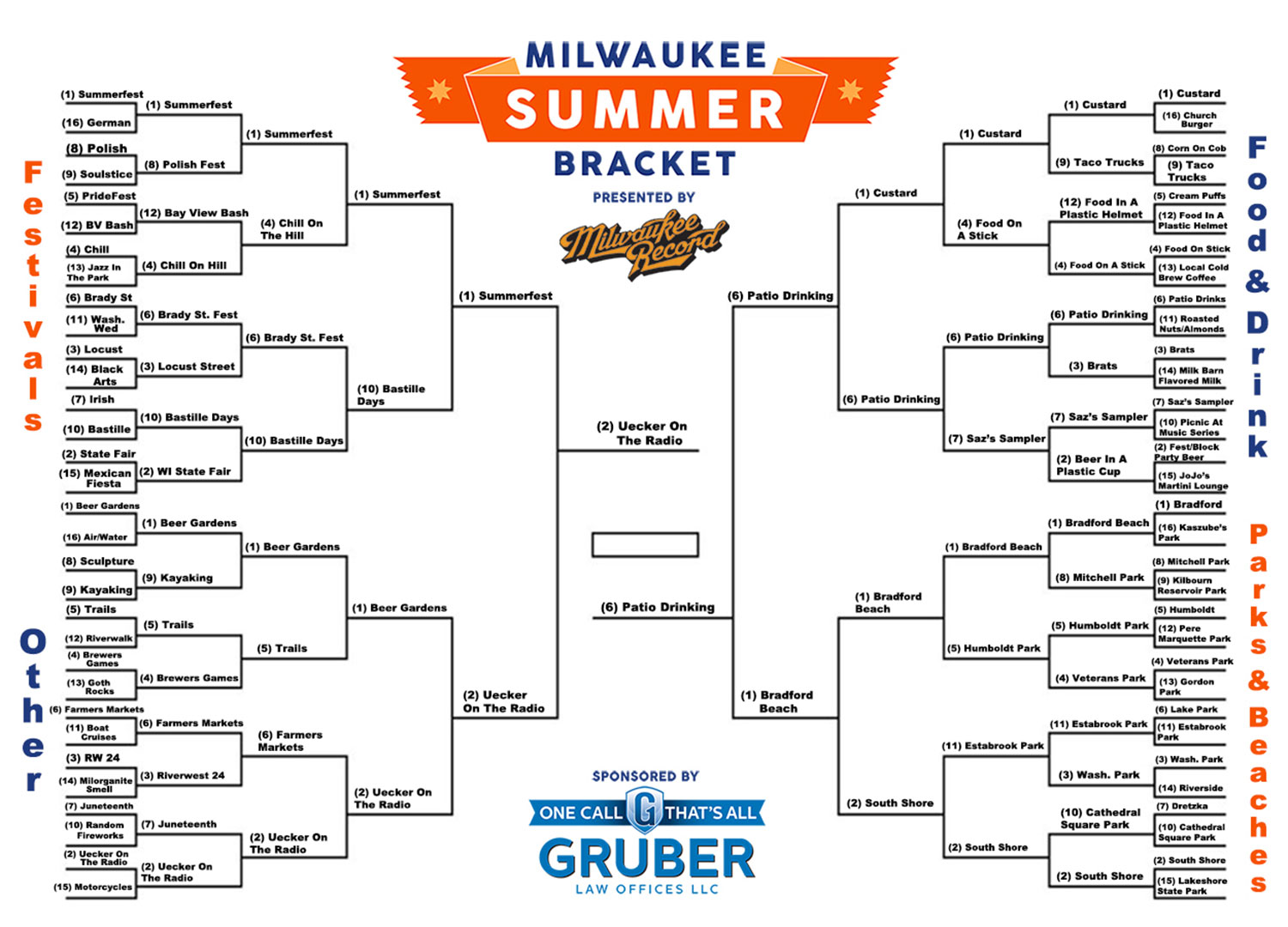 Exclusive articles, podcasts, and more. Support Milwaukee Record on Patreon.
---
RELATED ARTICLES
• Vote in Round 1 of our Milwaukee Summer Bracket!
• Make your picks in Round 2 of our Milwaukee Summer Bracket!
• The competition is heating up in Round 3 of our Milwaukee Summer Bracket!
• Only 8 summertime standbys remain in our Milwaukee Summer Bracket
• Only 4 seasonal favorites remain in our Milwaukee Summer Bracket!
• Milwaukee Record's 2022 guide to summer festivals, fairs, music series, more