It technically isn't Halloween until next Tuesday, but the vast majority of Milwaukee's seasonal celebrations are to take place over the weekend. From Friday night through October 31 itself, the city will play host to cover concerts, "spooktacular" drag shows, dance parties, scary karaoke and film screenings, restaurant pop-ups, and more. If you've yet to make plans or you're just looking to make the most of one of the year's best weekends, check out our guide of Milwaukee Halloween events.
FRIDAY, OCTOBER 27
Halloween Retro Dance Party @ Mad Planet
Just like the Retro Dance Party you've come to expect from Mad Planet, but 100 percent Halloween-ier. Besides the dancing, there's also going to be a costume contest, with a $150 grand prize.
Halloween Cover Show @ Cactus Club
Hear covers of Misfits, Superdrag, The Ramones, Madonna, and the Go-Gos performed by members of local acts like Calliope, Bad Wig, Brat Sounds, Yahara, Heavy Looks, Airo Kwil, and more.
Stand-Up Spooktacular @ Mojo Dojo (Urban Harvest Brewing)
Mojo Dojo (inside Urban Harvest Brewing Company) will host the annual Halloween Stand-Up Spooktacular show. See top-notch local humorists like Ryan Lowe, Josh Ballew, Stacy Pawlowski, and Christopher Schmidt perform stand-up sets in character. Some of this year's costumes include a space alien, a sexy vampire cheerleader, a long-lost Ninja Turtle, and a dog dressed as a hot dog.
Zombie Prom @ Frank's Power Plant
Wrenchin' Wendy's 40th birthday party will double as a Zombie Prom at Frank's, which will include a horror-pop DJ set by Lisa Weber.
SATURDAY, OCTOBER 28
Nightmare On Center Street III @ Company Brewing, Club Timbuktu, The Jazz Gallery, High Dive, and Quarters
The multi-venue Riverwest Halloween party will return for its third year, bringing with it a stacked lineup of local and national talent. Company Brewing, Club Timbuktu, Jazz Gallery, Quarters, and High Dive will host acts like Klassik, Zed Kenzo, Lorde Fredd33, Nelson Devereaux, Rio Turbo, and more. DJs and surprise artists are promised, too.
Halloween Monster Mash with De La Buena + R.A.S. Movement, and DJs @ Mad Planet
Another Center Street event will keep the Halloween fun roaring in Riverwest. Irie Vibes presents a Monster Mash with De La Buena, R.A.S. Movement, and a trio of DJs (Chalice In The Palace, DJ Spade One, and DJ Amburger).
Lincoln Warehouse Halloween Street Party
The Lincoln Warehouse is booming with activity and an abundance of breweries and distilleries. Join Enlightened Brewing, Eagle Park, Twisted Path, Bittercube, Top Note Tonics, and many of the warehouse's other tenants for 10 hours of fun complete with food trucks, drinks, and live music between 2 p.m. and midnight.
Haunted Barrel Candy Porter release @ Third Space Brewing
Speaking of breweries, Third Space will celebrate the holiday by giving beer aficionados a new treat. Saturday marks the release of the Haunted Barrel Candy Porter. An even more limited "Haunted Hazelnut" variant will also be available for $20 per 750 ml bottle. Get there close to noon, as both are expected to sell out fast.
The Nightmare Before Christmas with Milwaukee Symphony Orchestra @ Riverside Theater
Milwaukee Symphony Orchestra will provide the score during a screening of Tim Burton's macabre holiday classic, The Nightmare Before Christmas. If you're already booked on the weekend's busiest day, you're in luck. There will also be a Sunday screening/performance.
Halloween Covers Extravaganza @ Linneman's Riverwest Inn
The covers continue at Linneman's with tribute performances of material from Hank Williams, Patsy Cline, The Undertones, The Damned, and The Knack.
A Hip-Hop Halloween with Mike Regal + Kane, BMORN, and Chas @ Miramar Theatre
The 17+ crowd at Miramar is in for a treat, as Mike Regal returns from Vegas to head up a Hip-Hop Halloween show that also includes Kane, BMORN, and Chas.
First Five (Horror Film Edition) @ Mojo Dojo (Urban Harvest Brewing)
First Five is an innovative improv exercise where the first five minutes of an obscure VHS film is screened, then the rest of the movie's plot is filled in and acted out by performers. This time around, the Mojo Dojo cast will act out a horror flick.
Stranger Things Halloween Ball @ Hotel Madrid
A Stranger Things theme meets the excellent cocktails at Hotel Madrid for what's sure to be a scary good time in Walker's Point.
5th Annual Talking Heads Halloween Dance Party @ The Gig
If you like the Talking Heads, head down to Dousman Street for a night of covers.
Motley Brue + Wyle Stallyns @ Club Garibaldi
See above and sub in "hair metal" and "Superior Street" for "Talking Heads" and "Dousman Street."
Tricks Treats Hip-Hop @ Cactus Club
Cactus Club is offering the holy trinity: Tricks, treats, and hip-hop. If you like even one of those three things, come on down.
Twisted Dreams Masquerade Ball and Double Feature @ The Underground Collaborative
Twisted Dreams has a little bit of everything. It's one part burlesque show, one part costume ball, and one part movie theater. Keeping with the holiday spirit, this edition will include screenings of Holy Hell and Another Yeti.
SUNDAY, OCTOBER 29
The Nightmare Before Christmas with Milwaukee Symphony Orchestra @ Riverside Theater
Pre-Halloween Show with Haunter + Dash Hounds, Taylor Campbell, and Apollo Vermouth @ Riverwest Public House
Nothing about this show relates to Halloween, but there's a band called "Haunter" on the bill, so we'll include it anyway.
MONDAY, OCTOBER 30
Halloween Scareoke @ Riverwest Public House
Halloween Scareoke is just like the Public House's normal Monday night karaoke, except 100 percent scarier. Enjoy free candy and feel free to come in costume. Costume contest winners can win "prizes and glory" in the process.
TUESDAY, OCTOBER 31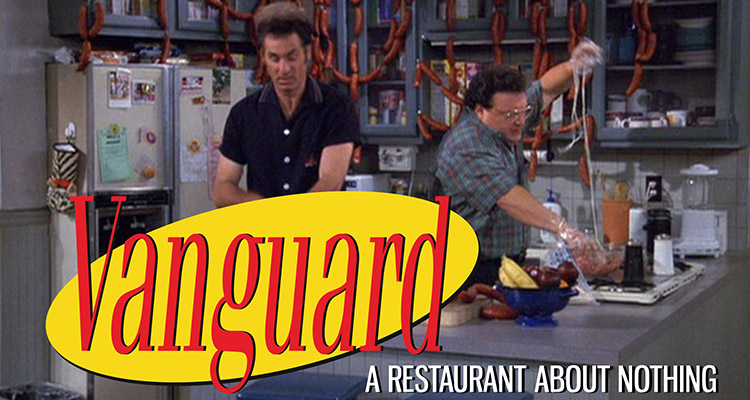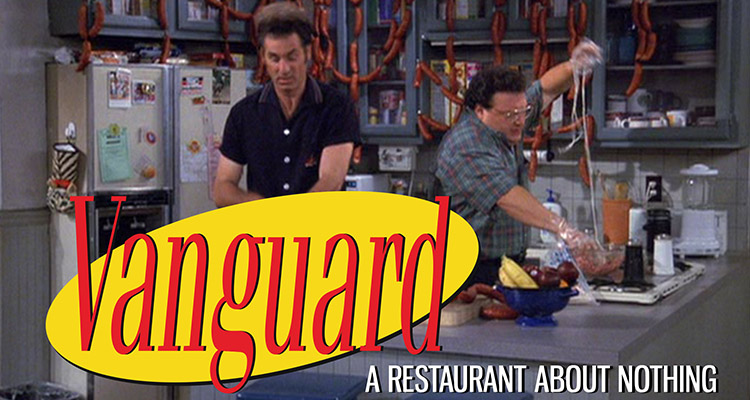 "A Restaurant About Nothing" @ The Vanguard
On Tuesday, October 31, The Vanguard will temporarily close in order to spend Halloween as a Seinfeld tribute restaurant known simply as "A Restaurant About Nothing." After the restaurant Milwaukee knows and loves closes in the afternoon to allow redecorating to occur, it will reopen at 7 p.m. with a new name, a new concept, and food and cocktail menu that's inspired by the series. The restaurant will be decorated with a variety of Seinfeld inside jokes, and a specially curated soundtrack will add to the theme. A small run of t-shirts with the new restaurant's name will be available well. Seinfeld-inspired costumes are strongly encouraged
Secret Symphony: Fright Night Edition @ Turner Hall
Milwaukee Symphony Orchestra is sure keeping busy this month. Following their Nightmare Before Christmas doubleheader, they'll perform some more seasonally-appropriate songs, though the set list will be kept secret. Adding to the songs are holiday-themed snacks and cocktails, as well as "interactive pre-concert activities."
DTF Tuesdays Spooktacular Monster Mash (Drag Show) @ Riverwest Public House
Riverwest Public House will host a Halloween-themed drag show "spooktacular" that also features music from DJ Dripsweat. There's no cover.
Halloween At High Dive with Blessed + Tunic, and Pay Up @ High Dive
Other than the Halloween-nod in the name, this doesn't have much to do with the holiday, but this is a chance to catch some touring talent and young Milwaukee punk outfit, Pay Up for free on a Tuesday night.
Saebra & Carlyle + King Eye & The Squirts, Drugs Dragons, and Iron Pizza @ Cactus Club
In honor of Cactus Club bartender and Milwaukee artist Saebra Laken's birthday, a handful of local bands (including her new duo) will take the Bay View bar's stage for an excellent mid-week show that just so happens to land on Halloween proper. This show is free.