Summerfest and Johnsonville, LLC Announce ACL Pro-Shootout and SuperHole Cornhole Competitions at Summerfest
Johnsonville Summerville Stage Area to Feature Wisconsin Bands and Activities
MILWAUKEE, WI (June 1, 2023) – Summerfest and Johnsonville are cooking up an exciting lineup for Summerfest's 55th anniversary, including a wide variety of events at Johnsonville Summerville throughout the festival.
Today officials announced that for the first time, the American Cornhole League (ACL) Pro Shootout and SuperHole Cornhole competitions, sponsored by Johnsonville, will take place in Milwaukee, WI during Summerfest on Friday, July 7 at the Gruber Law Offices Sportzone with Newsradio 620 WTMJ, ESPN Milwaukee, and 101.7 The Truth, and be broadcast live on ESPN 2. The ACL Pro Shootout will begin at 6:00 p.m., followed by the SuperHole event at 7:00 p.m., which features four celebrities, paired with four professional ACL players. Fans are welcome to watch and cheer on the competition. Celebrity participants will be announced soon.
Johnsonville Summerville can be found on the north end of the grounds and features an intimate area including a stage spotlighting Wisconsin-based artists such as Robin Pluer with the Rhythm Club, Brian Dale Band, Vivo, and more. For the full lineup visit Summerfest.com.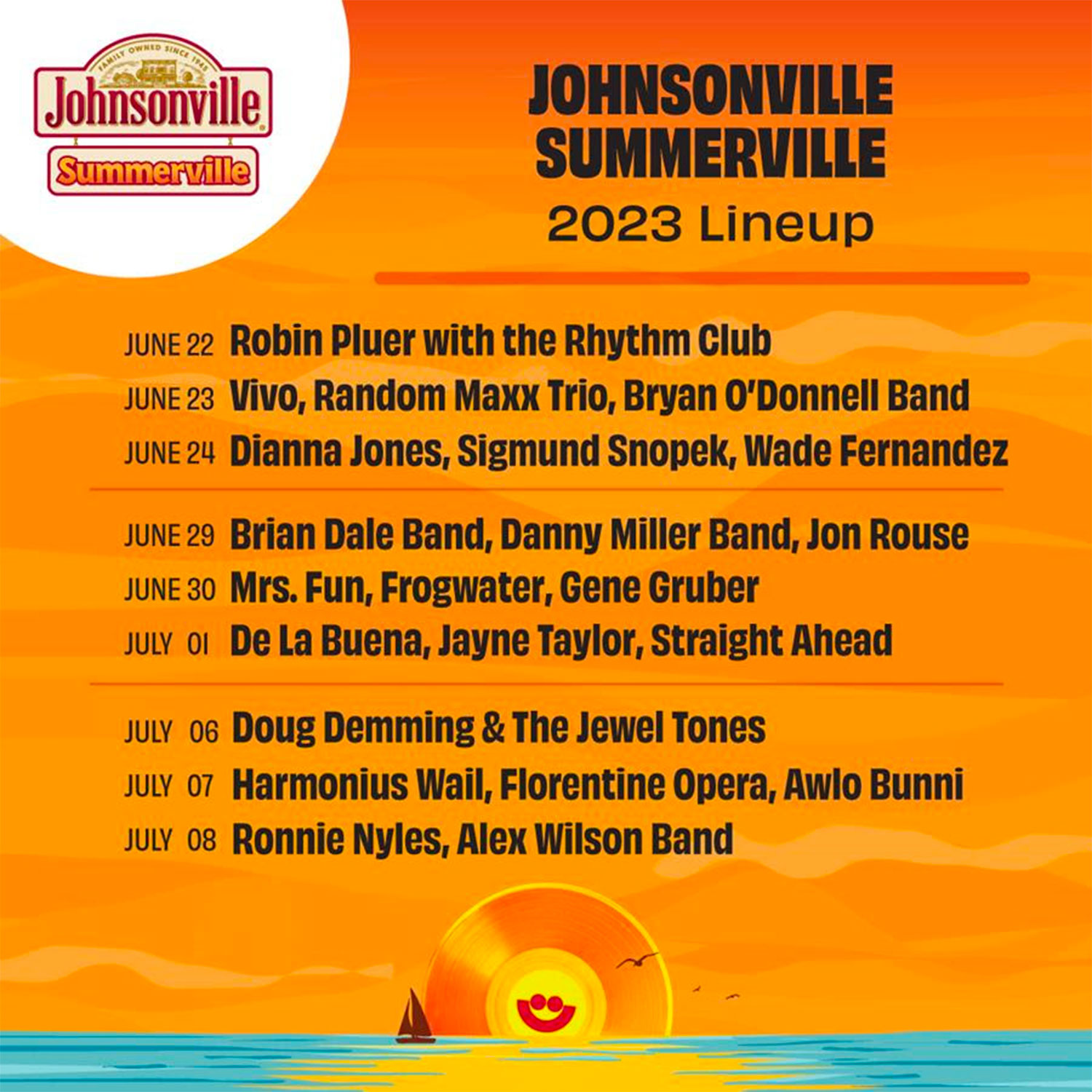 On select days during Summerfest, Johnsonville Summerville will also have the following activities taking place:
• Thursday, June 22: A panel of judges – Wisconsin media, local food talent, and "Sausage King," Ralph Stayer – will taste-test consumer entries submitted to Johnsonville's "Top Your Brat" contest. Three finalist entries chosen earlier by Johnsonville's kitchen team, will advance for the judges to determine the grand prize winner, who will receive free sausage for a year AND have their creation included on the Summerfest 2024 Johnsonville menu. The "Top Your Brat" contest runs June 3-12, 2023. (more details about how to enter can be found on Johnsonville's social media channels starting June 3).
• Friday, June 23: Visit Johnsonville Summerville on Children's Fest Day for a chance to meet The Famous Johnsonville Racing Sausages from 1:00 – 2:00 p.m., as well as Bush's Beans brand ambassador, Duke the Dog.
• Thursday, June 29: during Throwback Thursday at 2:30 p.m. and 5:15 p.m., media celebrities and participants from the audience will be invited to the stage to give their best version of "Charlie Murphy's Cooking Johnsonville Brats" for a chance to win prizes.
• June 22, June 23, June 29, June 30, July 6, July 7: From 3:00 – 6:00 p.m. various Johnsonville products will be sampled including the NEW Summer Sausage Sticks, NEW Beddar with Cheddar beef links, and Johnsonville's top-selling product nationally, the Beddar with Cheddar smoked sausage links.
When visiting Johnsonville Summerville, be sure to capture a photo with the new mural, located near the stage. Johnsonville is partnering with an art student from the Milwaukee Institute of Arts & Design to create a colorful mural that incorporates community, summer, and fun.
Johnsonville products – from brats, cheddar smoked sausages, hot dogs, chicken sausage and the new summer sausage snack sticks – will be available at Johnsonville Summerville and throughout Henry Maier Festival Park during Summerfest. Plus, at the Johnsonville Marketplace popup shop, merchandise including a selection of branded Johnsonville t-shirts and caps, stuffed plush pigs, and more can be purchased during Summerfest.
For more information visit Summerfest.com.
Find more press releases HERE.