Our fat-free, dolphin-safe Milwaukee events calendar is chock-full of things to do, but only a handful of events are worthy of the lofty honor of "Record Recommended" (patent pending). Here are our recommendations for January 2-8, 2023.
WEDNESDAY, JANUARY 4
Timelines Screening: Fundraiser for Carl Bogner @ Cactus Club
Beloved UWM film lecturer and Milwaukee queer arts icon Carl Bogner was diagnosed with advanced brain cancer last June. Since then, a GoFundMe has raised more than $120,000 to help Bogner with his treatments. Tonight's event at Cactus Club will feature submitted films that fall under a "timelines" theme, and will also serve as a 100% fundraiser for Bogner. Donate what you can at the door.
THURSDAY, JANUARY 5
Threads Book Event With Author Bob Mielke And DieDieBooks Co-founder Nick Toti @ Lion's Tooth
Heads up, horror and cult movie fans. Lion's Tooth is hosting an event centered around the debut title from DieDieBooks, which investigates the 1984 nuclear panic BBC film Threads. Author (and Milwaukee native) Bob Mielke will be on hand to discuss his Threads book, and DieDieBooks co-founder Nick Toti will discuss the series as a whole. Says author Mikita Brottman: "You cannot win a nuclear war, but as Mielke explains in this genial and engaging guide, you can definitely enjoy watching one. Although Threads paints a grim portrait of post-nuclear-war Sheffield, Mielke's lively, lucid and cheerful book makes the doom a little less relentless."
Winter Wonderjam: Silas Short + LJ, Troy Tyler, NilexNile @ Cactus Club
FRIDAY, JANUARY 6
Johnny Beehner (album recording) @ The Laughing Tap
Since starting out in Milwaukee roughly 20 years ago, comedian Johnny Beehner has accomplished quite a lot. The now-Los Angeles-based comic performed on the Late Show With David Letterman shortly before the host retired, and he's become a frequent feature act for renowned humorists like Brian Regan and Jim Gaffigan. Beehner will return to his hometown for a pair of shows at The Laughing Tap. The two performances will also be recorded to be released as Beehner's upcoming comedy album.
Plague Of Carcosa + Florida Brothers Band, Every Crime, Deorbit @ Cactus Club
SATURDAY, JANUARY 7
N/A Day: A "Dry January" Beverage Festival @ The Cooperage
Our "Dry January Beverage Festival" returns to The Cooperage to give people an opportunity to enjoy unlimited samples of refreshments from the wide-ranging, ever-evolving, and rapidly growing non-alcoholic drink market. TICKETS ARE AVAILABLE NOW! The N/A Day lineup includes non-alcoholic beer and seltzer, kombucha, mocktails, non-alcoholic wine and spirits, tonics, craft soda, sparkling water, coffee, energy drinks, CBD products, and more. Here's the full vendor lineup!
Goblin King Masquerade Ball @ Turner Hall
Awkward Nerd Events will once again transform Turner Hall Ballroom into a magical world of fantasy. There will be themed cocktails and mocktails, performances from The Goblin King Players, and unique photo opportunities. VIP packages are also available.
Sherwood Walk Of Honor Memorial Show @ Club Garibaldi
MKE Music Night: Sleepy Gaucho + Pocket Change, Soul Speed @ The Back Room @ Colectivo
Will Pfrang And the Good Land Gang (single release) @ Company Brewing
Pulaski Recreational Unit Presents The 2023 Winter Classic: Greyhound + Junior Kurtis, Auntie, Liquid City Motors @ Cactus Club
Johnny Beehner (album recording) @ The Laughing Tap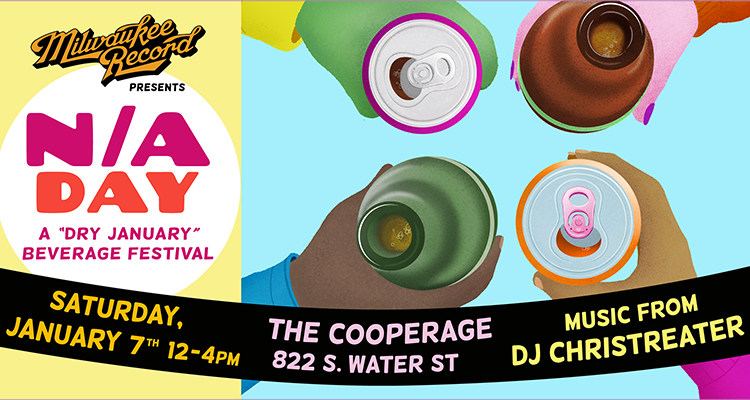 SUNDAY, JANUARY 8
Milwaukee Record Halftime Show: The Mighty Deerlick @ Cactus Club
One more game! Yes, the Packers are (incredibly) still in this thing, and we're still doing our weekly Halftime Show at Cactus Club. Miller High Life, Miller Lite, and Rehorst Vodka Bloody Marys will be on special. Meanwhile, Awkward Nerd Events may pop by for giveaways to their upcoming events and other fun complements to the in-game/on-stage action. There will also be touchdown shots (both regular and N/A)! This week's regular-season-finale performance (we'll be back if the Packers make the playoffs) comes courtesy of The Mighty Deerlick.
Exclusive articles, podcasts, and more. Support Milwaukee Record on Patreon.