This past January, Milwaukee Record hosted the inaugural Local Coverage at Club Garibaldi. The benefit found eight different Milwaukee acts across the age, neighborhood, and stylistic board covering one another in a unique winter experience. It went better than we ever could've expected. You can listen to it if you don't believe us. In the process, we raised almost $1,200 for Girls Rock Milwaukee.
Since the first one went so well and we quickly reached capacity at the intimate Bay View venue, we decided we not only wanted to do it again, we wanted to up the ante. Milwaukee Record is proud to announce the second Local Coverage benefit, which will take place Friday, January 15, 2016 at historic Turner Hall Ballroom. This time around, we've assembled an even larger group of participants with an even more sizable breadth in regard to the types of music they play. Monday night, 10 acts—including one significant band that's reuniting—convened at Club Garibaldi and drafted the artists to whom they'll pay tribute during their 15-minute sets. Here's how the show will shake out:
Decibully (playing Soul Low)
GGOOLLD (playing Maritime)
Klassik (playing Decibully)
Tigernite (playing GGOOLLDD)
Soul Low (playing Tigernite)
Maritime (playing Sat. Nite Duets)
Twin Brother (playing Klassik)
Sat Nite Duets (playing Whiskeybelles)
Whiskeybelles (playing Fox Face)
Fox Face (playing Twin Brother)
Tickets cost $10 and will go on sale Monday at noon. All profits will be split evenly between Girls Rock Milwaukee and Guest House of Milwaukee, a men's homeless shelter. Aside from the Pabst Theater Group's generosity, this event will be made possible with the invaluable support of 88Nine Radio Milwaukee, Cascio Interstate Music, and Ale Asylum. We'll see you there!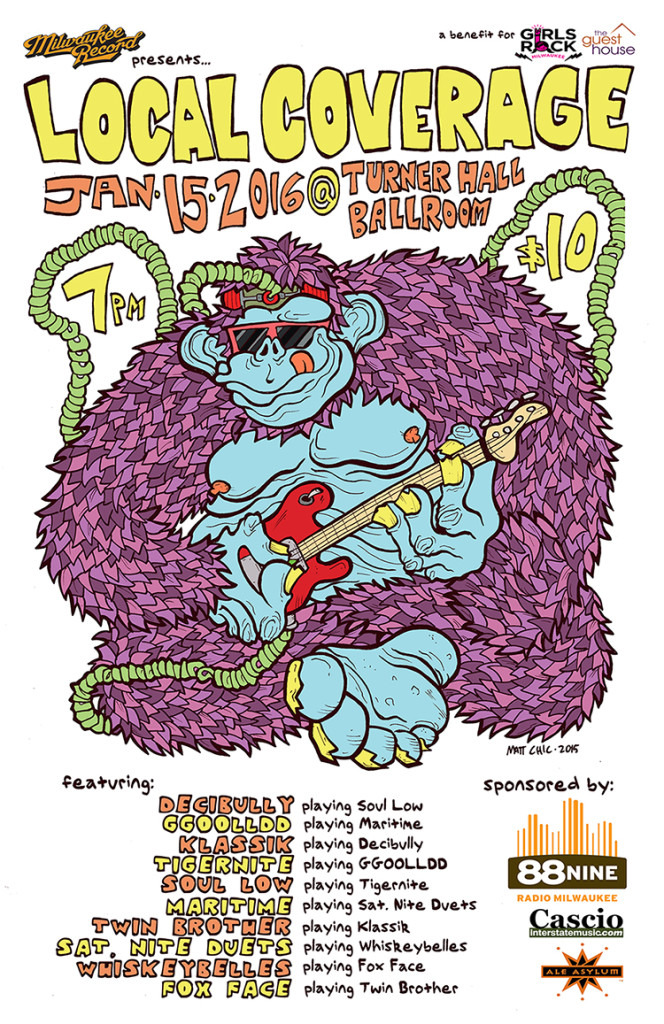 [Art by Matt Chic]