What's better than hanging out in Milwaukee's iconic Lake Park? Hanging out in Milwaukee's iconic Lake Park while listening to live music, of course. Enter the long-running Musical Mondays and Wonderful Wednesdays, two free summer concert series that take place on Lake Park's Summer Stage, just south of the playground and tennis courts. Both series are courtesy of Lake Park Friends, and both are great. (Wonderful Wednesdays is the more kid/family-focused of the two.)
So here are the 2023 lineups! Oh, and Lake Park's summer concert season will be preceded by a special "Mozart In The Park" performance from Florentine Opera on Wednesday, July 5, from 6:30 – 7:30 p.m. "No knowledge of opera required," Lake Park Friends say (phew). "It's fun for the whole family!"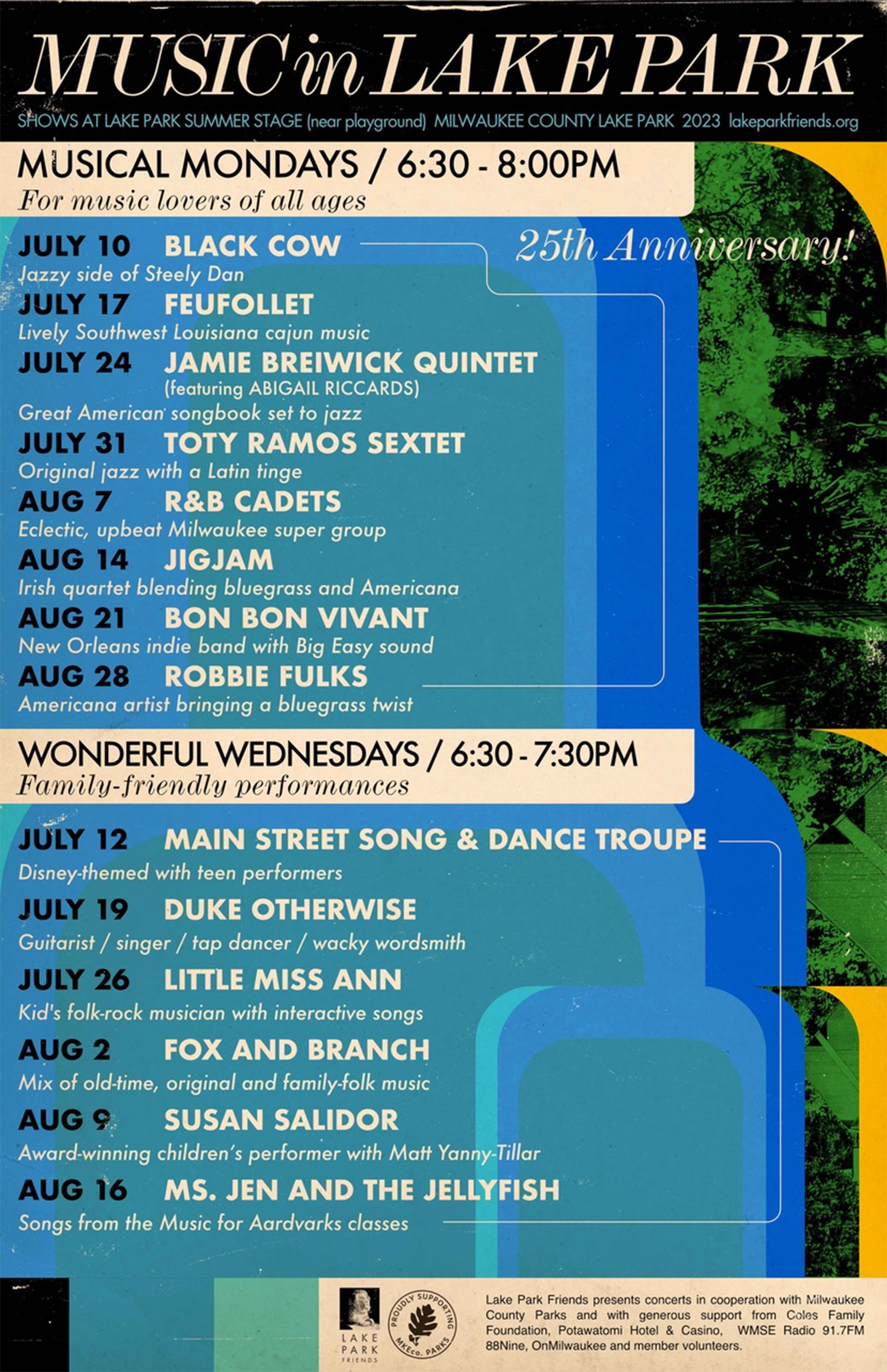 MUSICAL MONDAYS
Lake Park Summer Stage
6:30 – 8 p.m.
July 10
Black Cow. Top Milwaukee musicians reel in the jazzy side of Steely Dan with their own takes on records like Aja.
July 17
Feufollet. Young, vibrant Southwest Louisiana band starts with Cajun, honky-tonk, and string-band music and blasts off from there.
July 24
Jamie Breiwick Quintet (Featuring Abigail Riccards). Songs from the Great American Songbook brought to life by hard-swinging A-list Milwaukee jazz musicians and a featured vocalist.
July 31
Toty Ramos Sextet. Playing jazz with a Latin tinge, the Milwaukee guitarist / arranger's new group continues where his storied La Chazz ensemble left off.
August 7
R&B Cadets. Revered Milwaukee super group featuring headliners Paul Cebar, Robin Pluer, John Sieger and Juli Wood playing a dance-inducing blend of originals and obscure covers.
August 14
JigJam. Multi-award-winning quintet from the heart of the Irish midlands blending the best of traditional Irish music with bluegrass and Americana.
August 21
Bon Bon Vivant. Genre-bending New Orleans band blending singer-songwriter, jazz-inspiration, Americana and up-tempo indie dance rock that pays homage to the bawdy New Orleans sound.
August 28
Robbie Fulks. Grammy-nominated performer and songwriter whose career spans Americana, folk, rock and more, on the road with a new album, "Bluegrass Vacation."
WONDERFUL WEDNESDAYS
Lake Park Summer Stage
6:30 – 7:30 p.m.
July 12
Main Street Song & Dance Troupe. Enjoy a Disney-themed performance by this nonprofit show choir, comprised of a talented group of teens 12-18 years old.
July 19
Duke Otherwise. Madison-based guitarist, singer, tap dancer & wacky wordsmith with his full band.
July 26
Little Miss Ann. Award-winning Chicago folk rock kids' musician with a fun, interactive educational song list.
August 2
Fox And Branch. Their dynamic mix of old-time music, original songs and family folk music appeals to children and adults, giving everyone a chance to actively participate.
August 9
Susan Salidor. Award-winning children's music composer and performer who has won multiple awards including several Parents' Choice Awards and an Oppenheim Toy Portfolio Award. She is joined onstage by Matt Yanny-Tillar.
August 16
Ms. Jen And The Jellyfish. Ms. Jen will have audiences up and moving to the "kindie rock" musical stylings of the Jellyfish, featuring songs and teachers from the Music for Aardvarks' Milwaukee family music classes.
Exclusive articles, podcasts, and more. Support Milwaukee Record on Patreon.