Tuesday afternoon, the Milwaukee Brewers announced all the local brews coming to the new "Local Brews" bar at Miller Park in 2017. Here they are, followed by a press release.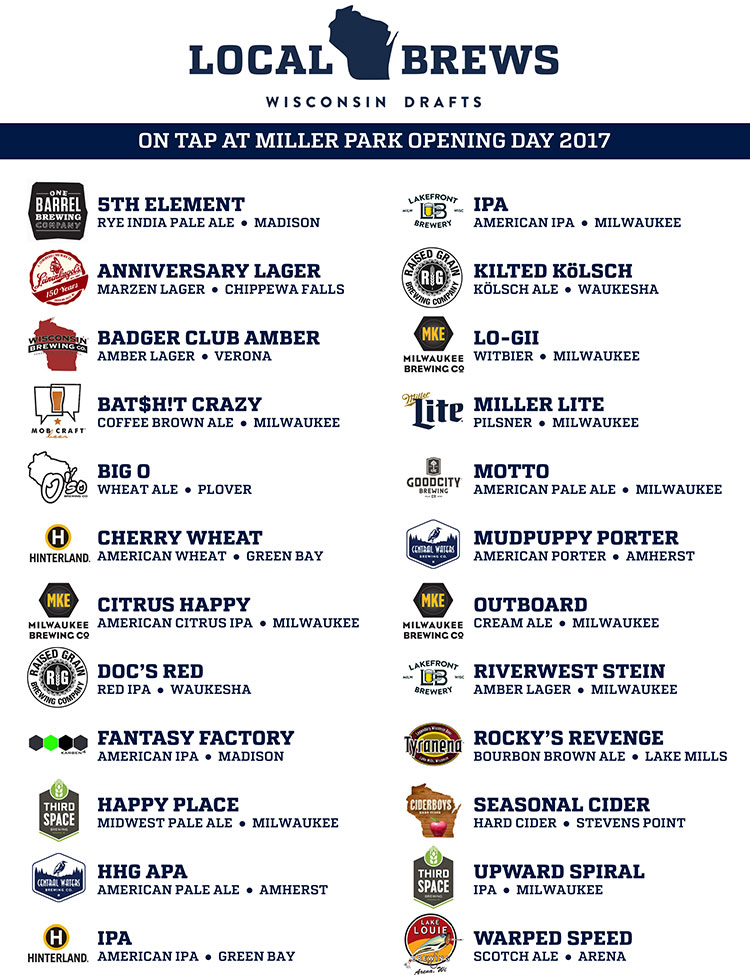 MILWAUKEE – Beer lovers, rejoice! In a special sampling event held today at the historic Miller Caves in the MillerCoors Brewery, the Milwaukee Brewers announced the entire draft list that will be available for purchase at the brand new "Local Brews" bar at Miller Park.
The new bar will be located on the Loge Level near section 207 and will feature 24 beers that are exclusively from Wisconsin. At the event today, tasters were able to meet with representatives from several of the breweries and sample some of their beers. The breweries represented today included MillerCoors (Milwaukee), Leinenkugel's (Chippewa Falls), Lakefront Brewery (Milwaukee), Third Space Brewing (Milwaukee), Wisconsin Brewing Co. (Madison) and Raised Grain (Waukesha).
"Dating back to the days when Frederick Miller first brought his brewing operation to the city, Milwaukee's heritage has been built around producing great beer," said Brewers Chief Operating Officer Rick Schlesinger. "The new 'Local Brews' bar is part of our commitment to creating a food and beverage experience crafted around great Wisconsin traditions. We applaud the efforts of our friend at MillerCoors and these local craft breweries as we unveil what we know will be a very popular destination at Miller Park."
The new bar is part of the extensive food and beverage overhaul that was announced in a press conference at Miller Park in 2016. The project is the single largest upgrade to Miller Park by the Club in every measure, from scope to financial investment, since the facility opened in 2001. The project is funded entirely by Brewers ownership and Delaware North.
The new food and beverage program is inspired by the Brewers organizational mantra to "cherish our fans," and promises to enhance Miller Park's status as baseball's top entertainment destination.
The initiative will feature a comprehensive rebuild of Miller Park's food and beverage infrastructure. It will encompass an architectural redesign throughout the ballpark, including a total of 11 new concession stands in the brand new "First Base Ward" and "Third Base Ward" on the Field Level and two brand new Field Level full-service bars with a variety of MillerCoors offerings and views of the field.