Every Friday, Off The Record looks to other Milwaukee publications (and beyond) for bits of news we missed throughout the week.
• Milwaukee loves getting national attention. That is, unless that attention is in any way negative. Unfortunately, the nation's judgemental eyes justifiably turned metro Milwaukee's way this week when fourth graders at Wauwatosa's Our Redeemer Lutheran School were assigned homework that asked them to "give 3 'good' reasons for slavery." Our Redeemer's principal quickly apologized for the inexcusable lack of sensitivity, but not before the private school in southeast Wisconsin—a region that's continually mentioned when referencing racial inequality in America—drew criticism from a flurry of national news outlets. Not such a great job, Milwaukee! [Huffington Post, everywhere]
• Need to shake off the shock, disgust, and utter embarrassment of that previous piece of news? You're in luck. Thrillist called Bay View one of "the best drinking neighborhoods in the country." They like us! They really, really like us! [Journal-Sentinel]
• Milwaukee's apartment vacancy rate is rising. Development executives claim the demand for housing isn't able to match the rate of new units being built. [Journal-Sentinel]
• So maybe it's not all bad news. Sip & Purr (aka "Milwaukee's first ever cat cafe") announced its location this week. It's set to open near North Avenue, on 2021 E. Ivanhoe Place to be exact. There's no word on when it will open, but we can safely say the East Side has been saved. [Journal-Sentinel]
• Hamilton will come to the Marcus Center during the theater's 2019-20 season. [Literally everywhere]
• The results are in and, yes, Shake Shack lives up to the hype. Seriously, it's "consider going to the Third Ward" good! Starting January 26, Milwaukee's (and Wisconsin's) first location will start serving a Griddled Chick'n Club. Look at that fucking thing!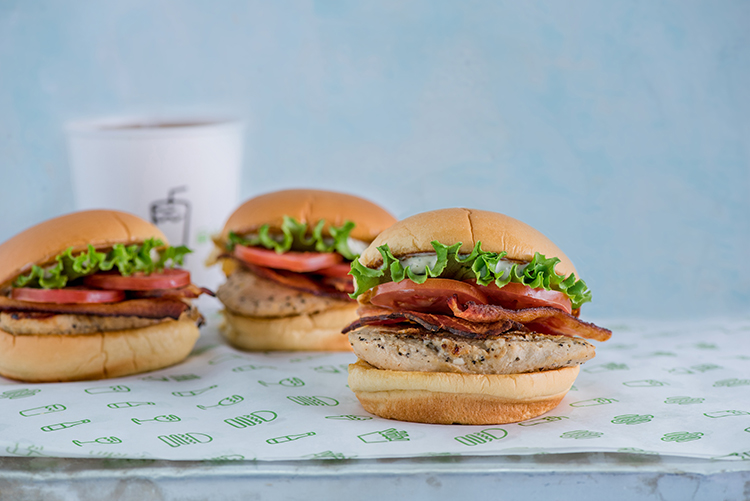 To quote the press release: "The Griddled Chick'n Club is crafted from an all-natural cage-free chicken breast—no hormones or antibiotics ever—marinated and topped with Niman Ranch applewood-smoked bacon, green leaf lettuce, Roma tomato and Shack-made buttermilk herb mayo on a potato bun." Damn. [Press release]
• The city of West Allis has hired Savage Solutions, a Milwaukee marketing agency, to facilitate a "strategic rebrand" they hope will help change the suburb's so-called "dated perception." Holy marketing jargon, Batman! Anyway, we love you just the way you are, 'Stallis. [Biz Journal]
• Okay, so Black Thumb actually hails from the Fox Cities, but Colin Wilde also drums for Dusk, which has become a Milwaukee fixture of late. But honestly, who gives a shit? Black Thumb rules and the new Black Thumb video owns, too. [YouTube]
• Mike Mangione & The Kin put out a new music video for "Riding Down." It's good! [YouTube]
• A recent installment of Off The Record featured the tragic news that Twin Brother was calling it quits. The sudden end of the band didn't last long, though, as singer/primary songwriter/only remaining original member Sean Raasch decided he wasn't ready to say goodbye to the name and the project he'd put the better part of a decade into. Before Raasch releases his self-recorded solo record, Rightfully So, on February 7, watch the new video for "These Pieces Of Life." [YouTube]
• Milwaukee Fringe Festival will start taking submissions for the third annual event on January 15. Interested performers can submit HERE. [Press release]
• Evan Rytlewski has a comprehensive round-up of all the city's recent hip-hop happenings. [Shepherd Express]
• Sylvan Esso performed on Jimmy Kimmel Live last night and played an unreleased song called "PARAD(w/m)E." After it aired, the Durham, North Carolina duo with strong Milwaukee ties released a lyric video for the single online. While you debate about whether Sylvan Esso belongs on a collection of Milwaukee-related tidbits, we'll be enjoying this song. [YouTube]
• 88Nine spoke to members of Negative/Positive and Space Raft about the challenge of adapting another local band's material. Hear Negative/Positive re-imagine the music of Space Raft before Space Raft covers NO/NO at this year's Local Coverage show at Turner Hall on Friday, January 19. [RadioMilwaukee.org]
• Some places probably closed. Other places are probably about to open. Adjust your levels of online mourning and/or skepticism accordingly.
Have a good weekend. Party hard, Milwaukee!