Depending on which news sources you follow, Milwaukee is going through either a "renaissance" or a "reinvention." Or maybe it's a "reboot" or a "reimagining," like that crappy Tim Burton version of Planet Of The Apes. However you want to define it, it's safe to say that Milwaukee is currently building a lot of new shit.
• Milwaukee's wonderful RiverWalk system is getting a sweet two-mile extension. The extension, located in the Menomonee Valley, will begin at the current RiverWalk segment in the Third Ward where the Milwaukee and Menomonee rivers meet, and will stretch west to Three Bridges Park. Per a press release, "the riverwalk will allow public access to the river and help to attract more food-and-beverage businesses with back-end manufacturing and front-end retail/tourism, similar to Palermo's Pizza and craft breweries, City Lights Brewing Co. and Third Space Brewing Company."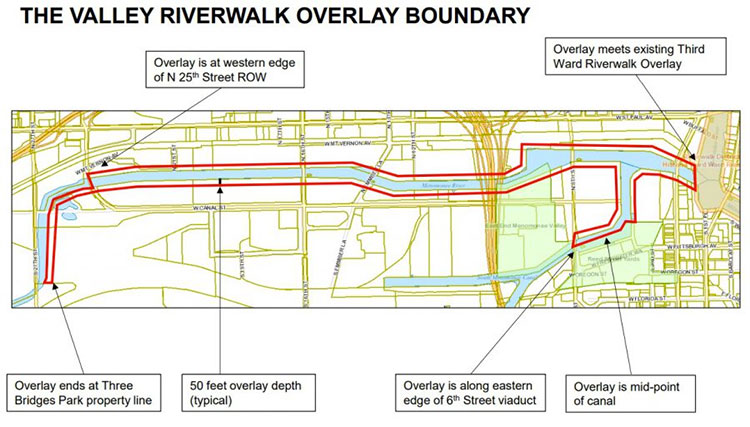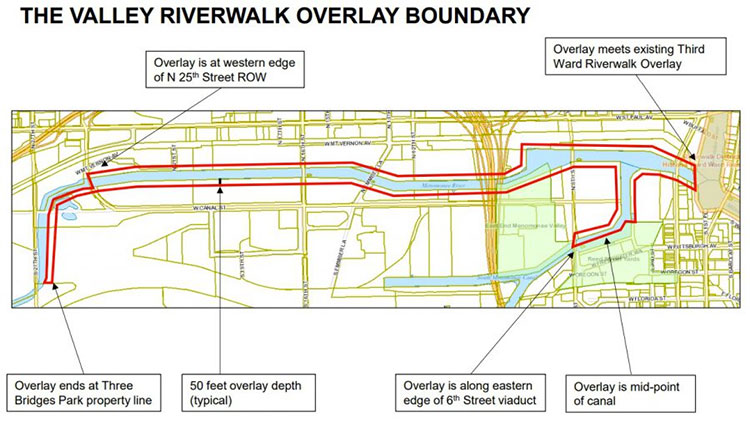 The extension was first introduced back in 2017, but the Common Council only recently adopted design standards for the project. Among those standards:
The Standards call for native grasses and wildflowers planted along the banks—recalling the wetlands of grass, reeds and wild rice that once marked the Valley. Native grasses planted on both sides of the Riverwalk will give walkers and bikers the sense of moving through a marsh grassland landscape. Plantings also will help soak up stormwater runoff—something that's needed as vacant parcels are developed.

Because of the Valley's size, the riverwalk will be 12 to 15 feet wide to accommodate both pedestrians and cyclists.
Urban Milwaukee notes that the City of Milwaukee, "as is standard practice with the rest of the system, will pay 70 percent of the associated cost of building a new segment as properties along the river are improved." [Urban Milwaukee]
• The Shops of Grand Avenue are all but dead. So buckle up for the newfangled "Avenue," which will feature a previously announced food hall, some just-opened apartments, oodles of office space, and…a child care center? [Milwaukee Journal Sentinel]
• Madison-based Summit Credit Union will build its first Milwaukee branch in Walker's Point. The 3,393-square-foot one-story building will occupy "the last remaining outlot stall along S. 1st St. at Freshwater Plaza." [Urban Milwaukee]
• Speaking of Walker's Point, a previous plan to convert a warehouse complex at 118, 122-126, and 160 S. 2nd St. into a "large venue for weddings and other events" isn't happening, apparently. [Milwaukee Journal Sentinel]
• A new fitness studio, F45, is coming to Downer Avenue. The studio is expected to open in the former Optix on Downer, 2636 N. Downer Ave. Optix recently moved down the street to the former (and long-vacant) Einstein Bros. Bagels space. [Milwaukee Journal Sentinel]
• Want some more affordable housing in Milwaukee? (Yes.) Thirteen developers have applied for low-income federal housing credits to build a total of 753 affordable apartments in Milwaukee in the upcoming years. [Urban Milwaukee]
• What kind of new shit is missing from Downtown Milwaukee? Everyone has an opinion: a Target, a Sendik's, a Trader Joe's, an Apple store, a Kohl's, you name it. We're still holding out for an Olive Garden. [Milwaukee Business Journal]
• They're really going nuts on the Bradley Center demolition, and Urban Milwaukee has the pictures to prove it. [Urban Milwaukee]