Street closures for 55th Shamrock Club of Wisconsin St. Patrick's Day Parade on Saturday, March 11
Downtown businesses, property owners and residents should be prepared for the following street closures
MILWAUKEE – Westown Association and the Shamrock Club of Wisconsin are excited for the return of the 55th Shamrock Club of Wisconsin St. Patrick's Day Parade that will make its way through downtown Milwaukee on Saturday, March 11 at noon. The Parade, presented by Miller Lite, will include Irish dance groups, marching bands, decorative floats and more.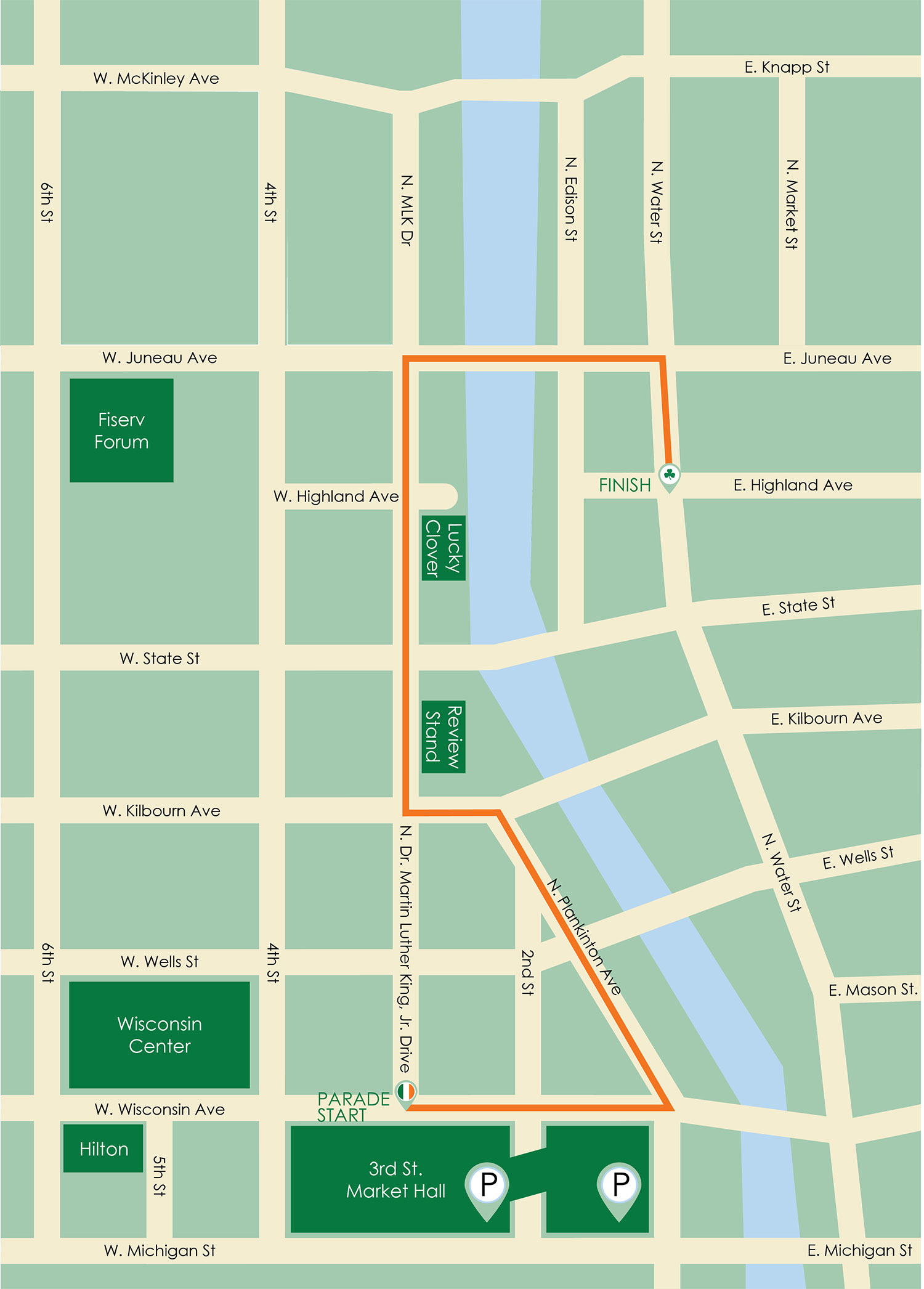 Downtown businesses, property owners, residents and visitors can anticipate streets in the staging area to close at 10 a.m. The rest of the Parade route will shut down at 11:45 a.m. and will remain closed until around 2 p.m. when the Parade passes. A full map of the Parade route can be found at saintpatricksparade.org. The following streets will be completely inaccessible to tenants, visitors and delivery personnel during this timeframe:
Staging Area – Streets will close at 10 a.m.
• W Wisconsin Ave. from MLK Dr. to N 6th St.
• N Vel R. Phillips Ave. from W Wisconsin Ave. to W Clybourn St. (W Michigan St. will remain open to traffic)
• N 3rd St. from W Michigan St. to W Everett St.
• W Everett St. from N 3rd St. to N Vel R. Phillips Ave.
Parade Route – Streets will close at 11:45 a.m.
• W Wisconsin Ave. from MLK Dr. to N Plankinton Ave.
• N Plankinton Ave. from W Wisconsin Ave. to W Kilbourn Ave.
• W Kilbourn Ave. from N Plankinton Ave. to N MLK Dr.
• N MLK Dr. from W Kilbourn Ave. to W Juneau Ave.
• W Juneau Ave. from N MLK Dr. to N Water St.
• N Water St. from E Juneau Ave. to E Highland Ave.
De-Staging Area – Street will close at approximately 1 p.m. until all units are cleared at 2:30 p.m.
• N Water St. from E Highland Ave. to E State St.
• E Highland Ave. from N Broadway to N Edison St.
The City of Milwaukee will also place temporary "No Parking" signs along the Parade route, and all cars parked on the street will be towed beginning at 7 a.m. the morning of the Parade. Those coming downtown for the Parade are encouraged to take advantage of the $3 parking rate at The Avenue structure. Entrances are at 615 N Plankinton Ave. and 258 W Michigan St.; cars must enter between 8 a.m. and 3 p.m. to receive the discounted rate thanks to Interstate Parking. Spectators should also consider ride share services or public transit such as The Hop and MCTS to travel safely and responsibly. Visit saintpatricksparade.org for more details on Parade festivities.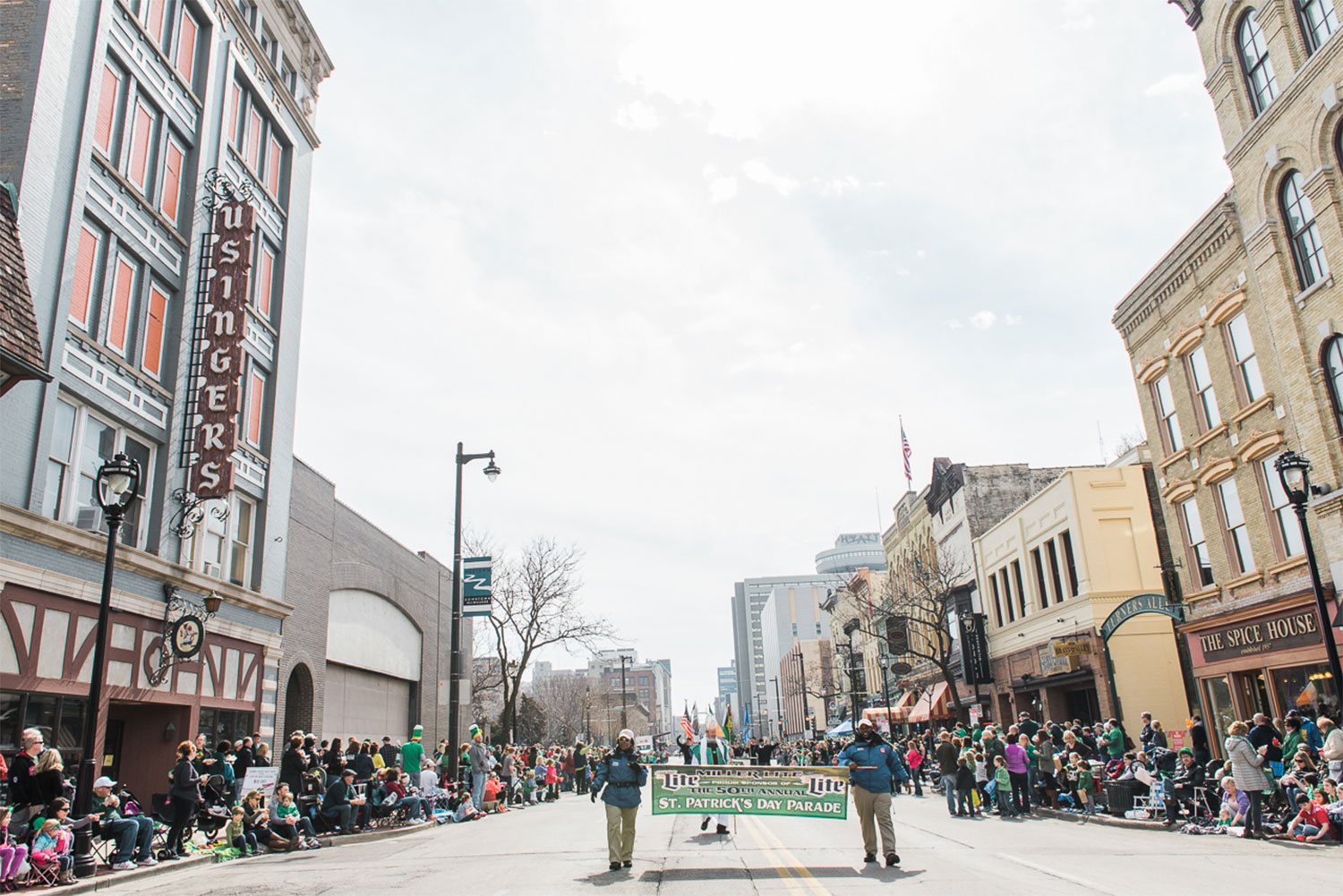 The Shamrock Club of Wisconsin is the oldest and largest Irish American membership organization in the State of Wisconsin. Celebrating 62 years, the Shamrock Club of Wisconsin has contributed to the wellspring of Irish life and culture in Milwaukee and the State of Wisconsin through parades, festivals, Irish dancing, scholarships and more. Visit shamrockclubwis.com for more information.
Westown Association is a non-profit business association focused on championing the economic and social development of Milwaukee's central business district west of the Milwaukee River. The organization accomplishes this by promoting, programming and enhancing the Westown neighborhood through special events, business advocacy and growth initiatives which help build a thriving downtown community. For more information, please visit westown.org.
Find more press releases HERE.