If you haven't checked out the Milwaukee Public Market lately, well, you're kind of alone. Today, the 13-year-old Third Ward destination released some impressive numbers for 2018: a total of 1,794,554 souls visited the Public Market last year, up from 1,625,843 in 2017. Total vendor sales jumped from $16,533,856 in 2017 to $18,179,752 in 2018. Nice!
And yeah, the above picture is from the time we vaped there. Here's one sans vaping, followed by the full press release. [via Urban Milwaukee]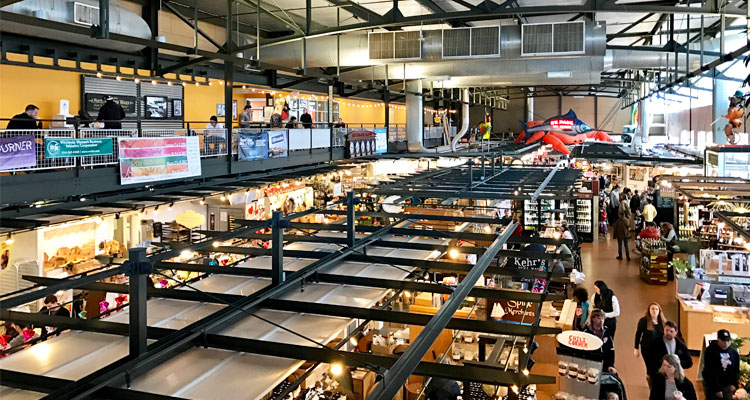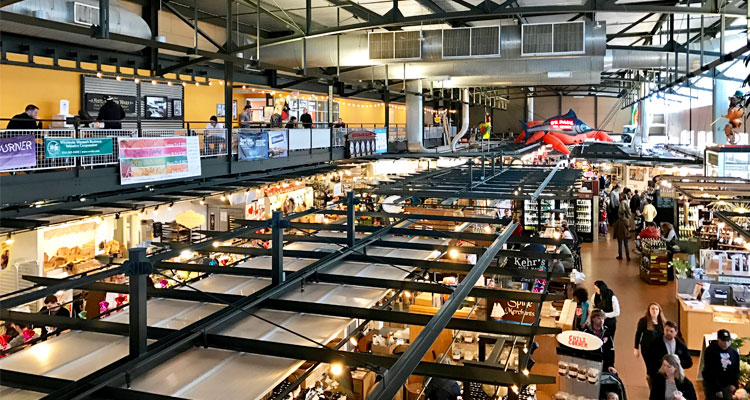 Milwaukee, WISC: The Milwaukee Public Market reached another milestone last year. Today the Third Ward destination announced its gross sales and customer visits rose to record breaking levels in 2018. Total vendor sales increased 10%, rising from $16,533,856 in 2017 to $18,179,752 last year. Customer visits also saw a 10% increase, rising from 1,625,843 in 2017 to 1,794,554 in 2018, maintaining its position as a top tier local attraction.
Recently, the public market was listed third in number of attendees of area attractions, trailing only Potawatomi Casino and the Milwaukee Brewers.
"It has been our goal to cultivate a food-centric placemaking experience like none other in the region, which I'm proud to say is now a reality. We've become a hub of social and economic activity, where regional residents and national travelers seek us out as a culinary destination," said market executive director, Paul Schwartz. "I'm enormously proud and grateful to our vendors, loyal customer-base and the hundreds of workers who are employed throughout the market that make the experience what it is today."
As one of the most successful mixed-use venues in the city, the public market also plays host to cooking classes and private events. From a commercial real estate perspective, the market's gross sales-per-leasable-square-foot is now over $1400. The 2018 total sales figure is more than double the total sales in 2011.
The public market, which opened in October 2005, is owned and operated by the City of Milwaukee Business Improvement District #2. For more information about the Milwaukee Public Market, please visit MilwaukeePublicMarket.org or call 414-336-1111.