After originally opening as Bumstead Provisions—a restaurant, deli, liquor store, and provisional shop—in late 2016, the two attached Bay View storefronts at 2671-75 S. Kinnickinnic Ave. have taken many forms. The following spring found Bumstead's grocery and deli half transitioning into a second location of the ownership group's successful Oconomowoc-born Crafty Cow burger joint. Last September, owners did away with the remaining half of Bumstead once and for all by opening Hot Head Fried Chicken.
Now that the space has two adjoining businesses that seem to be here to stay, Crafty Cow and Hot Head are ready to make a few more changes. This time around, the adjustments are comparably subtle and completely focused on the establishments' menus. Starting Friday, July 13, Crafty Cow and Hot Head will roll out close to 20 new menu items, including three burgers, some new chicken sandwiches, loaded cheese curds, a new mac & cheese flavor, two specialty salads, and unique sides like Pork Belly Collard Greens and Kool Aid Pickles.
While welcoming in new delicacies, Hot Head and Crafty Cow will also be saying goodbye to four items from its original menu, including the Crafty Cow Butter Burger and Porktastic Voyage Burger. Here's a full list of what's leaving both menus and what will be coming in their place. Celebrate or grieve accordingly, Milwaukee.
LEAVING
Crafty Cow Butter Burger
Porktastic Voyage Burger
Blackened Shrimp Salad
Goat Cheese Salad
NEW TO CRAFTY COW

Loaded Cheese Curds
Original — Bacon, pulled pork, onion, jalapeño, white bbq, Crafty Cow BBQ & cheese sauce.
Philly Cheesesteak — Hot peppers, caramelized onion, mushrooms, sliced prime rib & cheese sauce.
Buffalo Chicken — Buffalo ranch-tossed curds, fried chicken, bacon, scallions, ranch, bleu cheese crumbles & buffalo sauce.
Veggie Melt

Avocado, spinach, tomato, red onion, pepper jack cheese and cilantro aioli on toasted bread.
Chicken Bacon Ranch Melt

Fried chicken breast topped with Monterey Jack cheese, bacon, battered onion rings and ranch on a bun.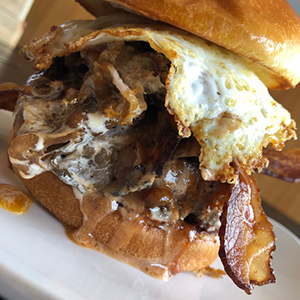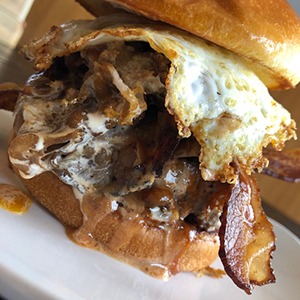 Meatasaurus Rex Burger

Stuffed with white cheddar cheese and diced bacon. Topped with bacon, pulled pork, sliced prime rib, a fried egg, Crafty Cow BBQ and white BBQ.
Pork Mi Burger

Stuffed with pepper jack cheese. Topped with cucumber, carrot, cilantro, jalapeño, scallions, pineapple teriyaki and pulled pork.
Jalapeño Popper Burger
Stuffed with cream cheese and jalapeños. Topped with bacon and cilantro aioli.
Asian Sesame Salad
Romaine, cucumber, carrots, yellow pepper, scallions, blackened shrimp, wontons and sesame seeds with toasted sesame dressing.
Gardener Salad

Romaine, spinach, blackberry, strawberry, cucumber, bacon, bleu cheese and scallions with honey lemon vinaigrette.
NEW TO HOT HEAD FRIED CHICKEN
Pork Belly Collard Greens

Greens slow cooked in chicken and ham stock with bacon, pork belly and onion.
Kool Aid Pickles

Dill pickle spears (6) brined in cherry Kool Aid, for the perfect sweet and sour bite.
Pimiento Cheese Spread
White cheddar and sharp cheddar, pimiento, mayo and scallions, served with Ritz crackers.
Fancy Chicken Sandwich
With coleslaw, chipotle mayo, and pickles.
Chicken & Cheddar Sandwich
With pimiento cheese, bacon, and tomato.
Shrimp & Pork Belly Grits

Creamy cheddar stone ground grits, blackened shrimp, Sprecher Root Beer braised pork belly and scallions.
Chicken & Waffles
Two Belgian waffles & two southern fried chicken thighs served with maple syrup and honey butter.
Tennessee Cuban
Pulled pork, Swiss cheese, Carolina Gold and pickles served on a bun.
Root Beer Braised Pork Belly & Caramelized Onion Mac & Cheese
With creamy cheddar sauce and cavatappi noodles.