Now that we're a few days into January, it's possible cracks are starting to show on some of your New Year's resolutions. If one of your goals—whether it's just for this month or for a longer period of time—involves drinking less (or not at all), we thought we'd help reinforce that resolution by letting you know about a few "Dry January" happenings that are taking place in and around Milwaukee this month. From our N/A Day event at The Cooperage this Saturday to mocktail workshops and gatherings that are absent of alcohol, here are some keep spirits high while you stay "dry" this January.
Saturday, January 7
N/A Day: A "Dry January" Beverage Festival @ The Cooperage
Milwaukee Record's "Dry January Beverage Festival" returns to The Cooperage to give people an opportunity to enjoy unlimited samples of refreshments from the wide-ranging, ever-evolving, and rapidly-growing non-alcoholic drink market. TICKETS ARE AVAILABLE NOW! The N/A Day lineup includes non-alcoholic beer and seltzer, kombucha, mocktails, non-alcoholic wine and spirits, tonics, craft soda, sparkling water, coffee, energy drinks, CBD products, and more. Here's the full vendor lineup!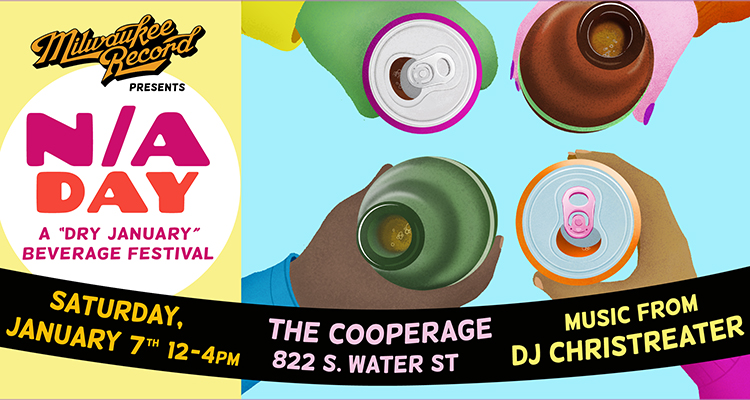 Friday, January 13
Sprecher Mocktail Creation & Tasting @ Sprecher Brewing
"Choosing to cut back? Interested in learning more about exciting changes in the nonalcoholic space? We are happy to partner with Great Lakes Distillery for this mocktail workshop. Friday, January 13th at 6pm, join us at 701 W. Glendale Avenue for a hands-on experience creating cocktails (and mocktails) with Sprecher mixers, sodas, and locally distilled liquors from Great Lakes Distillery. We will be demonstrating how to create side by side recipes of each cocktail and its nonalcoholic option. Just as delicious and great options for a Dry January. Live music, hands on creation of each beverage, small bites to compliment cocktail/mocktails. Each guest will go home with a Sprecher mocktail mixing package."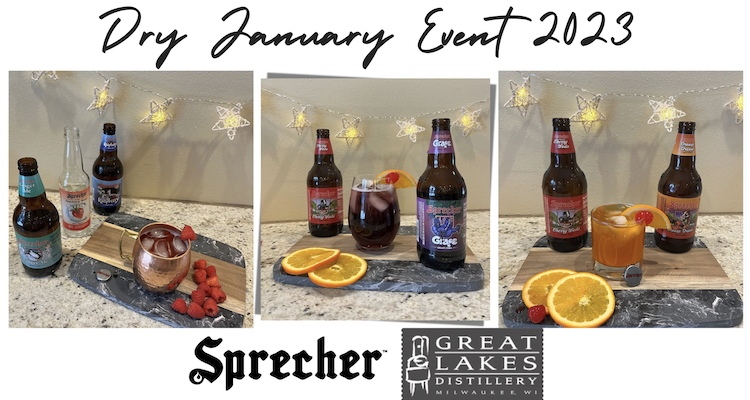 Sunday, January 15
Zero-Proof Party @ New Barons Brewing Cooperative
"Here at New Barons, beer is our game but we have love for all the zero-proof badies too! If you're doing Dry January and want to celebrate the halfway mark, if you don't drink, or if you're looking to do something social without boozing – today is for you! We will be expanding our N/A menu this month to include new varieties and hot drinks to warm your bones. BEER IT FORWARD! You can also buy a beer for your future self or a friend through our beer it forward board. Come grab a table and a board game and spend your Sunday with us!"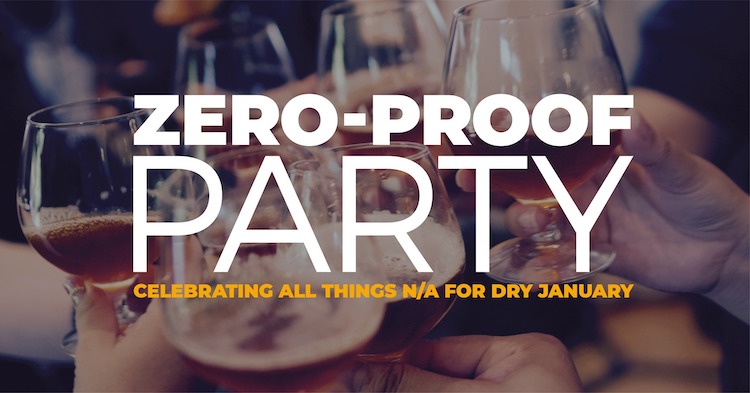 Monday, January 30
Lucid Cruise @ The Sugar Maple
"Did you break up with booze/kick it to the curb every now and then? Do you still love the social benefits of gathering with like-minded folks? Then, join us on our Lucid Cruise, the last Monday of the month, from 6-9 p.m., where we will feature a specialty Alcohol-Free Cocktail, in addition to our extensive booze free menu that currently exists. Whether you're 10 years sober, or wanting to cut back, this monthly gathering will keep you in touch with compassionate, engaging, and supportive folks. All are welcome. Free to attend."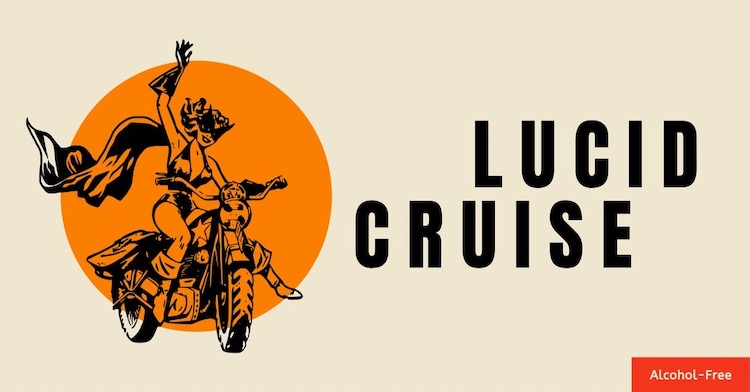 All The Time
The City's First N/A Craft Cocktail Bar @ HoneyBee Sage Wellness And Apothecary
In Bronzeville, HoneyBee Sage Wellness And Apothecary features the city's first fully N/A craft cocktail bar. Come by to enjoy a "Mini Mary" or one of the alcohol-free establishment's "OG Punches" anytime in January and all year long.