Every Friday, Off The Record looks to other Milwaukee publications (and beyond) for bits of news we missed throughout the week.
• Thursday afternoon, in a letter that displayed all the panache of a book report, Mayor Tom Barrett formally submitted a bid for Milwaukee to host the 2020 Democratic National Convention. "Milwaukee would be a spectacular venue for the 2020 convention to showcase a bustling city and thriving region to the nation," the letter shrugs. "Milwaukee will have a state-of-the-art new arena as the convention's main venue. The surrounding infrastructure boasts plenty of hotel rooms, support facilities and transportation modes that meet the requirements of this national showcase." There's also stuff about "dedicated people" and "world class facilities."
According to the Milwaukee Journal Sentinel, a "bipartisan group of local leaders" has been working on the pitch since last summer. In related news, the final sentence of Barrett's letter sports a grammatical error:
"Milwaukee and Wisconsin are known for its [sic] beauty and quality of life and we know that your delegates and guests will enjoy their time and experience here."
If landed, the convention could draw an estimated 50,000 visitors to Milwaukee, and have a $200 million economic impact. No word yet on whether Milwaukee will host the 2024 Summer Olympics.
• One of the more impressive pieces from last year's Sculpture Milwaukee event, the bronze, 18-foot-tall "Mixed Feelings," was purchased by an anonymous buyer and is being donated to the city. What's more, the sculpture may find a permanent home in front of City Hall. [Milwaukee Business Journal]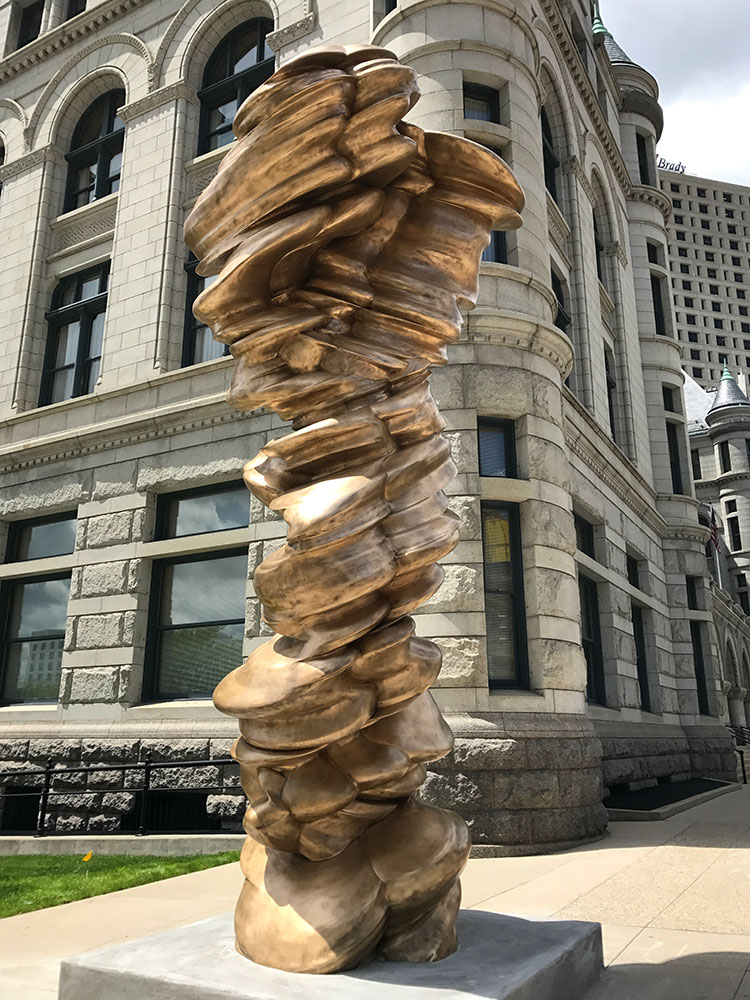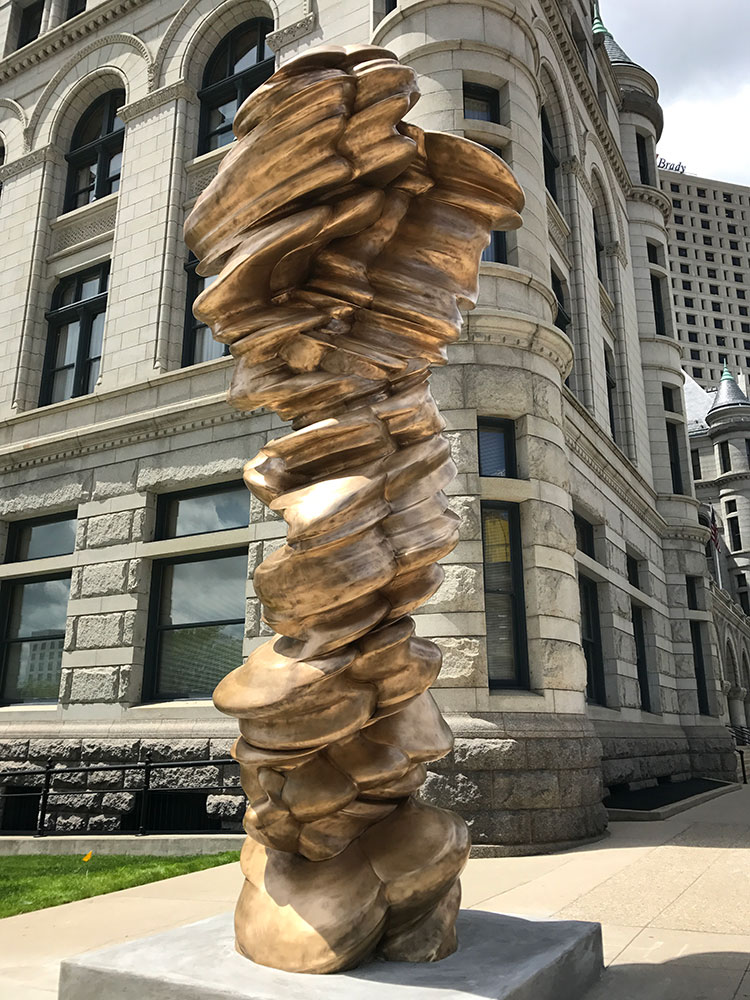 • Speaking of Sculpture Milwaukee, New York-based artist Mickalene Thomas, "known for glorious, glittering images of empowered black women," will create her first major public sculpture for the 2018 event. [Milwaukee Journal Sentinel]
• Trapper Schoepp released a video for "Mono Pt. II," the leadoff track from 2016's Rangers & Valentines. [Classic Rock]
• Milwaukee banned so-called "conversion therapy." [Urban Milwaukee]
• Milwaukee developer Josh Jeffers purchased the four-story building at 518 N. Water St. (home to Fire On Water, among other businesses) for a cool $1.4 million. Jeffers recently bought the BBC/Hotel Foster complex on the East Side, and is currently rehabbing those properties. [Milwaukee Business Journal]
• The Milwaukee Underground Film Festival is raising money for its 2018 edition. The UWM student-run fest is looking to raise $3,000 in the next few days. [GoFundMe]
• In advance of her M-J UNCOVERED show at Turner Hall April 13, B~Free released a laid-back cover of Michael Jackson's "Remember The Time." [Bandcamp]
• The Milwaukee Bucks want to add a 2,000-square-foot building to their planned outdoor beer garden. The beer garden will be part of the new arena's "entertainment block." [Milwaukee Journal Sentinel]
• Lots of new food and beverage goodies await fans at Miller Park this year, though the "star attraction" seems to be the mac and cheese topped with pulled pork from Smoke Shack. [Milwaukee Journal Sentinel]
• Belli's Bistro & Spirits, a new restaurant serving "American-style comfort food," opened in the former Pastiche Bistro & Wine Bar in Bay View. [BizTimes]
• Milwaukee ranked #27 in a "best cities for entrepreneurs" list. Great job, Milwaukee! [Milwaukee Business Journal]
• Have a great weekend, Milwaukee!