Save the date! Brady Street Festival—one of Milwaukee's largest, longest-running, and all-around best summer block parties—will take place on Saturday, July 29 this year. Over the course of that day, a nine-block stretch of Brady Street will be filled with four stages worth of local music, dozens of food and drink vendors, a wide variety of area retailers, some family-friendly non-musical entertainment, and much more.
This summer will mark the debut of a new indoor stage called The Lillipad, which will feature afternoon and evening performances by Milwaukee musicians inside Lilliput Records. The full music lineup is expected to be announced in early June.
Though Brady Street Festival is the largest Brady Street Business Improvement District #11 undertaking of the year, the BID is also organizing and hosting a number of other events that will take place on the eponymous East Side causeway this spring and summer. Included on that growing calendar of events is the Art Walk (Saturday, June 17) and two-night welcome to Harley riders to coincide with the company's 120th anniversary (Friday, July 14 and Saturday, July 15).
For more information on any of these events, go to www.bradystreet.org and check out a press release below.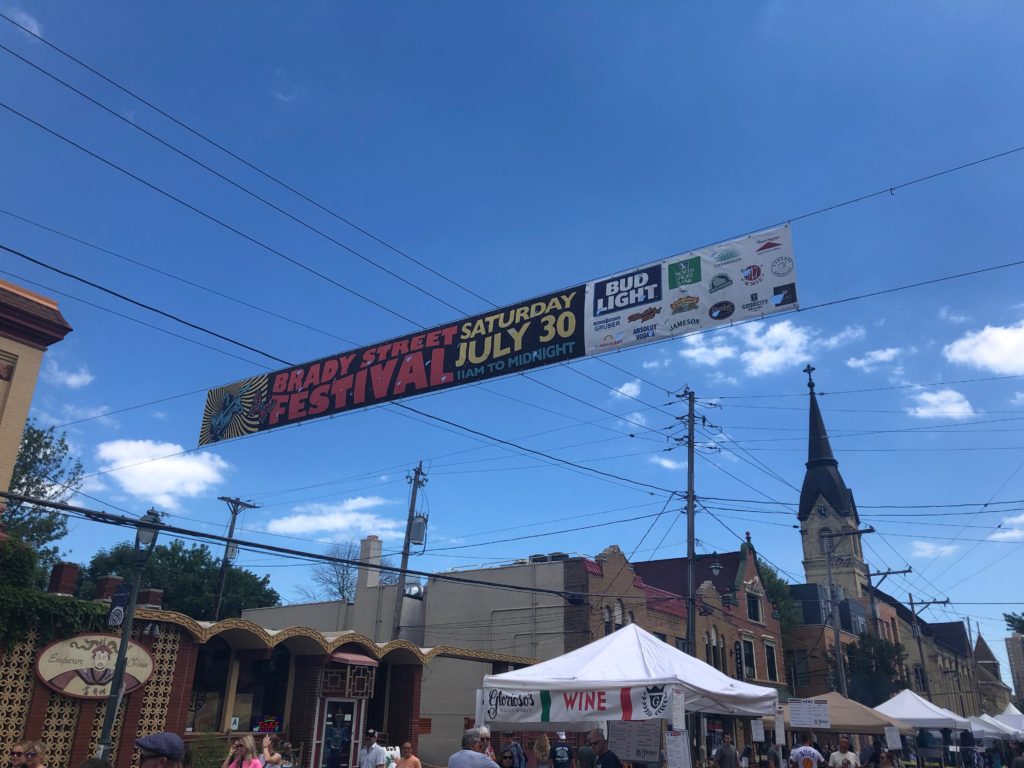 BRADY STREET FESTIVAL RETURNS JULY 29, MORE SUMMER EVENTS ON BRADY STREET
MILWAUKEE, WI: The Brady Street Business Improvement District #11 will hold the Brady Street Festival on Saturday, July 29. The BID is excited to organize this beloved and historic street festival that celebrates the Brady neighborhood.
New this year, along with the three outdoor stages, will be an indoor stage, "The Lillipad" at Lilliput Records. Adventure Rock will return with the rock-climbing wall, and Casablanca Pro-Wrestling will return. The music lineup and more event details will be released in early summer.
Sponsorship opportunities and vendor spots are still available for the Brady Street Festival. Contact [email protected] for more information.
In addition to Brady Street Festival, the Brady Street BID will hold the following events this spring and summer:
Art Walk: June 17
The Art Walk is back, and the BID is working with Brett Waterhouse, owner of Grove Gallery, to hold a family-friendly and engaging event. From 12 p.m. to 4 p.m. Brady Street will host over 30 artists who will create live art in front of businesses on Brady Street from Farwell Ave to Astor St.
Brady Street Welcomes Harley 120th: July 14 and July 15
Brady Street welcomes Harley riders from the 120th anniversary. Brady Street will be closed to automobile traffic from Farwell to Humboldt on Friday, July 14 and Saturday, July 15 from 4pm to 2:30am. Motorcycles are welcome to access the street during this time. Check with your favorite Brady Street business to find out how they're celebrating this landmark anniversary!
"It's going to be an exciting and fun summer on Brady Street this year," said BID executive director, Rachel Taylor. "We look forward to welcoming everyone to our events and neighborhood this summer. Except for the Harley 120th event, we strongly encourage people to use Milwaukee County Transit buses, Bublr bicycles, or rideshare services to attend our events."
Visit www.bradystreet.org for more information on events and everything Brady Street.
Find more press releases HERE.