It's almost the 20th day of April and you know what that means, riiiiiiiight?! Yeah, you know! Love it, hate it, or feel absolutely indifferent to it, this unofficial holiday is reason for a sizable portion of the population to celebrate.
Even though Milwaukee is one of the worst U.S. cities for stoners and even if Wisconsin will almost assuredly be the last state in the Midwest to legalize recreational marijuana (thanks to the do-nothing State Legislature and its ghoulish '80s movie villain Speaker) in spite of its undeniable economic, societal, and health benefits, that isn't stopping a few Milwaukee-area business, bands, breweries, theaters, and creatives from enjoying this 4/20. Here's a semi-informative guide to April 20 events and specials that are happening in the area this week.
4/20 Events
Milwaukee Record Presents: 'Dazed And Confused' @ Avalon Theater
Join us at Avalon Theater on April 20 for an extra special screening of Richard Linklater's Dazed And Confused. The 1993 coming-of-age comedy features a stacked ensemble of future stars including Jason London, Ben Affleck, Milla Jovovich, Cole Hauser, Parker Posey, Adam Goldberg, Matthew McConaughey, Nicky Katt, Joey Lauren Adams, Renée Zellweger, and Rory Cochrane. Tickets are available now!
Walking Taco Menu and CBD Dirt Cake Cup @ Crafty Cow (all locations)
Nodding to the "munchies" aspect of the day, all three Crafty Cow locations will offer a trio of innovative and ambitious walking tacos made with Slide gourmet potato chips this Wednesday. Each variety costs $12. The menu includes:
• Cheese Burger Pizza — Pizza flavored chips, choice of ground beef or quinoa crumbles, red onion, pickles, tomato, shreddy letty, and special sauce.
• Chicken Shawarma — Curry Garlic flavored chips, chicken shawarma, whipped feta, marinated tomato, pickled red onion, and cilantro mint chutney.
• Fried Chicken — Pickle flavored chips, choice of fried chicken or vegetarian chick'n, snap pea and broccoli slaw, pickles, and chipotle aioli.
There will also be CBD Dirt Cake Cups available for $7.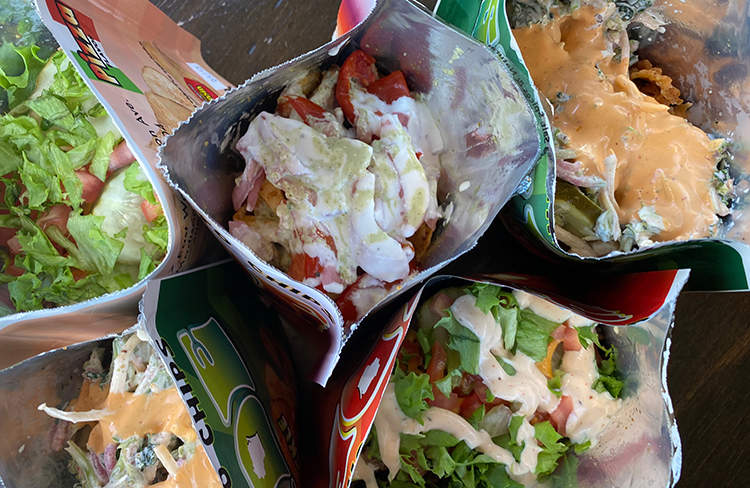 Midweek Music: Jon Knudson & Kyle Rightley (of Driveway Thriftdwellers) @ Crafty Cow Tosa
Speaking of Crafty Cow holiday happenings, join Milwaukee Record at the Tosa Crafty Cow on Wednesday night for an installment of our Midweek Music concert series. Jon Knudson and Kyle Rightley of Driveway Thriftdwellers will play from 7 p.m. to 8:30 p.m. There's no cover for this all-ages show. If a free weeknight show isn't already great enough on its own, Crafty Cow Tosa will offer $4 Indeed Brewing Company pints during the show. They'll also have a "Cheap Date" special, which includes two entrees, an appetizer, and two drinks for just $39. And as mentioned above, Walking Tacos and CBD Dirt Cake Cups will be available as well.
4.20 Blaze It Flight Night @ Indeed Brewing Company
Our buddies at Indeed Brewing Company will also be serving up Slide Chip Walking Tacos from Crafty Cow, but the especially appealing parts of their "4.20 Blaze It Flight Night" festivities are the special beers they'll be serving AND the cause for whom they'll be raising funds.
Special for the April 20 event is a lineup of munchies-inspired Flight Night beers, including:
• Hot Cheese Crunchies Hello, Milwaukee
• Out-of-this-World Brownie Mexican Honey Noir
• Pastry Pop Brunch Club
• Chocolate Ice Cream Tmavý
According to Indeed, 100 percent of proceeds from taproom sales on Wednesday will go to Last Prisoner Project, which is a non-profit organization dedicated to cannabis criminal justice reform. Adding to the beer, doctored up chips, and charity is the possibility of taking home a "Stoner Swag Bag" with smoking accessories (and kazoos!) included. Jesse Voelker will also be playing live in the taproom starting at 6 p.m.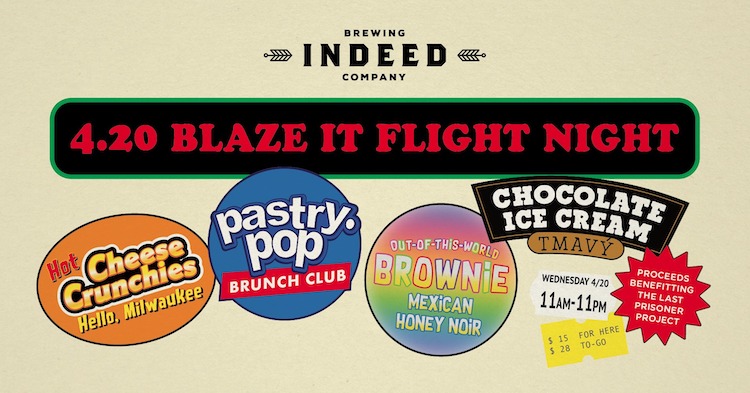 Hear Here presents Jack Reed & The Lil' Reefers @ Third Space Brewing
Third Space Brewing will release its new "Couch Snacks" terpene-infused ale on Wednesday. Beyond putting out that season-specific brew, the Menomonee Valley brewery will also host a free concert presented by Hear Here. Enjoy a few Couch Snacks (or something a little less dank, if you'd prefer), food truck offerings, and tunes from Jake Reed & The Lil' Reefers. The brewery opens at 4 p.m. and music begins at 7:30 p.m.
Phish Live Stream @ The Cooperage
Our friends at The Cooperage are going all out this April 20 (as well as April 21 and April 22) with a series of Phish Live Stream events. In addition to showing the beloved jam band's trio of concerts on a massive screen, the venue will have a wide range of CBD and hemp based good available from Canni Hemp Co., crystals from Cival, food on hand to order from "Grilled Cheese Man" and Hatched Bakery, a live airbrush painter, on-site tattoos from David Paul, face painting, beverages selected and crafted to suit the stream's theme, and more! Doors open at 7 p.m. all three nights and there's no cover charge.
Blaze + Bend @ Soul Collective MKE
From the Facebook event: "Join us for this 4/20 event! An all levels yoga class. Bring a shift in consciousness that allows you to become more open to psychological, emotional, and energy states that aren't usually operational in the grind of daily life. NO SMOKING AT SOUL!"
4/20 Specials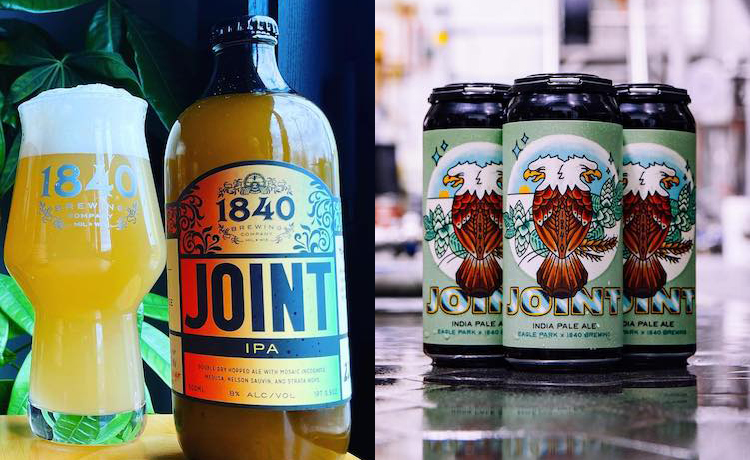 1840 Brewing Company and Eagle Park Brewing
The 4/20 tradition of 1840 Brewing Company and Eagle Park Brewing Company collaborating on a two-part "Joint IPA" release continues. Each brewery will have its version of the "dank" and "hazy" beer available for purchase in their taprooms. 1840's version is already available at its taproom and Eagle Park will officially make its Joint IPA available to the public on Wednesday. Eagle Park will also have a limited edition Joint T-shirt available for purchase while supplies last.
Blue On Greenfield
You can always count on Blue On Greenfield to get in on the 4/20 fun. From 11 a.m. until 8 p.m. this Wednesday, the West Allis smoke shop's inventory will be 25% off store-wide (some exclusions apply). You can also get 50% off one item by presenting this coupon at checkout. As always, Blue is also offering a free T-shirt with purchases of $50 or more.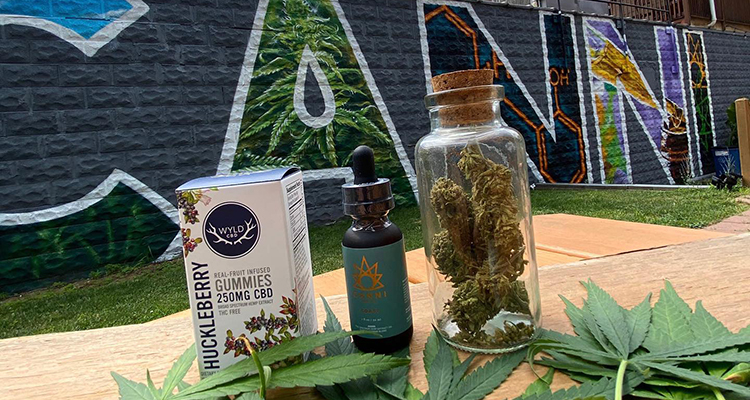 Canni Hemp Co.
As the first dedicated hemp and CBD store in Milwaukee, Canni Hemp Co. definitely knows its way around a 4/20 promotion. The Walker's Point shop is already offering discounts online (for members only, April 18-19), but will have a 20% discount both site-wide and store-wide on April 20. In addition to the deals, Canni will give free pre-rolls with every purchase on Wednesday. All purchases of $50 or more will automatically enter customers into a raffle for a bundle valued at $150. Flour Girl & Flame will be selling pizza on-site from 4-7 p.m. and patrons will have an opportunity to spin a prize wheel for a chance at free pizza. There will also be "stoner movies" shown at the shop all day long. Phew! That's a lot of stuff.
Erth Dispensary
The Bay View CBD and hemp retailer is offering a "420 Raffle." Each $4 ticket gives buyers a chance to win their choice of a prize bag worth $180. A winner will be selected on April 20, so buy soon if you want a shot at some goodies.