Congratulations! If you're reading this, you survived Thanksgiving, made it past Black Friday unscathed, and successfully navigated your way through regional retailers during Small Business Saturday. And now it's Cyber Monday. The unofficial online consumer holiday will bring about record sales figures for internet retailers. Though that means fewer people will be venturing out to brick and mortar shops today, it's not necessarily a bad thing for Milwaukee businesses. There are countless ways shoppers can still support local retailers today without leaving the house. Here are 12 Milwaukee gifts you can buy online as part of Cyber Monday this year.
1. Admirals tickets
While you wait for Milwaukee to get its own NHL franchise (this won't happen), you can take in an AHL match-up with your family or friends for next-to-nothing. Just $55 is good for four tickets to a 2017-18 game and a $25 concession voucher as part of the Ads' Cyber Monday special.
2. Blyth Renate Meier photographs
Blyth Renate Meier was born in Milwaukee but raised in North Dakota. After returning to Milwaukee and earning a master's degrees in art and film at the UWM, she took a job at Milwaukee Film. It was during this time that Meier began taking Instagram snapshots of various downtown buildings and urban landscapes she encountered on her morning walks to work. Eventually collected under a "Good Morning, Milwaukee" hashtag, these photos—many of them shot from the ground looking up—depicted the city in ways rarely seen: beautiful, timeless, distinctive, hopeful.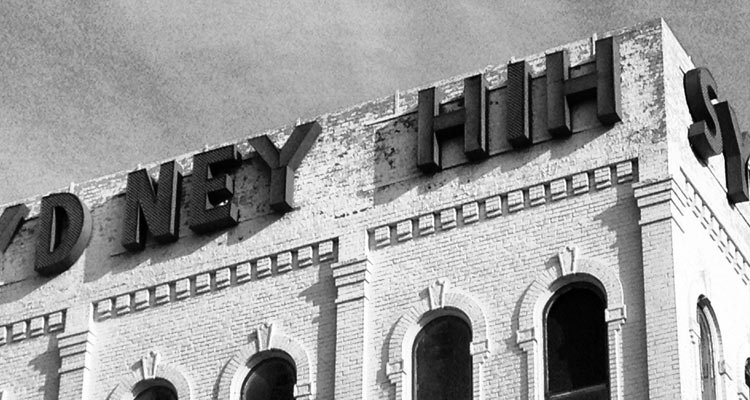 Now, the images you've seen on social media platforms and in Meier's Portrait Society Gallery show last year can be displayed in your home. She's selling a series of limited edition 5″ by 5″ photos for $30 apiece. Get your hands on a Good Morning, Milwaukee photo fast or risk saying goodbye to your chance to own one of Meier's dazzling shots.
3. Bounce Milwaukee gift card
As if you needed another reason to go to Bounce Milwaukee, starting last week (and running through December 23), every $25 gift card purchased online will have a $5 promotional gift card added.
4. Brew City Brand apparel
Whether you know Brew City Brand from their Grand Avenue and Public Market kiosks, being part of many-a Milwaukeean's wardrobe, or their presence at Summerfest, you almost assuredly know the line of locally-themed T-shirts and other novelties. If you want to update your threads or knock out some holiday shopping, today is the day. The newly-launched Brew City Brand site is marking everything 50 percent off for Cyber Monday only, with free shipping on orders over $50.
5. BrewFest Partners apparel
With the staggering growth and expansion the craft beer industry has experienced in recent years, it's safe to assume at least one person on your holiday list would love some type of garment that references their love of libations. BrewFest Partners (which includes the annual Milwaukee Firkin Fest) can help with a Cyber Monday special good for 50 percent off orders with the promo code TURKEY at checkout.
6. Bucks tickets
As of Monday morning, already-affordable Bucks tickets have been marked down even more as part of the Bucks'  "Deal Hunter" sale. There's a Cyber Monday special wherein tickets to five games can be had for a mere $59. You can Own The Future and buy a present at the same time.
7. Forged Artifacts cassettes and vinyl
Okay, so Forged Artifacts is actually based in Minneapolis, but you might think otherwise when seeing the tape label's catalog is rife with releases from Milwaukee bands like Midnight Reruns, The Fatty Acids, Platinum Boys, and Canopies. You can reach across the Mississippi to get some Milwaukee-made music (and other releases) this Cyber Monday with Forged Artifacts' "5-for-20" sale on tapes.
8. MilwaukeeHome stuff that says MilwaukeeHome on it
Discounts on orders
with promo code
CYBER2017
9. Moda3 shipping
Over in the Third Ward, Moda3 specializes in selling unique and fashion-forward clothing, footwear, and other accessories. If you don't feel like braving the hit-and-miss parking on E. Buffalo Street, you can shop from home on Cyber Monday and get free shipping on all Moda3.com orders when entering the code MODA3CYBERWEEKEND at checkout.
10. People's Flag Of Milwaukee leggings
If you love Milwaukee, but simply can't get behind the outdated and decidedly not TED Talk-approved flag the city has been flying for decades, we have just the thing for you. Spread the gift of (alternate) local pride with shirts, shower curtains, tote bags, iPhone cases, mugs, rugs, duvet covers, laptop skins, clocks, art prints, and leggings that are emblazoned with a symbol that represents an ideal Milwaukee to a small pocket of young professionals. Oh, and it's not just knickknacks. People's Flag Of Milwaukee also sells flags. Everything appears to be 25 percent off to mark the season.
11. Triple Eye Industries releases
Thanksgiving might be over, but "Boos-giving" is still going strong over at Triple Eye Industries. The Milwaukee-based label that has put out music from Hot Coffin, Volunteer, Northless, Guerrilla Ghost, Static Eyes, and more will give customers 30 percent off their orders when entering the code BOOS when checking out on Bandcamp. The offer ends Monday at 11:59 p.m. CST.
12. A Milwaukee Record shirt or onesie
Support the city's foremost publication covering Bar Rescue, Kato Kaelin, and elaborate eating challenges with this American-made, Milwaukee Record T-shirt or onesie that's hand-printed by yours truly. We'll throw in some free stickers with every Cyber Monday order.