With Packers season in full swing and the Brewers fighting for National League supremacy, it's hard to believe that another Milwaukee Bucks season is already here. Yes, the young franchise's 2018-19 campaign will officially tip-off tonight. Fresh off an exciting season, the team enters the year as an Eastern Conference favorite that boasts emerging superstar Giannis Antetokounmpo, a brand new arena, a new coach, and a ton of expectations from fans. In short, the Bucks are giving folks a lot to be excited about.
If the quality and excitement the franchise is bringing to its spanking new court somehow isn't enough for you, the organization will make the prospect of seeing one of the most enticing NBA teams even sweeter with a bunch of promotional giveaways spread throughout the season. Yesterday, the team released its 2018-19 promo schedule, and it's full of expected treats and some downright awesome stuff. We'd never look a gift horse in the mouth, but we will rank the gifts for you in descending order.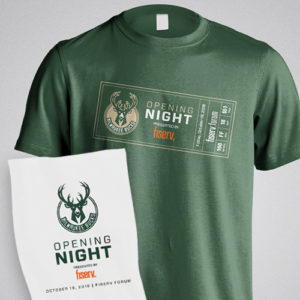 9. T-shirt and Rally Towel (October 19 vs. Indiana)
The Bucks will christen their new court Friday night with a game against the Pacers. While Fiserv Forum's first game is sure to be an unforgettable one, this promotion won't be quite as memorable. The shirt is fine (clashing hunter green and orange Fiserv logo aside), but pretty it's specific to the home opener.
Expect these to be a hot ticket item at metro Milwaukee Goodwill stores next year. Also, we've yet to figure out what to do with rally towels once the game ends.
8. Camo Cap (November 14 vs. Memphis)
If camo is your thing, this vaguely patriotic cap is nothing short of awesome and you should make sure you're one of the first 10,000 fans through the turnstiles to claim one. The Memphis Grizzlies are pretty whatever at this point, but if you want to take in a mid-week home game AND get that avid hunter in your life a holiday gift, this November 14 giveaway is for you.
7. Scarf (March 17 vs. Philadelphia)
Along with the return of Bucks basketball, fall also ushers in lower temperatures. Soon, Milwaukee will be a cold, unforgiving hellscape with little to do except watch basketball. Fittingly, the Bucks will help fans bundle up with an all-fan giveaway of a stylish scarf. Though the promotion and the opponents (the Sixers) are both pretty enticing, the timing of the March 17 giveaway is a bit perplexing. Still, you'll be all set to bundle up in the case of an unseasonably cold playoff series.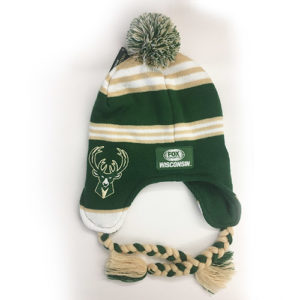 6. Toboggan Beanie (January 1 vs. Detroit)
We struggle to think of a better way to begin 2019 than with a Bucks home game, but even better than starting off a new year with some Giannis dunks is doing so and getting a new winter hat in the process. This "Toboggan Beanie" is only available to the first 10,000 fans, so don't let the previous night's plans delay your arrival.
5. Khris Middleton Youth Jersey (January 25 vs. Charlotte)
The facts: Khris Middleton is awesome. Free jerseys are awesome. The Bucks giving free Khris Middleton jerseys to 5,000 kids is awesome.
4. Duffel Bag (January 5 vs. Toronto)
Who doesn't need a duffel bag? Everyone could use one. On January 5, the first 10,000 people in the arena will get a Bucks duffel, followed by what's sure to be an important game against the perennially contending Toronto Raptors.
3. Cap Series (various dates and opponents)
In recent years, the team worked with local designers for a series of unique Bucks shirts. For three games this season, the team will give out caps to 10,000 fans as part of its "Cap Series." We haven't seen any of them yet, but we're assuming this trio of hat promotions is going to be worth watching games against the Nets and T-Wolves.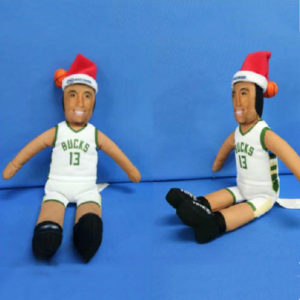 2. Malcolm On The Mantel (December 19 vs. New Orleans)
You've heard of Elf On The Shelf…
Now get ready for Malcolm On The Mantel. After missing much of last season due to injury, Malcolm Brogdon is back, both on the court and as the focal point of this festive giveaway. It's so weird and so awesome. Unfortunately, this holiday-adjacent promotion is limited to the first 5,000 kids ages 14 and under. Oh, to be young again!
1. Fiserv Forum Giannis Bobblehead (April 10 vs. Oklahoma City)
Giannis Antetokounmpo is the best player in the Eastern Conference. Bobbleheads are the best type of giveaway. Put them together, and (even sight unseen) you have the best Milwaukee Bucks promotion of the 2018-19 season.